Roll on by in support of Fredericksburg Library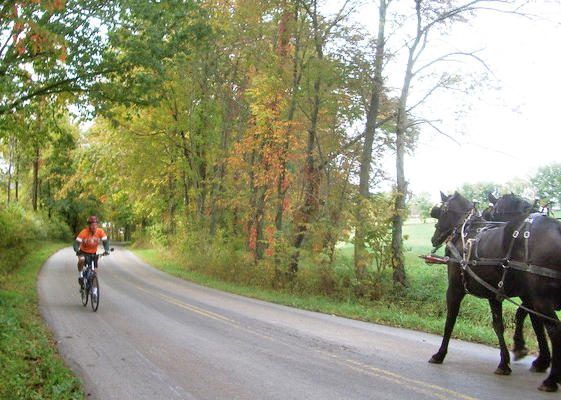 The little home for books and more in Fredericksburg is planning big things for Saturday, Sept. 30 when it will hold its 19th annual Library Roll on the Holmes County Trail.
Planned each year as a fundraiser for the Fredericksburg Community Library, the bicycle tour of 18, 24 or 32 miles gives pedalists the opportunity to take in the countryside of Holmes County as the landscape begins to change from summer sights to fall foliage. For the more advanced riders, the Library Roll also offers a challenging 62-mile ride through the hills and valleys of Holmes and Southern Wayne counties.
"This is the 19th year for our event, which began in 2004," Fredericksburg Community Library Director Jane Braddock said. "Local bicyclist John Lorson came to speak at our library and was the inspiration behind this idea as a fundraiser. He and his wife Kristin have supported the Library Roll from day one. John even came up with the name, which stands for Library Invites Bicyclists to Rally And Ride You'll Reward Our Little Library. Kristin donates the artwork each year for the long-sleeved T-shirts that we give to preregistered riders."
As a local Wayne County artist, Kristin Lorson spends much of her time teaching classes and donating her skills to fundraising projects near and dear to her heart. As an avid cyclist with her husband, the Library Roll is one of those activities that has been close to her since its inception nearly two decades ago. She said in the beginning, the artwork for the fundraiser was repeated for a few years, but after a while, original pieces began to take shape with each new year.
"I'm not sure when the inspiration for changing it each year began, but I believe I've created 16 original T-shirts," she said. "I have collaborated and donated my time with John. He has created the course every year. He goes out the weekend before and marks the route. He has done this entirely on his own, sometimes having to break the 60 or so mile course up into two days. So every September that rolls around, we both look at each other and say, 'It's Library Roll time.' And I get busy with the art, and he sets about mapping the course."
Helping to ensure the library's fundraiser is a success year after year has really become a team effort for the Lorsons, as they not only spend time planning it, but also both have ridden in it.
"John and I both were so impressed by what this small community had done to create a library for their town," Kristin Lorson said. "We were honored to be a part of it. And the fact that it has caught on in popularity is so wonderful. I love when I see someone out and about in a shirt from years' past. It's an instant friend in my book.
"It is such a gorgeous ride with so many beautiful country roads. And the support and food are outstanding. I highly recommend it."
Now in its 25th year, this is the main fundraiser for the Fredericksburg Community Library. As an independent community library, the organization is completely staffed by volunteers and financially supported by the community, which includes the Salt Creek Township trustees, Fredericksburg American Legion, individual donations and grants, Braddock explained.
"We receive no state or federal funding," she said. "Our annual budget is between $25,000-$30,000. Money raised through the Library Roll will be used for monthly expenses, programs and toward the purchase of books and other resources."
Registration forms are available at www.fredlib.org for those interested in preregistration. Day-of registration also will be available. The cost for riding in the 18-, 24- or 32-mile events is $35, and the 62-mile ride is $40. Commemorative T-shirts featuring Kristin Lorson's design will be given away free with preregistration on a first come, first served basis. They are $15 for those not preregistered. A lunch and refreshment stop will be provided. Fry pies and ice cream will be served at the finish line.
Sponsors of this year's Library Roll include Mt. Hope Bicycle, Mrs. Miller's Homemade Noodles, Lem's Pizza, Salt Creek Cafe, Ivan Weaver Construction, Glass Specialties, Holmes Crafted Furniture, Killbuck Savings, Simply Hand Made, Cabinet Specialties, Weaver's True Value Hardware, Robin Industries, Wayne Savings, Midwest Natural Products and Murray Funeral Home.
For more information visit www.fredlib.org or call 330-695-2420.