Rowland achieves rank of Eagle Scout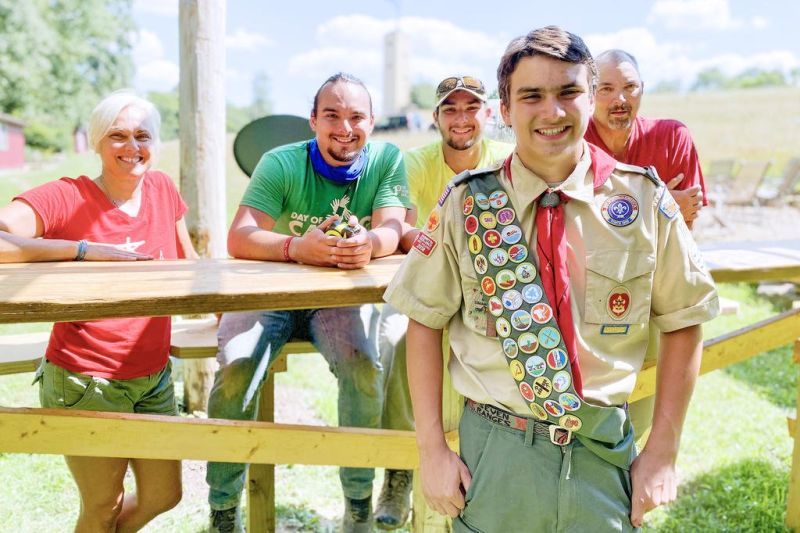 Kasey Rowland, a Boy Scout with Troop 87 of Dover, lives in a particularly rural spot in Malvern with his large family. Rowland has achieved the rank of Eagle Scout this year, joining his three brothers, who made the same rank in 2017. The troop is led by their father, Scoutmaster Darren Rowland.
"I was 6 when I started with Scouting," said Rowland, now 16.
It was kind of a family thing. "All my brothers had already been in Scouts, and my dad was the Scoutmaster, so I thought, 'I guess I'm going to join Scouts too,'" Rowland said.
Rowland's service project to wrap up qualification for the Eagle rank was a major undertaking at the Norma Johnson Center, where he oversaw installation of a handicap-accessible dock. "People who are wheelchair-bound find it difficult to fish from the pond, so the dock enables them to get right up to the edge of the water," he said.
Rowland said the dock is part of the center's ongoing effort to make the extensive wilderness land more easily enjoyable by those with disabilities.
"You're supposed to be in charge of the project and manage it. The troop helps with the actual work," Rowland said. "The Eagle Scout is the one who is walking around and overseeing the work. At least that's how it's supposed to happen."
Accustomed to sharing the load at home amid acres of forest and wildflowers, Rowland found himself pitching in when the 10-member Troop 87 was shorthanded now and then. "I did the project planning and leading," he said. "Friends and family helped a bit also."
The COVID-19 pandemic hasn't made much of a mark on Rowland's schoolwork, as he and his brothers have always been home-schooled. His twin brothers, Kory and Kyle, achieved Eagle Scout at age 17 while Kurt was just 15. "I can't imagine how he did that," Rowland said.
With plenty of time to choose a career, Rowland is thinking he wants to continue the love of the outdoors instilled by both Scouting and his upbringing with likely plans to seek a job with the National Park Service.
"Two places which would be my absolute choice would be the Smokey Mountains or Acadia National Park in Maine," Rowland said.
The family takes a vacation each year, and Rowland traveled to New Mexico last year with his father for an 11-day backpacking event at a Boy Scout ranch.
"There are definitely a lot of things I would not be able to do now had it not been for the Boy Scouts," Rowland said. "Many of the merit badges I've earned have helped with daily life. For example I wasn't very good with public speaking, so the work to get the communication merit badge helped with that. There are so many skills I can think of that will be useful to me later that are things I learned in Scouts."
Rowland said while school has not seen any changes for him, the pandemic has forced the cancellation of summer camp this year, which will delay the advancement of his fellow Boy Scout troop members.
Rowland's mother, Jennifer Stoneman, said Scouting has had tremendous benefits for her family. Still, there were worries now and then.
"I was a little concerned with the backpacking trip to New Mexico," Stoneman said. "There was no cell-phone service, so an emergency would mean a delay while runners went for help. That made me a little nervous."
"She was not crazy about our white-water rafting trip in Pennsylvania so much either," Rowland said.
"Scouting has been a great experience for all of them," Stoneman said. "Scouting was huge for them. It has gotten them out and pushed them to be involved and independent."
Scoutmaster Darren Rowland said he was always confident his son Kasey would get to Eagle Scout. "There was never a doubt for a minute," he said.
Darren Rowland will continue as Scoutmaster of Troop 87, sans his sons.