SAC keeps things clean thanks to united effort from Walnut Hills, Centor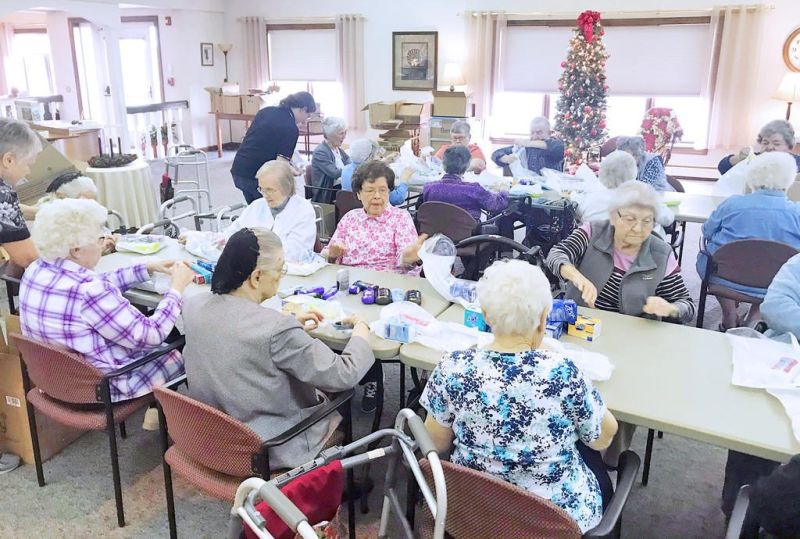 One of the nice things about Holmes County Share-A-Christmas is that it involves many members and groups of the Holmes County community.
On Thursday, Dec. 5, two very different entities united to help create 300 hygiene packages that went into each of the deliveries made by Share-A-Christmas to local families for the Christmas season.
Local manufacturing company Centor of Berlin joined Walnut Hills Retirement Community to produce 300 care kits that included toothpaste, deodorant, shampoo and soap.
Centor kicked in three-quarters of the cost in purchasing the products while Walnut Hills covered the other quarter of the expense. In addition the residents at Walnut Hills sat down to a production party on Dec. 5, and 20 residents made short work of assembling the hygiene packages, putting them together assembly line style.
According to Walnut Hills program director Paula Miller, this event has been going on for somewhere close to 20 years, and it not only provides the area families who benefit from Share-A-Christmas with some needed items, but also it is great for the residents.
"Not only is this a great activity for our residents to get involved in, it is also a really fun social time for them," Miller said. "I am always amazed at how quickly they get rolling once they get the hang of this. They always have such a good time, and it is enjoyable to hear their excited chatter as they assemble the packages."
Miller explained the process to the residents before they set forth in making the hygiene packages.
Miller said it also is good for the residents to get involved in something that is community-related, something that truly makes a difference in people's lives all over Holmes County.
"It gives them a chance to be a critical part of something beneficial to others, and I think it means a lot to all of them to be able to be a part of a community outreach program like Share-A-Christmas," Miller said.
Centor personnel bring all of the products to Walnut Hills, and the residents pack them and box them before Centor representatives return to pick them up the following day. They then take the hygiene packages to the Baker Building at Harvest Ridge, where each package will become part of the wider number of gifts, food and other sundry items delivered to area families for Share-A-Christmas.
"We have been doing this for a long time, and it is something special and unique that we can do to give back to the community," said Brent Stein, HR manager at Centor. "We have one employee, Jim Martin, who has faithfully done the delivery portion of this event for us year after year, and our employees enjoy being able to give for Share-A-Christmas."
Centor places donation boxes around the facility in Berlin, where employees can give toward the hygiene package program.
Even as that continues, committee members are busy taking the funds that come in and buying hygiene products locally to place in the packages.
Centor provides Walnut Hills with all of the bags, boxes and twist ties needed for the assembly process.
Stein said every year they have new personnel who have never participated in the program, so each year they make a point of retelling the story of what they do and how long they have been a part of this portion of Share-A-Christmas.
"Many of our people don't realize how long we have been doing this, and it is a nice reminder that like many other businesses throughout the county, we have been apart of something that is very special within our community," Stein said. "It's just about people giving back."
It also is impressive to see two very different area businesses unite to make it happen.
"It's a pretty interesting connection that has been going on for years," Holmes County Share-A-Christmas chair Bob Porter said. "These hygiene packs are a big part of what we are able to supply to area families. We are always so grateful to the many different businesses that have become a big part of what Share-A-Christmas is all about."