Sandy Valley FFA raise their chickens at school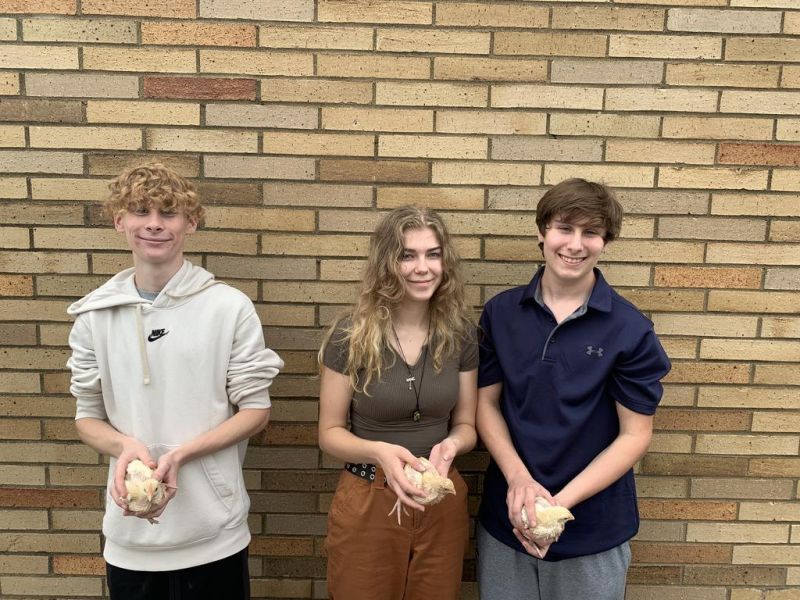 Sandy Valley High School is helping some of its FFA Club members with a project that has students raising chickens at school. Six students are involved in this year's project, and they plan to show the birds at the Tuscarawas County Fair.
The chicken project began last year, but COVID-19 put a stop to keeping the birds at school and a teacher ended up keeping them at his home. Still, three students participated with one taking fourth place at the fair.
"This is the first year actually having the chickens at the school," said Christopher Donahue, horticulture teacher and FFA advisor.
Education is the main goal when it comes to raising animals at school. Learning responsibility is an important part of raising the chickens. Some students may not have the opportunity to raise the birds at home, and the chicken program opens the opportunity to anyone in the high school who is in the FFA Club, even if they are busy with other school activities.
"It's really worked out great that we're in Tuscarawas County because their fair is so late in the year," Donahue said. "We got these (chickens) as peeps the first week of August. I coach football here, so it was simple. It was just a week and a half of coordinating kids to come in."
The group will take their chickens to fair on Saturday, Sept. 18. Once at the fair, the chickens will be judged on Monday, Sept. 20.
"They'll go and they get weighed in, but before that, we have to — it's almost like a dog show — they get that grooming," Donahue said. "They tend to sit on their chest, so if they get any dirt or soil on them, we clean them."
Each student started out with 10 birds, and they will take the three most uniform to the fair.
"It's not about the biggest. You want the three that are the most similar, and then they all get judged," Donahue said.
Donahue likes the idea that the small animal auction at the fair gets his students involved in letter writing and networking with businesspeople to secure a buyer for their chickens at auction.
"That is invaluable experience; it's basically teaching them communication skills," Donahue said.
The students involved in this year's project thought it would be fun, even though the project started before school opened for the year.
"It's pretty simple to care for the chickens. You just have to make sure they consistently have food and water and change the bedding out," Emily Osborn said. "And make sure they have shade when it's hot out and keep their water cool."
Now with school in session, it's simple to keep up with the chickens' needs as participants in the project split up the duties.
"Right now, we switch off mornings or nights, and we'll come and replace their food and water on the weekends," Osborn said.
A transplant from Las Vegas, Osborn had not worked with any type of farm animals before.
The students agree the foul smell is the only downside of having chickens.
"Once you get over the smell, you're basically golden," said Logan Mosberger, who grew up caring for animals. The students clean the pens regularly.
The breed of chicken the group is raising is Cornish Cross. The breed came about because they grow larger faster and have less feathers, making it easier to process them to market.
The students also work around their school and work schedules. Both Osborn and Mosberger can work many hours at outside jobs due to a policy implemented by Sandy Valley.
"Last year, if you had a 3.5 grade average or above, you can do remote learning again. They could do all their courses online. It allows the seniors to pretty much work full-time or as many hours as they can as long as they still get their school work done," Donahue said.
Sandy Valley High School has a horticulture program with a greenhouse that teaches greenhouse management and landscaping skills; the hope is to expand and add more agriculture programs.
Last year's FFA Club had 25 members who worked to bring awareness of agriculture through education and charitable projects. Last year's club provided food collection boxes in the community.
The members also get to go to mainly landscaping competitions to network with other FFA members. There are approximately 700,000 members in the FFA across the United States including Guam, Puerto Rico and the U.S. Virgin Islands, according to Donahue.
Look for FFA fundraisers this year at Sandy Valley High School home football games. With each student only taking three chickens to the fair, the club is planning to hold a raffle to give away the 42 remaining birds. The birds will come packaged and frozen, thanks to Vicki Navarra, who is helping the class with processing.
The group also will sell mums, hay bales and corn stalks at home football games.
The students participating in this year's chicken project are looking forward to visiting the fair.
"I just enjoy it. It's a day off from school, and it's like a field trip. It's going to be a fun time," Mosberger said.
The group also is looking forward to the small animal auction and the chance to sell their birds. Many generous buyers place high bids to help these hard-working students with accomplishing their goals in life.
In addition to their onsite horticulture career-technical program with a state-of-the-art greenhouse, Sandy Valley High School has a 100% graduation rate for students who stay in Sandy Valley from k-12. They offer college credits through a partnership with colleges and universities, have more than 14 career-technical programs/partnerships, and have more than 30 extracurricular activities including athletics, academics, arts and clubs.
Visit the SV Horticulture Facebook page at www.facebook.com/svhort/. The Sandy Valley Schools website is www.svlocal.org, and the link to the SV Horticulture page is https://tinyurl.com/svhort.