School and COVID-19: What it's been like for area students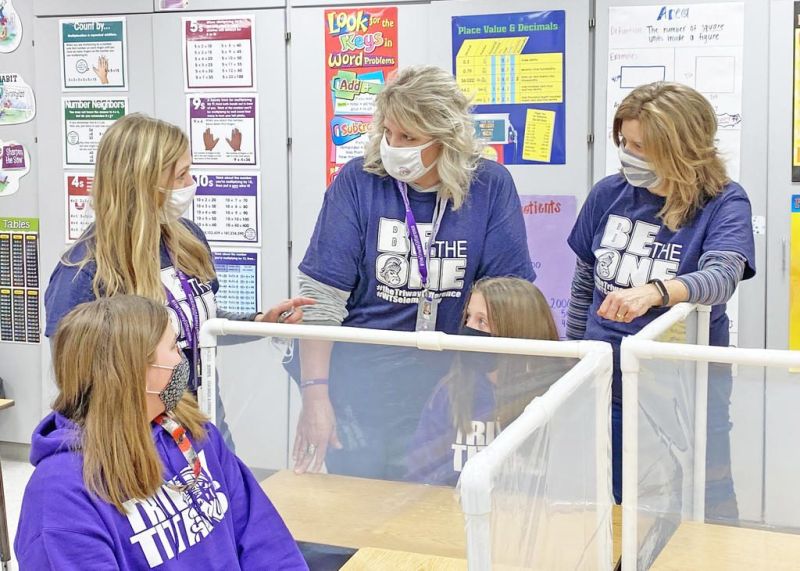 With all the concerns about COVID-19 and the decisions and actions adults have had to take to fight the virus, sometimes what the experience is actually like for students might not be fully appreciated.
"My grandpa was in the hospital, and he died from COVID," said Lilly Jackson, a fourth-grader at Wooster Township Elementary. "I hope it goes away soon because it is affecting so many people. When we were learning from home, I really missed my friends and teachers. The only good thing was that we got to learn in our PJs."
"Two of my aunts and uncles had it and my really good friend too," said Pyper Hamilton, another fourth-grader at Wooster Township.
Hamilton said she is happy to be back in school now, even with all the precautions that are in place.
"Now we have to wear masks all the time and social distance. We have to eat lunch in our classroom, which is not fun. And we have these dividers on our desks, which I also don't like," Hamilton said.
Triway Junior High School principal Josh Stutz said while the whole school system from administrators to teachers and all the school staff have done a great job, the kids have maybe been more resilient than everyone else.
"We've learned a lot, and that's what school's for, right? We just never imagined it would be anything like this," Stutz said.
Addi Hudson, an eighth-grader at Triway Junior High, said she is looking forward to the day they can put all this behind them. "We just really have to think twice about everything now," she said. "We social distance and wear masks all the time."
Even though they are back in class in person now, Hudson said many things are different. "We are not allowed to do work on paper anymore. We have to do everything on our Chromebooks," she said.
Hudson said extracurricular activities are different too. "A lot of our stuff has been canceled or limited somehow," she said. "I just feel like this is a long process, but how we respond is how we'll get out of this sooner."
Another Triway Junior High student, eighth-grader Madeie Blevens, said she had to quarantine when her mother, who works at the hospital, had the coronavirus. "It's all been pretty intense," she said.
Blevens is on the cheer squad at Triway and said there have been changes to what they can do.
"We're only allowed to have four family or close friends come to games," Blevens said. "And we're not even allowed to go to away games this year. We're not able to have dances like we normally would."
Blevens also is in choir and said the challenge of maintaining social distance and wearing masks is tough. "We are really good about it, but singing though a mask is a lot harder."
Although students of every age are affected somehow, maybe one of the toughest situations is the challenge high school seniors are facing. For seniors, their final year is supposed to include final sports seasons, band concerts and art shows, school dances, college visits, and graduation ceremonies, all of which have been impacted to various degrees.
Hiland High School senior Emily Troyer is a member of Varsity Singers. "Our musical had to be canceled in November, and we don't have as many concerts. We're not able to go to any competitions this year either," she said.
Troyer said her college visit with Malone University was a virtual one. "I feel like that is one of the big deals of your senior year," she said. "But like everything else, you need to deal with the frustration somehow. At least I got to meet with other students who are going through the same thing."
Will Schlabach, another Hiland High School senior, plans to go into pharmacy. "My college tour at Findlay in the fall was a little different. We had to social distance all the time, and we had to stay outside," he said.
As far as prom and other senior-year traditions, Schlabach is guarded. "I kind of already know they're probably gonna be canceled, but it sure is still a bummer," he said.