Seabright honored as SilverSneakers Instructor of the Year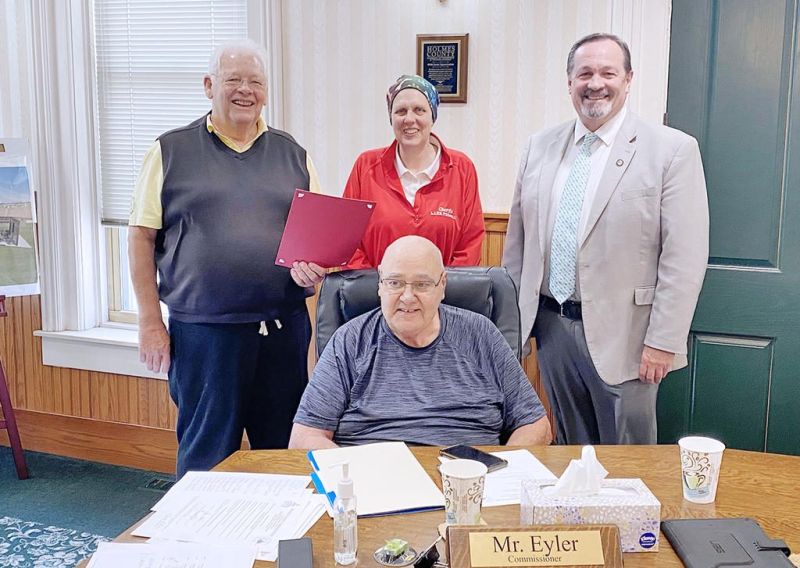 Over the past several years, Cheryl Seabright, owner and instructor at Cheryl's L.I.F.E. Fitness Center near Lake Buckhorn, has been lingering among the top 10 finalists for the annual SilverSneakers Instructor of the Year.
This year she finally broke through.
Seabright was tabbed as the Tivity Health SilverSneakers Instructor of the Year winner among finalists from all over the United States.
The commissioners' proclamation talked about Seabright's commitment to the community and to the betterment of people's health, a list that included her advanced health and wellness programs for seniors, co-chairing the Standing Against Falls Coalition, providing tai chi for arthritic patients, and serving as a public health champion for the Holmes County General Health District.
Over the prior two years, Seabright finished in the top 10 in the nation two years ago and pushed her way into the top five last year before finally breaking through this year.
A physical education teacher by trade, Seabright moved into the world of working with senior citizens. She started her career at Pomerene Hospital/Kinetics and quickly developed a huge fan base.
"I got into SilverSneakers because that has always been what my passion was all about," Seabright said.
She went on to collect her doctorate in exercising for the aging and elderly, and the opportunity presented itself to develop and grow her own business at Cheryl's L.I.F.E. Fitness.
Since that day it has been a love affair between her and her senior friends and clients who she referred to as family.
The SilverSneakers award doesn't come from Seabright but instead arises from her senior clients, who pushed for her to receive the award.
They nominated her and wrote letters of support to Tivity. Once she obtained the top 10 again this year, the group needed to submit a video showcasing why she was worthy of the top spot.
Seabright said they have created videos each of the past three years, the first one being a virtual tour of her facility, the second one focusing on Betty McNutt and Margaret Martin doing a skit, and this year's entry was themed "We are Family."
"I had all my classes learn the song 'We Are Family' (by Sister Sledge); only we changed the words to 'we are family, get up and exercise,'" Seabright said. "Some of them did kick lines, some did cardio drumming, some did balance work. It was really a lot of fun. We had a blast with that theme, and if it wasn't for the passion of my seniors and SilverSneakers saying, 'Hey, she really does deserve this award,' I wouldn't be where I am."
Commissioner Joe Miller said Seabright is an inspiration because she showcases a valuable asset, that being unity among a group of people striving toward a common goal.
"We can't do life by ourselves," Miller said. "So many times when people get older, they have extra time, and this is a wonderful way to connect."
Seabright explained many of the exercises they do at her center and talked about how the camaraderie makes it an enjoyable time for everyone.
"To me it's all about serving the people who put their trust in me and building the relationships that make this so special," Seabright said. "I wouldn't have ever received this without the support and nomination from the people here. They're the ones who put me here, and they are truly like a family to me."
Commissioner Dave Hall agreed, saying Seabright hit the nail on the head when she spoke about a family.
"Some of these people don't have a family around, and that becomes a big part physically and emotionally," Hall said.
He said Seabright has been going through some trying times with her own health issues, and he said she has been an inspiration for many people through bringing her smile and grateful attitude to work every day.
"You inspire people with what you've been dealing with," Hall said to Seabright.
Seabright said a celebratory party is slated to take place June 30 at 1 p.m., where a film crew from Arizona representing SilverSneakers is scheduled to join the celebration and make a film.
The commissioners were impressed with Seabright's energy and winning attitude, and they were pleased to be able to present this honor on her behalf.
"Your positivity and willingness to make sure everyone is taken care of is amazing," Hall said to Seabright.