CitC adds to season of memories for Las Vegas team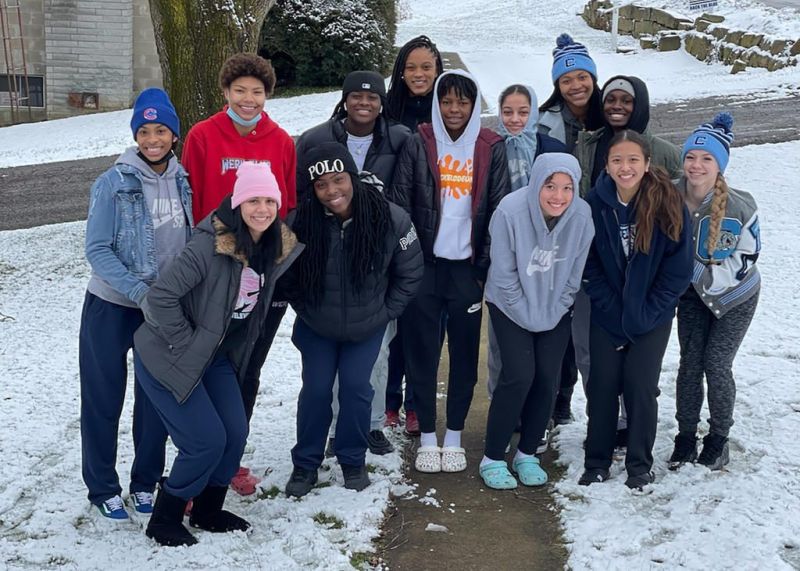 When their season came crashing down on them, the heartbreak of the Centennial High School girls basketball team from Las Vegas, Nevada could almost be felt in Amish Country in Holmes County.
Because the state of Nevada canceled all high school sports due to COVID-19, the team from Las Vegas that racked up six-straight state titles was watching their season disappear before their eyes, a chance to win the program's 13th championship gone.
However, instead of giving up, the team fought back, transformed itself into a traveling team made solely of its high school squad and started seeking games to play out of the state.
Usher in Classic in the Country, one of the premier girls high school basketball showcases in the nation, which connected with the Bulldogs and invited them to come play not one, not two but three games over Martin Luther King, Jr. weekend Jan. 16-18 at the Perry Reese, Jr. Community Center in Berlin.
While the trip was a long one, it created a scenario for the Bulldogs to not only play basketball, but also experience a part of the nation few of them have ever seen.
Katie Lutman, Bulldogs assistant coach, said the experience was one the girls will cherish, and the simple opportunity for them to play the game they love and have worked so hard at is well worth the challenges and expenses of traveling to find a place to play the game.
"After our season got canceled, the kids were upset and devastated," Lutman said. "Most of these kids have been with our program since fourth grade, and for our seniors, they finally were going to get their opportunity to play a year everyone looks forward to playing, but then 2020 happened and things changed dramatically."
Rather than wallow in pity, the team's coaching staff and parents put their collective heads together and hatched a plan to play. The Bulldogs were ready to hit the road, and while they couldn't even play under their school name, wearing their school colors, they could play hoops.
A makeshift season has seen them renting out facilities to practice, sometimes using public parks to play.
It has not been easy, but it has been both inspirational and fulfilling for the girls to be able to suit up and play.
"We knew it wasn't going to be easy," Lutman said. "But we felt we needed to do this because it was right for the girls, and especially for our seniors to have a senior season. This game means everything to them. They love the game, and being able to finish their senior season playing together was huge for our seniors."
And what was the Bulldogs' reward for making the flight to Amish Country? They got the joy of taking on three of the top teams in the state including host Hiland, top-ranked Newark and another top-five team in the state in Reynoldsburg.
The Jan. 16 game saw the Bulldogs fall to Hiland in a 59-55 nail-biter. Then the next night they saw how good basketball can be in Ohio when Newark handed them a 56-35 defeat. Finally, in a Monday, Jan. 18 matinee, a tired Bulldogs team faced a fired-up Reynoldsburg team. After falling behind by 23 points, Centennial put forth a monumental comeback bid that saw them rally, take the lead and eventually come away with a stunning 63-59 victory.
The team didn't even have time to savor the win, having to rush to the doors to catch a flight back to their Las Vegas home.
However, between the loaded slate of games came a chance to experience Amish Country including the food, the hospitality and a wild evening of enjoying something they don't get in Las Vegas: snow.
When the white stuff came down, the girls trekked to Dollar General to purchase some inexpensive sleds. On the hill beside Burger King, they found out how much fun sledding can be. They built snowmen, threw snowballs and enjoyed a night they wouldn't have ever gotten to enjoy together had it not been for the fierce efforts to make this season happen.
"I think it has snowed one time that I can remember back home," said Taylor Bigby, who is headed to play at Oregon University next season. "It was so much fun. We had an absolute blast, and that is a memory we can take with us that was so much fun."
Bigby said it was fantastic to be able to come to the CitC and compete against Ohio's very best, and she was excited and grateful she and her teammates had the opportunity, thanks to so many people who made it happen.
The experience, the action and the joy of building bonds of friendship that will last a long time was certainly worth the effort of many people who showed how working together toward a common goal can be very fulfilling.
"Our kids thought the season was over, and then it wasn't," Lutman said. "These girls had so much taken away from them, as did all of the teams in Nevada. This has become their social life, and this is what they will remember. The thought of not experiencing this was devastating for them, but all we can do is try to make the best of our world right now and, most importantly, do what is right for the kids. We are going to remember this weekend for a long time because we have been treated so incredibly well."