Sending Hiland grads to next phase of life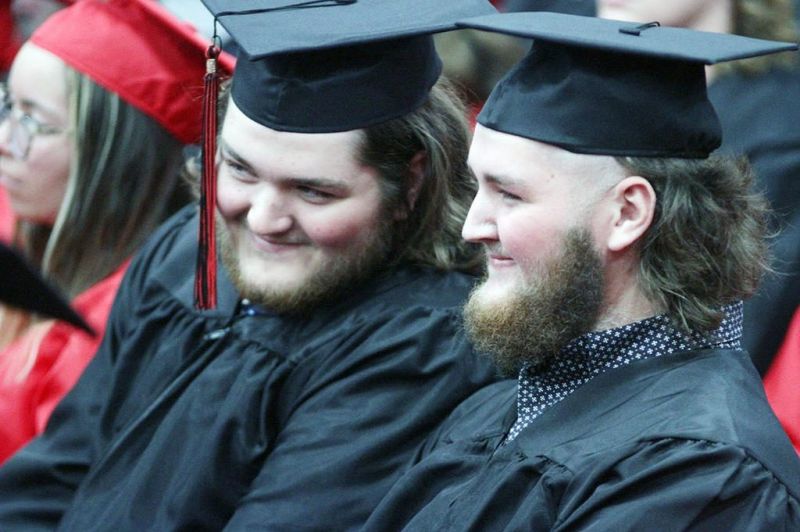 On May 28, a bright Sunday afternoon, 56 senior graduates from Hiland High School took their final steps on the Hiland High School grounds as students in the Perry Reese, Jr. Community Center and walked out into a new world that holds many uncertainties, challenges, joys and excitement.
The HHS senior classmates fulfilled their final moment in the sun, participating in the Class of 2023 graduation commencement ceremony.
Following a processional from the Hiland concert band, Grace Schlabach led in an invocation and thanked God for the many opportunities the students had received to grow and learn and for the many people who encouraged and taught them along the way.
The Hiland Varsity Singers then sang the Hiland High School alma mater, and graduate Carson Habeger provided a welcome.
"I am honored to stand before you here looking back at these four years of legacy we have made together," Habeger said. "On behalf of the entire senior class, thank you to the teachers and staff who made these four years everything they were, not only your dedication to educate, but for pushing us to be the best version of ourselves. We will forever be grateful for our lifelong relationships with our peers and with the staff."
The Hiland concert band then played the song "Colliding Visions" by Brian Balmages before salutatorian Katheryn Coblentz took the podium and spoke about how rather than sift through the many graduation speeches she could have given, it felt more appropriate to simply give the speech she felt she needed to hear.
"Hopefully, there are others here who will benefit from it as well," Coblentz said.
She began her speech by reading a poem from Whitney Hanson, a poem that focused on accepting the challenges the unknown may bring and facing them without fear, head on.
Questions swirled about the fears of venturing out into life, of missing home and of failing.
Class valedictorian Hannah Schrock then delivered a speech focusing on dealing with the many choices she and her classmates will face as they move into adulthood.
She said in stressing over so many choices on which to speak, like character, resilience, success and memories, she soon realized the choice was simple. She needed to talk about choices.
"Not decision-making processes or how to make choices but rather the importance of choices and the impact they have on our lives," Schrock said. "The daily choices we make may seem insignificant at the moment, from hitting that snooze button to not reaching for that second slice of cake, but they matter."
Following Schrock, there was a video presentation featuring each graduate as they are today beside a photo of them as a child, symbolizing the growth each young adult has experienced throughout their years in the East Holmes School District.
The Hiland Varsity Singers then performed the song "Praise His Holy Name" by Keith Hampton before Hiland High School Principal Tyler Renner presented the Class of 2023, congratulating them on a journey 13 years in the making.
East Holmes Schools Superintendent Erik Beun then provided the presentation of the class role call along with some words of encouragement and gratitude to the Class of 2023.
"I look out into the audience, and there are a lot of proud, smiling faces," Beun said. "These are the people who have walked with you, supported you, nurtured you and cheered you on over the last 18 years."
That list includes parents, grandparents, uncles, aunts and friends, and Beun said on behalf of the seniors, he wanted to thank them for that support.
Beun then went on to talk about the district's eighth-grade graduation ceremonies and singled out one speaker in particular, that being Mark Coblentz, who spoke at Wise School.
The local entrepreneur attended Wise and presented one specific message that stuck with Beun.
Coblentz said he received a good education at Wise, but there was more.
"He said it was a good foundation, but it wasn't the end," Beun said of Coblentz's words. "His encouragement and challenge there was don't stop with the education you've been given but take the initiative to keep learning."
Beun said it remains firmly on the shoulders of each student to keep striving to learn, whether it is joining the workforce, college, mission field or whatever avenue each will now pursue.
"I challenge you as you leave us today, keep learning," Beun said. "Take those lessons that you've learned from your family, your church and your schools and with that make good and meaningful decisions that will work for you. You might ask when does that start. It starts now."
He finished by saying East Holmes Schools makes every effort to make the school experience one that is filled with community and family values and prepares students for careers and citizenship.
With that, along with a benediction from Itzelle Guzman, the students received their diplomas, one by one, as they relished the accomplishments of the past many years and look forward to the future that lies ahead.