Soap Box Derby competitors take the race indoors to keep the sport rolling along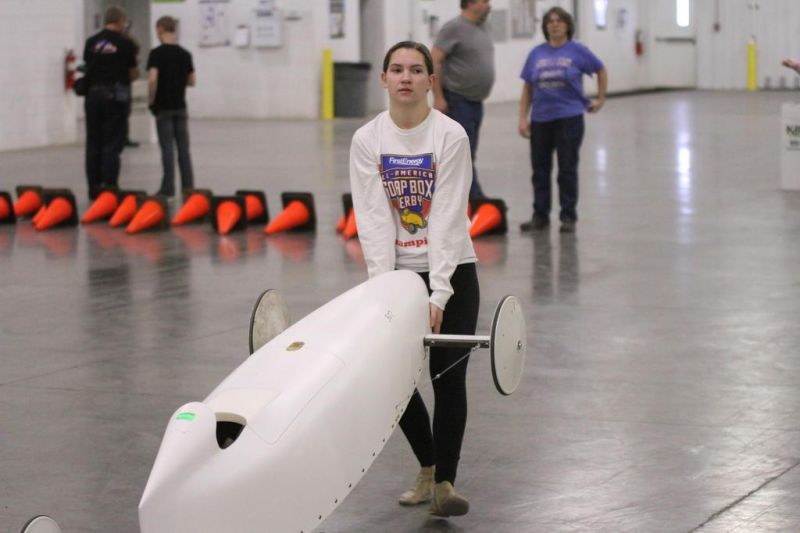 While the temperatures were falling to ice cold outside on Saturday, Jan. 19 at ProVia near Sugarcreek, things were heating up as Soap Box Derby competitors brought their derby cars in from near and far to compete in an unusual indoor competition, a rarity in the United States.
"There are only about four events in the United States that race indoors, so we are very fortunate to have this opportunity," event director Tim Hiller said. "It is a way to keep kids interested and keeps the sport moving forward during the winter months."
With competitors from all over the immediate area and as far away as Philadelphia, Pennsylvania and Illinois, drivers were chasing points to qualify for the national finals in Akron.
Drivers can qualify for the national event by being a local champion near their hometown or by garnering points through the rally scoring system, of which this race was a part. Drivers collect points in rally scoring, and if they earn enough points, they can qualify that way to race in one of the Stock, Super Stock or Masters divisions.
Meredith Brown of Rittman and her family braved the weekend winter storm to compete. Her father Dave Brown said they saw the derby on television one year and thought it would be fun, so they dove in headfirst, having exactly zero knowledge of what they were doing.
Now in her fifth year, Meredith Brown has enjoyed many aspects of the race and had the honor of earning the 2017 Wayne-Holmes Stock champion, where she was bumped up to the Super-Stock division, where the competition gets faster.
The rally season begins in August, and Dave Brown said they have attended about 12 events thus far as they rack up qualifying points.
"It's fun, and I get to hang out with my friends," Meredith Brown said.
"We get to travel a lot as a family," Dave Brown said. "It's quite a bit different than outdoor because you're not racing downhill and accelerating the whole way, so it is a different strategy, but it is still a lot of fun."
Sarah Martin from New Philadelphia is a Masters Division competitor, meaning she is laying down in her car and has just a few scant centimeters to see.
A seven-year veteran of the Soap Box Derby tour, she looks forward to every time she gets to compete. They were invited by a family friend.
"I watched that first race and got hooked," Sarah Martin said. "I love the competition part of it because there is a lot of adrenaline pumping."
While Stock and Super Stock cars come as a complete body, the Masters cars come in pieces that must be cut, dried, bonded together and built from the ground up.
"You build a Masters car around the driver basically," said Chris Martin, Sarah's father. "Everything in the car is lined up to fit her, and the body is built around her and where her head sits."
Sarah Martin has won the local Tuscarawas County Soap Box Derby Race twice, winning in both the Stock and Super-Stock divisions. She now has her sights set on a Masters title.
Having raced at Akron, she said she would love to get back there again.
"It's a week of racing where you meet so many people and make some great friends," said Sarah Martin, a New Philadelphia High School freshman.
Stephanie Getz from North Canton has been a Masters competitor for four years. In the past two years, she has placed fifth and sixth overall in the Masters division at the All-American championships at Akron. At 18 years old, her aspirations are to work her way higher up the podium at nationals.
"My dad owns a body shop, and one day years ago a guy came in with a Masters car and asked if Dad could paint it," Getz said. "At the time I was 7 years old, and he offered to let me drive, but I was too young. So I started racing the next year, and that was nerve-racking."
She actually left the sport for several years, but oddly enough she was part of a STEM class in which the goal was to build a derby car. She was designated as the racer from her group.
"I realized that I had been missing out on all of this fun for the past three years," Getz said. "I've been racing ever since then. I love traveling all over the place, meeting new people and making new friends and seeing myself succeed."
Even when she isn't winning, Getz said part of the joy of the sport is watching friends win. She said while it is ultra-competitive, there is a universal joy in rooting for the other drivers.
"We all end up running down the track, cheering on our friends, and that is what I really love about the sport," Getz said. "One year my friend won the All-American Derby, and it was amazing, almost like I had won myself. We were running around, screaming, and we all ran down to the end of the track and started hugging each other. It was amazing."
While the cement floor of the ProVia warehouse may be level, the derby cars must get their initial boost of speed courtesy of a unique man-made hill. The two-lane starting blocks were the creation of Steve Haney, and a group of men built the 20-foot-high gates designed to provide a smooth transition from slope to floor. The result is a two-lane gate that can transport easily.
The ramp is built to be set up on top of pallet racking, and once completed, it becomes a perfect starting spot for the derby competitors. There are 4-foot-by-8-foot sub-panels that go underneath the ramp, and Oriented Strand Board provides a smooth layer on top. The operator's seat is situated between the two lanes, where he is able to simultaneously release the starting mechanism in each lane.
"These are as nice as there is out there," Hiller said. "We told Steve what we wanted, and he drew up the plans and created them. While they don't go as fast as they do on an outdoor hill, it brings every bit of excitement at the finish line you'd see at an outdoor race, and it is every bit as competitive."
Haney said the group reverse-engineered the ramp from the initial creation that saw them use it for the first time at New Towne Mall years ago.
Constructing the ramp for each race is time-consuming. Haney said it took a group of about 15 people to around 10 hours to complete the set-up at ProVia.
"This is a beautiful facility, and we are grateful that they allowed us to come in and use it for the races," Haney said.