Storybook Lane gets a fresh look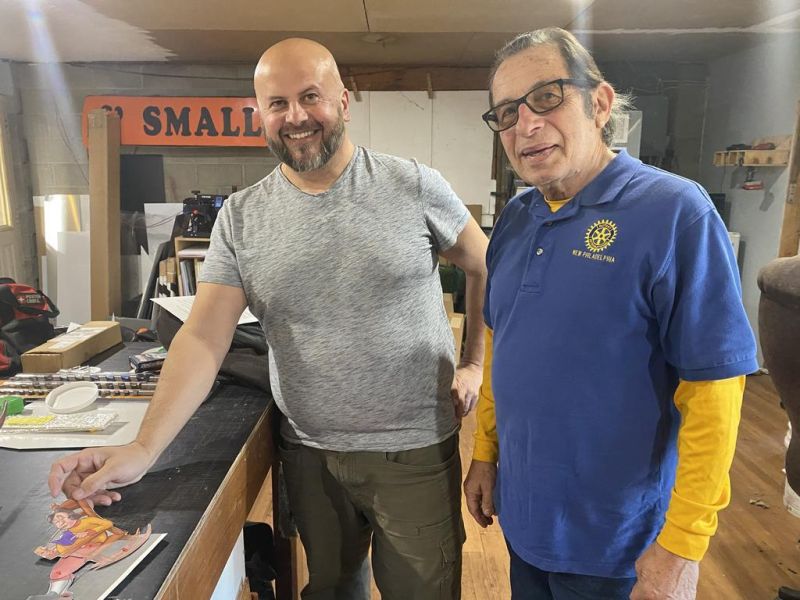 For 67 years the holidays in Tuscarawas County have included a drive-thru Storybook Lane at Tuscora Park. The vignettes, representing 24 nursery rhymes and tales, are getting a fresh look from a local artist while also being transferred to more durable, weather-resistant materials.
Storybook Lane is a project of the New Philadelphia Rotary Club in conjunction with the city. Rotarian Tom Police is chairperson for the project, which began in 1956 when local businessman Vic Marsh conceived the idea. The 24 panels were created by a former Walt Disney Studios artist, Goose Kniesner, then built by employees at Marsh's Marlite factory. The Rotary Club has been working to restore and preserve the original displays, now showing considerable wear through nearly 70 winters.
"The originals are being saved," Police said. "We are preserving them for possible display in a future museum of the city of New Philadelphia."
Area artist Mark Watson began work to recreate the original displays on sturdy aluminum panels painted with durable automotive paint, but Watson passed away in 2022 before all 24 panels could be finished.
"He had been struggling with poor health for the last five years," Police said. "He was able to do about two a year over that time."
Police approached local artist Greg Scott about working on the displays, who came up with panels that are even more resistant to wear and fading. The images are printed onto heavy vinyl, which is then affixed to aluminum core boards. Any damage in the future can be easily remedied by installing a new vinyl printed image. Police then builds the framework for each and adds motorized elements for character movement.
"I start out by creating freehand sketches," said Scott, who owns a graphic design and sign shop called GsWorx. "Then when I get a sketch I like, it is transferred to digital where I finish it."
The finished image is printed onto heavy vinyl, then pressure laminated to the supporting board. Scott is helped with the finished production work by Brent DeVore. "It's a faster process, and if something is damaged, it'll be an easy fix."
Scott has produced six new displays so far this year.
"As the panels are finished, they get another upgrade," Police said. "Of the originals in 1956, about half of them had movement of some kind. Now they will all have moving parts. I think kids will get a kick out of it when it's finished."
To make sure all the elements come together mechanically with no surprises, Scott creates small-scale mock-ups of some of the displays. "Just to make sure it will work at full scale," he said.
There also have been some other improvements. In studying photographs from the original display, then on East High Avenue, Police realized some elements had gone missing, which are now being returned to their rightful place.
"There was a dog that was missing from 'Hickory Dickory Dock,' and that's back in place now," Police said.
Storybook Lane is installed just after the Thanksgiving holiday and remains in place until after New Year's Day. Installation is by New Philadelphia parks and cemetery crews.
Funding for the restoration project comes from low-cost sponsorships. "There are two line sponsors at each of the displays," Police said. "For $300 you can put 40 characters and spaces there, and it stays there for three years. Then there are 'friends' boards at the end, where for $100 for three years you get a shorter message. That's worked out well for us."