Style simplified at new Uhrichsville boutique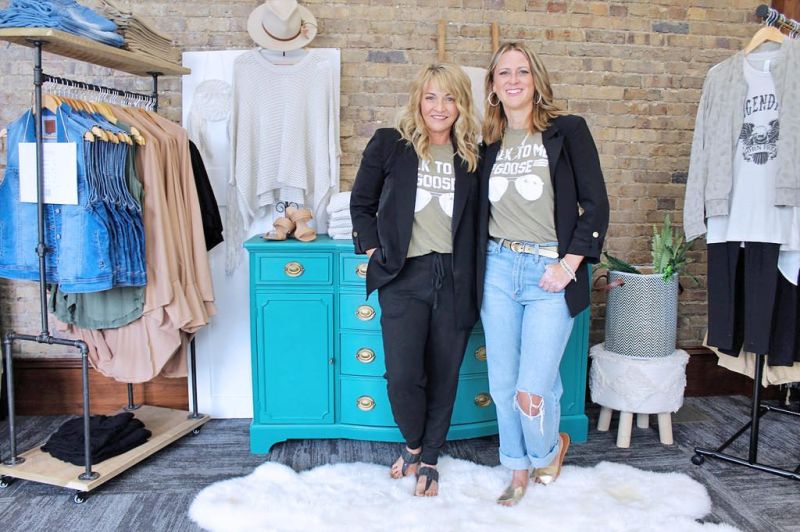 If your closet is stuffed to the max yet you have nothing to wear, it's time to give Lovely. a try. The new boutique in Uhrichsville, opened this year by longtime friends Betty Quillen and Amanda McDaniel, both of Gnadenhutten, focuses on helping their customers build a versatile capsule wardrobe.
Capsule wardrobes are described as small, clutter-free wardrobes of comfortable pieces that can be mixed or matched to make many different outfits. The basic pieces are ones that never go out of style. Lovely. also has added a line of flair pieces to pair with the basic pieces that are more in line with current trends.
The two women had separately been thinking about opening a clothing store when they connected on a phone call on March 2. Quillen had been considering going into the clothing business for at least a year while McDaniel admitted to being a bit of a fashion junkie her entire life.
McDaniel thought a boutique would be farther down the road.
The idea of helping style people and help them express themselves through fashion, that idea started to bubble up probably in the last three or four years," McDaniel said. "And then I had some things change, of course, after 2020, like many people. I would say that's probably when it really struck me."
McDaniel started to pray over it and realized the dream wasn't going away.
"I knew I was being led to do something with it. I just don't know what yet," McDaniel said.
The two women finally connected one evening when McDaniel asked Quillen about her social media coaching business.
"We were texting back and forth one night, actually just trying to make social plans. And she had asked me something about my coaching," Quillen said.
She asked McDaniel what it was she wanted to do.
"I could tell that she was thinking of something new, and she's like, well, a boutique of sorts. I was like shut up. We need to have a conversation. We got on the phone that night," Quillen said.
The two discovered their ideas for a boutique business were the same.
"It was just very obvious to us that God was bringing those two dreams together. Because as often as we talk and see each other, we never talked about a boutique until that night," Quillen said.
Their phone call occurred March 2, and by March 17 they were signing a lease.
"We just jumped in," Quillen said.
They had their first online clothing launch on April 18. Customers can choose to come into the store during certain hours for pickup or have their order shipped.
Plans are to open the store for regular hours in October when they've had a chance to build up their inventory.
The two women said they've been fortunate with getting quality clothing into the store.
"It's challenging when you're buying, especially if it's your first experience with a brand. It's kind of sight unseen," Quillen said. "We will eventually start going to shows where we can get to know the vendors a little better, but we've had really good luck so far."
For the capsule pieces, items need to be high-quality, longer lasting pieces, and the women are happy with what they've found.
"It's all about reusing those everyday basics in new and creative ways. When you can vary, you get a lot more wear out of your clothing. It's more of an investment," McDaniel said. "Whenever you are doing a capsule wardrobe, a lot of times you're going to pay a little bit more for the jeans. You're going to pay a little bit more for the jacket and the T-shirt because it's a better quality. It's something that you're going to keep reincorporating in new and fun ways."
Another plus of having a capsule wardrobe is it's a time-saver.
"When you go into your closet, everything goes together, so it makes getting dressed a lot easier and less time-consuming," Quillen said.
While many add to their wardrobes when the mood strikes, it's better to plan what you want to buy so all the pieces complement each other.
"That's really the ultimate goal," McDaniel said. "I think I used to be somebody who would just kind of buy things very sporadically, randomly, and then I would get it home and it would sit there."
The women do Facebook Live one Monday evening each month to launch their capsule pieces. Then the other Mondays, they launch flair pieces.
"The flair is going to be kind of the personality of your closet. A lot of people, when they think of a capsule wardrobe, they think that's boring," Quillen said. "The flair is what makes your capsule really come alive. And so that's where you come in with a little bit of color or a fun T-shirt or graphic T or a trendier top that you might only wear for a season or two, but it's what really makes that basic blazer stand out. It pulls everything together and personalizes it."
Lovely. has gotten a lot of positive feedback from people who aren't familiar with a capsule wardrobe or others who like some of the individual pieces. They heard from one customer in particular who took a leap of faith based on their advice.
Until they open for regular hours in October, they intend to have some pop-up openings throughout the summer. Watch their Facebook page for more information. For the month of September, they will have clothing available at a new venue, the Yellow Brick on 39, which is near the Norma Johnson Center.
On their Facebook Live shows, the women show different ways to wear pieces and dress them up or down. Since they began selling online, Lovely. has customers from as far away as Wisconsin. Others have ordered from Pennsylvania and Illinois.
Lovely. and another business, Command Wellness, share a location to save on costs as they couldn't have afforded to rent the space by themselves. Lovely. is located 202 E. Third St. in Uhrichsville.
Text the keyword LOVELY to 330-274-4727 for links to connect with the store on social media and get alerts on new collection launches. The website is www.styledlovely.com, and the Facebook page is Lovely. with a period on the end of the word.