'The Doddfather' ready for next chapter in life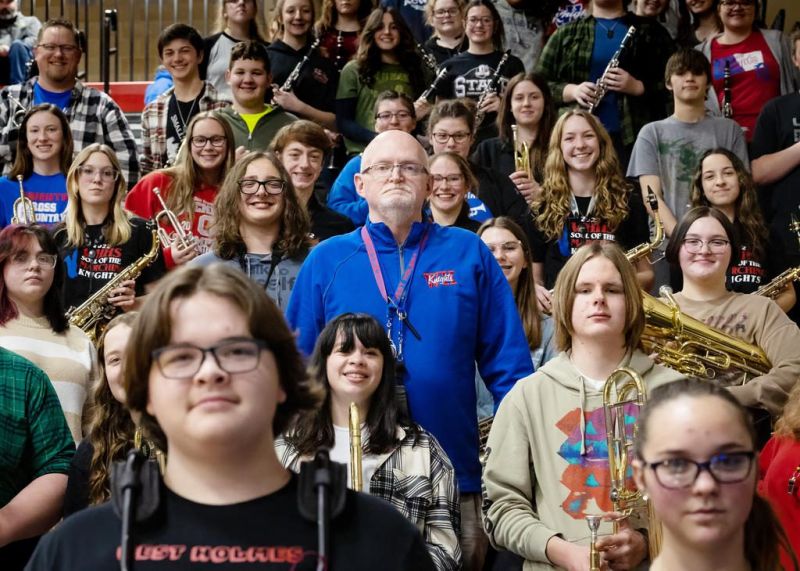 West Holmes High School band director Brian Dodd has been a staple at the school for the better part of three decades. During that time the man tabbed "Doddfather" after Don Corleone's famous character in the movie, "The Godfather," has touched the lives of thousands of students and community members.
This winter Dodd officially announced his retirement after 38 years of teaching, a stint that included 14 years at East Knox High School before he made his way to WHHS, where he has gained state-wide notoriety including his work as director of the Ohio State Fair band, where he worked with the most gifted high school musicians throughout Ohio.
Before telling the community, Dodd felt his first step in announcing his retirement needed to be with his students. That day brought many tears, such is the relationship and bond he has built with his students.
"One phase of life ends; another begins," Dodd said of his retirement. "I love this job. This has been my dream job. But I also know a smart man knows when it's time to move on to the next phase of life, and that time has come."
Dodd said he hopes to spend more time with his mother and grandchildren, with his eldest grandchild becoming a marching band member in Mapleton. An avid bicyclist and active outdoorsman, as well as someone who enjoys volunteering to help others, Dodd said while he doesn't yet know what the future holds, it will easily get filled with the things for which he holds a passion.
"I've always been one to tell others to make sure to set aside time for themselves, and I think it's time to heed my own advice," Dodd said.
While he is retiring as WHHS band director and teacher, Dodd said that part of his life won't cease to exist. He said he will continue to do work with universities and find ways to work with young people. One of those ways will be to continue his work with the state fair band.
"I'll get to continue to do work with kids from all over the state of Ohio, which has always been a joy to me," Dodd said. "It's not like Brian Dodd's no longer going to be a director. The way I presented it to the kids was that they graduate eventually. In this case I'm graduating after just 38 years."
All through his high school years as a student, Dodd had his sight set on going into medicine. He was involved with band, but he felt called to the medical field. That changed his senior year when he switched gears toward becoming a music educator.
For East Knox and West Holmes students and communities, it was the best outcome possible.
"I had some great teacher role models in my life, and from the beginning, I knew I wanted to carry on the idea of making a difference in young people's lives," Dodd said.
His initial foray into teaching music began at East Knox in 1986 when he was invited to interview for the band director role. He began the program with 28 students, and 14 years later, he had 115 band members, nearly half the high school population.
He interviewed with West Holmes in 1999, and then Superintendent Gary Gehm and then-band director Roger Wheeler were instrumental in bringing him on board.
"I wouldn't be here if it weren't for Roger," Dodd said. "I owe Roger my career. I initially didn't take the job because my father had health issues. The next year the job came up again, and Roger came to me and invited me back."
With West Holmes in the process of building its new and current high school, Gehm and Dodd walked around the unfinished building.
"There was a pond where the pit is right now," Dodd said.
He knew when he left that day, he was taking the job, and the rest is history.
Dodd took over the Knights' band program and built it into one that has been emulated throughout the state. His innovation and commitment to developing growth in individuals in the marching band, pep band, concert band and more has inspired countless young people to invest in an instrument.
Now each day, each event and every moment that has been commonplace for Dodd becomes the last one. That list includes 13 band trips to Florida, two to Washington D.C., numerous trips to the state fair, parades, half-time performances, football and basketball events and many more.
He said he will cherish each moment as the days to retirement tick down.
"I am so thankful for the people and communities of West Holmes and East Knox," Dodd said. "I loved my time here. There are times when I wish I didn't love my job so much because maybe then it would be easier to step down. Knight Nation has been tremendous. The support they give our kids is second to none."
Now he and his wife Lori will begin a new adventure, and where it leads this beloved instructor is yet to be seen, but he's excited about where the path may lead.
"I know there's a plan out there for me, and I know it is going to include continuing to be a positive role model for young people," Dodd said. "I'm retiring, but I'm not ready to give up being that person."