The 'mayhem' returns to aid Kenyan pastors, people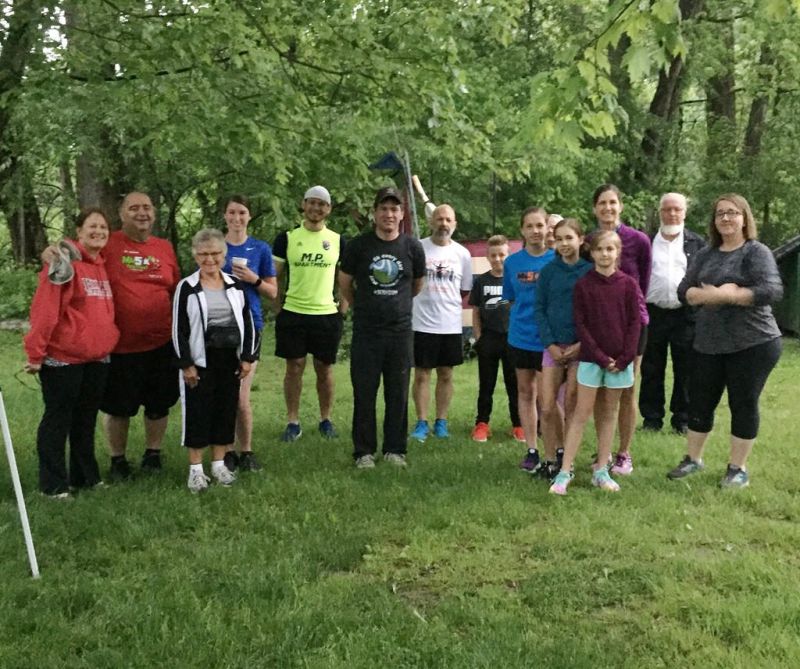 If you could save someone's leg from being amputated by giving them $1,000, would you?
Alex, a young Kenyan teen who has the burden of being the breadwinner in his family, was walking along a dark road one night near his village when he was hit by a passing motorcycle. The impact threw him into a ditch. The motorcyclist didn't stop, and he wasn't found by his family until the next morning.
While Alex survived, his leg had been severely broken. He was taken to the hospital, but in such a poor country, doctors wanted $1,000 before they would even consider operating. The only other option was to immediately amputate the leg.
A local pastor who has been involved with HopeQuest Ministries over the years called Paul Mullet, who along with his wife Cindy has been working diligently to create a partnership with Kenyan pastors in need of financial and spiritual support.
"He basically called in tears, asking for $1,000," Paul Mullet said of the pastor.
The money was a chunk of change for Mullet, but in Kenya, $1,000 might as well have been asking for the moon. Mullet quickly called several community members, and they cobbled together the $1,000.
Alex's leg now had a chance. His surgery was a success, and he is now healing. He almost never had that option.
That is life in Kenya, where the unemployment level is more than 50% and a day's wage is a few dollars.
To Alex and his family, the $1,000 was a life-saving event. In a country that continues to be extremely hard hit by COVID-19, the challenges are many, and for pastors in the nation, keeping the faith with those around them is always a daily burden.
Step by step Paul and Cindy Mullet are hoping to provide essential help to struggling, starving families in Kenya.
The second annual Mayhem for Kenya walk will take place May 22 starting at 6:30 a.m. on the Fredericksburg Trail, where Paul and Cindy Mullet will don their walking shoes for a 21-mile journey that will help raise funds for Kenyans who are without food and have no provision to feed their families. They are inviting others to join them in their effort to raise funds.
Mullet said while Alex's issue was not the norm, what they are currently trying to do is set up a ministry that will provide financial aid to Kenyan pastors. He said the hope is through a series of $100-per-month sponsorships, they can help these struggling pastors meet the needs of not just their immediate families, but also the families in their churches and villages.
They have currently been sponsoring a dozen pastors, and the response has been incredible, the pastors showing immense gratitude.
The fundraiser walk will be perpetrated through African Christian Missions International. Bishop Henry Mulandi, founder and director of ACMI, has become well known in this area through his many visits. He said these sponsorships are so critical and that he and the people of Kenya are very grateful.
"Back in the 1980s God called me from Rosedale Bible Institute to come back to Kenya and start a church," Mulandi said. "Ever since then the people of Wayne and Holmes counties have been there, supporting our ministry. Their many prayers and visits here have been so encouraging and uplifting to our efforts. We just ask that people there continue to stand with us through their prayers, financial support and visits. What they are doing serves a great purpose."
Mulandi's son Paul is the ACMI assistant director, and he said what he has seen occur through efforts like this walk has been energizing and inspiring. As part of the event, he is spearheading a prayer walk on Wednesday, May 19 as a way of preparing spiritually for the walk.
"This is about walking together," Paul Mulandi said. "We are partnering, and it isn't just one side doing something, but all of us working together as one body, one mind and one spirit as God leads us. This is definitely a journey of hope, and nothing is impossible when we walk together with God."
How can people help? The Mullets are asking anyone interested in aiding the fundraiser to set a mileage goal and get people to support them as sponsors. If anyone is interested in joining the walk, they may do so by calling Paul Mullet at 330-464-8226 or emailing paul@hopequestmin.org.
People also may donate per mile or as a single donation to the Mullets via Venmo @HopeQuestMin; by sending a check to HopeQuest Ministries, 10528 Winesburg Road, Dundee, OH 44624; or through the website at www.hopequestmin.org.
"It is incredibly encouraging when people stop by and walk one loop with us, just as a show of support," Mullet said. "By the end of the day last year, we were just about done, and we had a friend stop and walk and just encourage us, and it was a huge benefit and lifted our spirits. Our dollar here is so much more valuable to the people of Kenya. It goes so much farther and provides so much more."
While the walk is important, another way people can get involved is through sponsoring a pastor for $100 per month. Mullet said while the money is designated to go to a pastor, it will undoubtedly touch the lives of a large number of people, many of whom are seeing their children go to bed at night in tears because of hunger.
The goal is to provide aid for as many pastors as possible.
Cindy Mullet said some people ask them why not help struggling families closer to home? She said in the U.S. people have many government programs to help them survive. In Kenya they must find ways to fend for themselves.
"We have churches here who help people. We have government programs, but there is nothing there because they have nothing," Cindy Mullet said. "And their pastors are so dedicated and so loving that it breaks our hearts to see them struggling, knowing we can help."
For more information visit ACMI at www.missionsafrica.org.