The spirit of CitC trumps COVID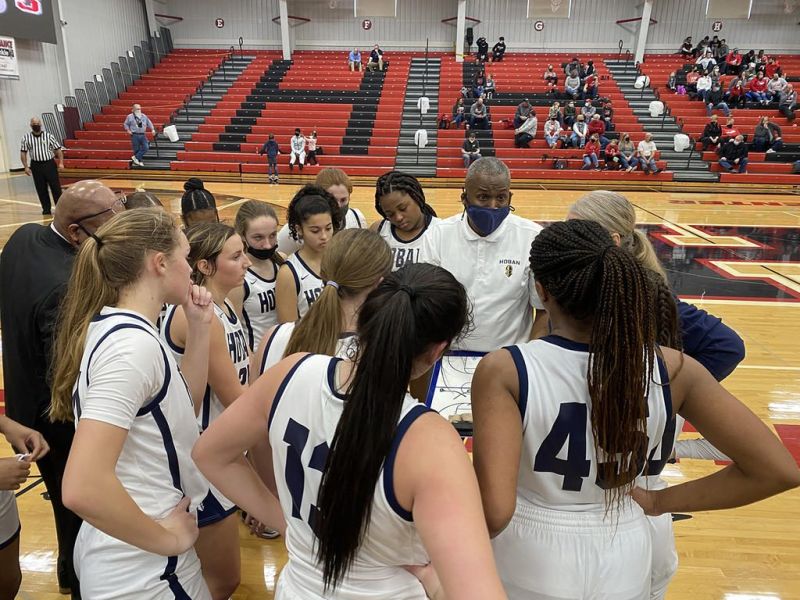 For close to three decades, Hiland head girls basketball coach Dave Schlabach has preached to his players they have to learn how to face adversity and learn how to survive and thrive in the worst of circumstances.
This year during Classic in the Country XVIII, Schlabach and company would be put to the test to adhere to that sound advice.
A rich tradition of coming together continued through almost the direst of times for those who put together the Classic in the Country girls high school basketball showcase.
With COVID-19 breathing down its neck, almost demanding a cancellation, which has been so prevalent so many places in 2020, Ohio Girls Basketball Report co-directors Tenishia Benson and Bryce McKey went into bend-but-don't-break mode, and the rest of the community of volunteers and many longtime financial backers stepped up to the free throw line and delivered one clutch free throw after the next, allowing Classic in the Country XVIII to take place, albeit in a much lesser setting than usual.
However, while the OGBR and those who built the CitC into one of the premier high school girls basketball showcases knew they would take a financial hit, what they felt was more important was giving the girls the chance to shine in the spotlight they so richly deserve.
"In the end it's all about these girls and giving them what they deserve, which is a chance to play here. I'm excited that we were able to play at all," Benson said. "I thought if we got to see three exciting games of girls basketball, it would be a win for everyone. What we got was an incredible weekend of basketball that allowed a lot of these girls to step on to the big stage and play the game. I think we have witnessed a COVID miracle."
Benson said having gone through the meat-grinder that was 2020, many if not all of these girls have had to face challenges those who came before them never faced. She said the uncertainty of having a season, battling through a pandemic and learning to pick themselves up after getting knocked down hard would build character in them they never even knew they possessed.
Benson said not only did the girls get a chance to compete at CitC, but also they were able to endure these challenging times and share smiles, cheer one another on and have a ball playing ball.
"It was important to have this weekend because I think it gave a lot of people hope," Benson said. "Many of these girls are aspiring to play college basketball, and this showcase gives them the opportunity to be seen by college coaches. That happened this weekend, and that is giving these girls hope that there is a future for them. It has been hard on our girls, all over the country, and this gave them a little light at the end of the tunnel, along with some sense of normalcy, especially for our seniors who have had to endure so much through all of this."
Schlabach, one of the founding fathers of the CitC, said it would have been easy to cancel the event, knowing what would have to go into ensuring players and spectators would be as safe as possible throughout the weekend.
While the CitC has faced challenges with weather in the past, this year's turn of events was a brand-new hurdle, but it was one that transpired because of the commitment of a community that believes in the value of the showcase.
"We refused to give up," Schlabach said. "We felt it was important for all of these girls to get a chance to play, and especially the seniors."
Schlabach pointed out his group of seniors would have been born the year CitC began, and many of them started attending the event as young girls.
"With this past year being what it was, we wanted to give the kids every opportunity to experience this one more time firsthand," Schlabach said of a senior group that made it to state last season only to watch in agony as the state tournament was canceled.
Many of the teams in attendance have played very few games this season due to COVID restrictions and quarantining. Newark played four games in a row this season while Sheridan was coming off a 10-day quarantine period with no practices ahead of its overtime loss to Akron Hoban.
"Obviously, the crowds are down because we have to distance, but we were able to keep this tradition moving forward," Schlabach said. "We have a lot of college coaches online watching the games. It is still something very special for all of the teams to play here. I've talked to a lot of coaches, and they often say that playing in the Classic in the Country is one of their career highlights, so it has been neat to be able to provide that for the girls."
The CitC flourished despite not having its usual fan base. Corners were cut to save wherever possible, but the one thing that didn't dissipate was the hospitality that always makes it special for players, coaches, fans and referees.
While the inner circle of people guiding the CitC worked extra-hard this year to make it happen, Schlabach said seeing the community continue to show support has been just as important.
"You can't run an event like this without sponsors and community support, and in a time that could have seen us falter there, our community stepped in and helped us immensely again," Schlabach said. "I wouldn't begrudge our financial supporters at all, or our volunteers, if they decided to not get involved this year, but I think many of them recognize everything this event stands for, from the importance to our economy here to the racial and political unity we promote."
Through challenging times, character is found out, and the character of those who pulled together to create an opportunity for the girls to get their time to shine helped the CitC once again shine brightly.