VFW adds food pantry for veterans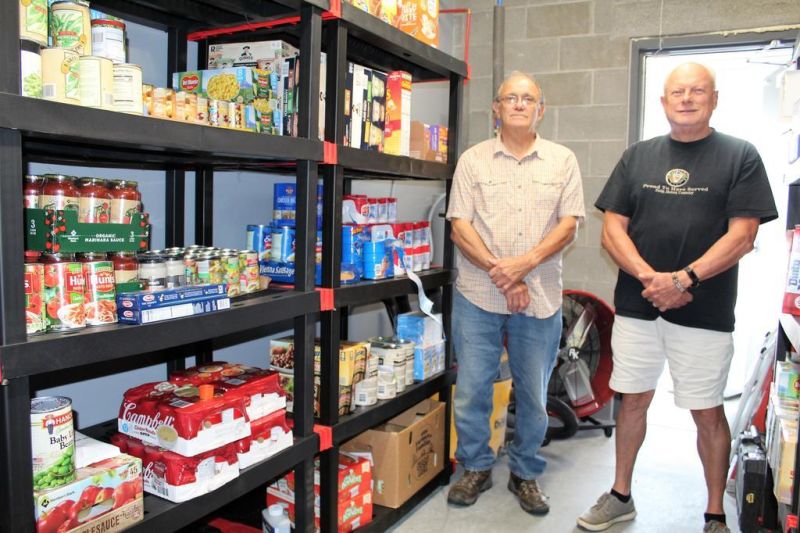 The Carl C. Stoller VFW Post 1445 in New Philadelphia has added a community room and a food pantry for veterans at its facility. The new construction added almost 1,000 square feet of space and is available to the public to rent for small groups. The area also is used for overflow crowds at the club when needed.
The food pantry area was recently stocked, and it is available to veterans from Tuscarawas County who are in need. The veterans will need to provide proof of military service.
A poker run fundraiser earlier this summer provided the funds, along with other groups and individuals who donated to ensure the food pantry was fully stocked with nonperishable items before they opened.
"We just have gotten it opened up, and we are just getting the word out," said Post Cmdr. Steve Chenevey, a Vietnam War veteran who has been a member of the post since the 1980s.
Tuscarawas County veterans can call the post at 330-364-9973 and make a private appointment to pick up food. In the short time the food pantry has been open, the post has already supplied food to two veterans in need.
"They called us to get a little help until they can get back on their feet," Chenevey said.
They have posted flyers at area locations including the VA and the Tuscarawas County Senior Center, where veterans would see them.
"If they need food assistance and we can help them out, then we also can help a veteran out with some rent subsidy if they're behind on rent or fuel or electric. We've helped quite a few veterans over the years," Chenevey said.
The post is accepting donations of cash or nonperishable food items to keep the pantry stocked.
The post recently put up a new flag and installed a new memorial at the front of the building.
"We do want this to stay a Veterans of Foreign Wars club. That's the focus of it, so that's why we try to keep a military-looking appearance and show respect for veterans," Chenevey said.
Several club members had asked to do more at the front of the building to honor veterans.
"I thought that was a pretty good idea, and so that's how the United Nations-looking flag set-up came about. We wanted to mention all the branches of the service. It's not just veterans of foreign wars because a lot of families sacrificed even if their military husbands didn't go out of the country," Chenevey said. "It's still a sacrifice, so we want to make a memorial for them."
Eagle Scout projects helped create the memorial wall and place a flag box outside the facility where people can leave worn-out flags for proper disposal.
For a $20 donation, the name of a veteran can be added to the wall, and proceeds go to support the programs of the VFW.
There is a plaque for every veteran from Tuscarawas County killed in action or died in a war on the memorial wall.
The New Philadelphia post will celebrate its 100-year anniversary in 2026, and they are proud of the services they have been able to provide over the years.
"The VFW was originally started to be a place for veterans, where veterans could congregate and help each other out, and it's blossomed over the years," Chenevey said.
One of the services the post provides is military honors for funerals for veterans. Its military honors team is staffed by a group of volunteers.
"I made a conscious decision when I retired that this was something I wanted to do," said Jerry Chenevey, Steve's brother, who serves as chaplain for the post, of the honors service. "When I got here, I found that they had a very active team here that is really committed to doing these services. For these guys, it's not about them. It's about the veteran and their families. It's just an honor and a privilege to do that."
The team has been busy, and more volunteer team members are welcome.
"It's kind of a focal point as far as what I think this club is about," Steve Chenevey said. "At the height of the pandemic, we did eight funerals in one week, two a day sometimes. There's a need for it."
The post works with area funeral homes to coordinate military honor services with those families who wish to have them.
In addition to their work to support veterans, the club contributes to those in the community. As a nonprofit they are required to support the community that supports them. In fact, the club is on track to donate $100,000 this year.
The post gave $8,000 to the First Town Days Festival for its scholarship program. They also donated $7,500 to the Boy Scouts to buy a new trailer, and they gave $4,500 to the New Philadelphia Marching Quaker Band to redo the logo on its trailer.
For the past five years, they have collected school supplies for teachers to distribute to students in need. They also provide yearly scholarships to children and grandchildren of the veteran members of their post.
The post hosts the Voice of Democracy competition each year.
They also have donated to the New Philadelphia Police Department to help with the costs of its K-9 dog. They donated to the Dover Police Department to provide first-aid kits.
One of the things they are most excited about is a $20,000 donation to the Performing Arts Center at Kent State University at Tuscarawas.
"This year we gave a donation to bring the play, 'Beyond Glory,' to the PAC," Steve Chenevey said. "And none of that would be possible without an active club, active members and active social members."
They want to continue their high level of support to people and projects in the community.
"We're trying to do more for the community. This club has always done that from the beginning. It's focus has been on community," Steve Chenevey said.
"We can only do this because of community support because it's important to know their support of the VFW can directly help them in return," Jerry Chenevey said. "It comes right back in the form of scholarships to their kids and grandkids and to help them do different programs like the PAC, Boy Scouts and the Rainbow Connection, which we support every year."
The brothers wanted to stress the projects the VFW donates to are not decided by them but by the voting members who meet monthly.
"They're very generous to the county, and very few things have ever been turned down, so I want to give them credit," Steve Chenevey said. "It's not just the officers; it's all of us that do this."