Wooster native helps preserve music history at RRHOF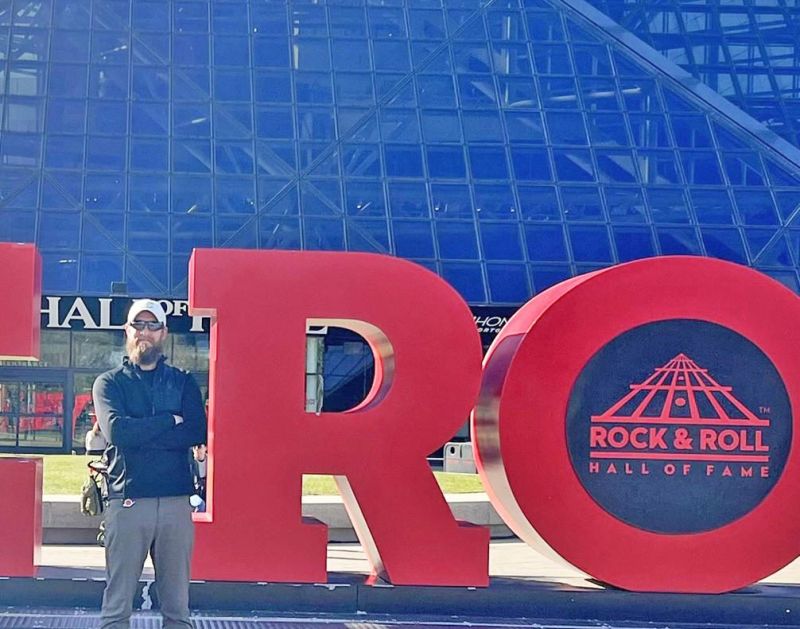 Joe Wickens can barely carry a tune and couldn't play the first note on a musical instrument.
But the Wooster native is responsible for ensuring 45,000 music artifacts are cataloged and preserved. To be fair, Wickens has always loved music, so he treasures his position as collections and exhibits manager at the Rock & Roll Hall of Fame, located on the shores of Lake Erie in Cleveland.
"I love taking care of history that in some way means something personal to all of us," Wickens said.
Wickens' work begins when an artifact arrives. He lets it acclimate for 24 hours, especially instruments, to prevent warping. Next is accession, which involves establishing a catalog record of the item and documenting its condition including any marks and stickers.
He then photographs the item, utilizing a light box and a foot candle reader to gauge light exposure, and tags it with when and from where it was acquired. He then either stores it at 68 F with 50% relative humidity or passes it to the exhibit team. Sometimes he assists with exhibit installation or deinstallation.
A Wooster High School graduate, Wickens earned a B.A. in History at Baldwin-Wallace University, then his master's degree in museum studies at Cleveland State University. Soon after, he started at the RRHOF as a security representative, which he viewed as a stepping stone to a position where he could apply his education and interest in history and museums.
So he learned all he could about the organization, from the grounds to curating. After working his way up to security supervisor, he accepted a coordinator position in the curatorial department. Following two years in that role, he was promoted to the position he's held now for 2 1/2 years.
Wickens and his team of three handle an array of artifacts from rock and roll music's past. On a recent trip to the collections storage vault, he opened a cabinet, and inside was what might be mistaken for a haphazard stash of old Halloween costumes in anyone's basement. Wickens donned gloves and proceeded to pull out one garment after another, identifying them: Jimi Hendrix's patchwork jacket, a gold lamé concoction worn by Beyonce, a purple tunic Anne Wilson wore in a Heart performance, George Harrison's gold suit from the premiere of "Yellow Submarine" and Elvis Presley's U.S. Army jacket.
"These items are valuable, beyond monetarily, and culturally significant," he said.
He slid open a drawer of what looked like a blueprint cabinet and retrieved the guitar Joe Walsh used to compose and record one of his biggest hits as a solo artist, "Rocky Mountain Way." In another drawer is a guitar repurposed by Jerry Garcia from a couch. From a battered leather case, Wickens removed a mandolin played by The Band's Levon Helm at Woodstock, and there's a five-necked guitar played by Cheap Trick's Rick Nielsen.
Artifacts arrive in various ways. Sometimes the curators seek out specific pieces for a planned exhibit. Frequently, artists and collectors donate or loan items. Most often, fine art shippers transport the artifacts, but sometimes the owner personally delivers an item.
Wickens and his team often pick up or return artifacts, sometimes at artists' homes, recently traveling to New York City on behalf of David Bowie's estate. The widow of the Doobie Brothers' John Hartman donated his drum kit and requested it be picked up. After traveling through the hollers of West Virginia, Wickens and company arrived at the home to find the widow emotional.
"She wanted assurance that the drum kit would be well cared for," Wickens said. "It was very touching."
The RRHOF also loans and borrows items to/from other institutions. "We have great relationships with Graceland, Paisley Park and the Country Music Hall of Fame," Wickens said.
He also travels to preview exhibits, recently going to Los Angeles. "I enjoy the opportunity to talk about our collections since I work alone much of the day," Wickens said. He also appears frequently on Fox-8 TV's "Kickin' It With Kenny" feature.
Wickens' favorite artifact is a small piece of paper. Songwriter Doc Pomus contracted polio in childhood, leaving him wheelchair bound. At his wedding reception, he sat watching his wife dance with various friends and family. In that moment he grabbed a wedding invitation and scribbled a song onto it. "Save the Last Dance for Me" became a hit for the Drifters.
"I like artifacts that humanize artists. Knowing the inspiration for that song makes it land differently for me now," Wickens said. "Artifacts can fall flat without context and history."
The artifact he considers most important is the guitar John Lennon played during the Beatles' first appearance on the "Ed Sullivan Show" because the 1964 performance inspired many RRHOF inductees to begin playing music and because of the number of the show's viewers — over 70 million Americans, about 40% of the population at that time.
Through his work Wickens continually learns about music and its history. He also has gained a deeper appreciation for various artists and has met some, including Alice Cooper, Flavor Flav and Nancy Wilson. Steven Tyler and Dave Grohl each unexpectedly dropped in and stood in line to buy a ticket.
"I enjoy seeing an artist geek out over other artists," Wickens said. "They're fans just like anybody."
Wickens knows he has a very cool gig, and his passion for his work is apparent.
"Everyone has a favorite band, song, album, singer, drummer, guitarist, bassist or keyboardist," he said. "Visiting the Rock & Roll Hall of Fame can be a very personal, intimate experience. Working on the team that facilitates those experiences and getting to handle the artifacts is truly awesome."