Words could lead to music in memorial essay contest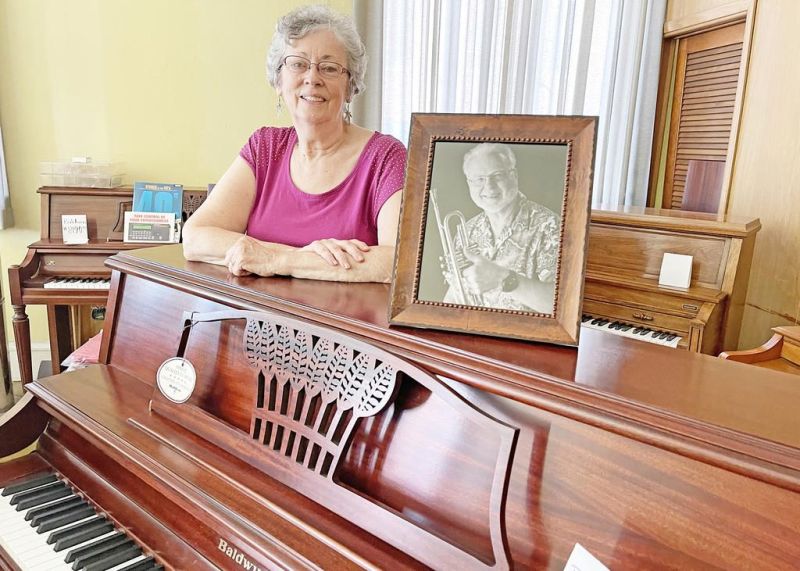 When Brent Young, owner of Young Music & Sound, took his dogs for a walk last February, he wasn't expecting it to be the last thing he did. Neither did his wife of over 30 years, Phyllis Young, who after his unexpected death was left behind to gather up the pieces of their life together.
Young Music & Sound was a staple of Historic Downtown Millersburg, the building's windows lit up with ever-changing displays on the corner of state Route 39 and 83. Customers have been sharing stories of buying their first instrument or piano from them including a music teacher who bought her first clarinet from Young's. It's been an emotional mix that has been a balm to her heart.
But Young isn't one to sit still when there are things to be taken care of. "I just sold the building, and I have 60 days to clear out most of the inventory," she said.
For a while now on Fridays and Saturdays, she's been listing items for sale on Facebook Marketplace. "I've been pretty aggressive about selling things," Young said. "There's so much stuff here."
Included in that inventory are a limited amount of new acoustic and electronic pianos. And with the right words, one of them can be yours.
Young came up with the idea for an essay contest to give away some of the pianos to good homes. "I'd like to provide an opportunity for someone who can't afford a piano," she said, "some kind of legacy for Brent."
Young said her mission for this essay contest is to get a piano in the hands of a person who may never have been able to have one, although it is open to any person or organization that has a need.
To enter, get your wheels churning and write an essay of 200 words or less on why you need a piano, how you plan to use it and how music can benefit others. There is an entry fee of $20, and all checks must be made out to the Brent Young Estate. Young will accept cash for entry fees if dropped off at the store on Fridays or Saturdays.
Entries can be mailed to the Brent Young Memorial Piano Contest, 10430 Fryburg Road, Fredericksburg, OH 44627. All entries must be postmarked no later than Aug. 14, and winners will be announced on Aug. 21. Winners will be decided by a panel of judges. Each winner will be responsible for moving their own piano, but piano-moving dollies and blankets will be made available to use at no cost. While there is no age limit, minors must have parental consent.
For more information call Young at 330-763-0964.