Year 4 sees plenty of growth for BeYou Livestock Show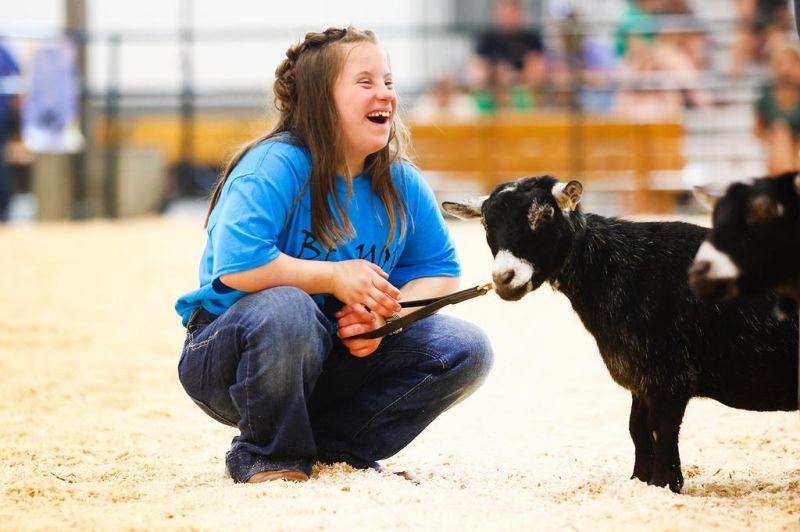 Now this is the type of growth Kylie Ramirez envisioned when she created the Holmes County Fair BeYou Livestock Show, a fair exhibition show for those with special needs who want to experience showing an animal at the fair in front of a crowd.
Going into its fourth year, BeYou has had to struggle through the COVID era, which didn't exactly help its growth. However, this year has seen some big advancements for the show, which will take place Saturday, Aug. 13 at 11:30 a.m. in the show arena in the expo center at Harvest Ridge.
"I saw improvements from the COVID year of 2020, and we came back in 2021 and it was just good to see us in action again, but this year I am so excited about what we are bringing to the show," Ramirez said. "We've added a lot and seen some great growth, and I am really pleased with the many ways we have improved the event."
First, there is the reference to "we." Ramirez, who will enter her second year at the Ohio State University, is living in Columbus, thus making it difficult for her to get home to work full-time on BeYou.
Enter Sierra Parks, who has joined Ramirez in assembling the show.
"Sierra has been a wonderful addition and a great assistant," Ramirez said. "She has taken on some key responsibilities, and she's become the face of BeYou for many."
One of those responsibilities is operating the practice sessions for the participants. That also is new to the show, with Parks leading the kick-off session that brought together mentors and BeYou showmen so they could gain some valuable insight into how to show an animal.
A total of 14 people — six of whom were new — joined the BeYou show to work with a host of animals that includes pygmy goats, meat goats, rabbits, sheep and pigs. Each participant can show one or all the animals.
"I did a little more community outreach and traveled around to different schools to promote the event," Ramirez said. "We've got people coming to the event to help from outside the county, which is really exciting."
They will have an additional practice right before the event.
Ramirez said she wanted to move the show closer to a real showmanship event, and to do so, they wanted to step up the responsibility and rewards.
"Our participants will be judged harder than ever before because I wanted to make it as much like the showmanship experience as possible, which is why we decided to add the practices," Ramirez said. "Our hope is that they really gain strong experience with showing these animals. I think what we have added will make it a better experience for them."
That experience includes the opportunity to visit with 4-Hers and help wash, groom and fit the animals before showing them.
Ramirez said much of the growth in the show has come from her own personal growth and commitment to her education and to the BeYou show.
Another addition to the process was bringing in Ella Lorentz, 4-H program assistant at Holmes County Ohio State University Extension.
She worked with the BeYou participants and the volunteer mentors in several bonding activities, which helped create a better sense of trust.
The mentors all have plenty of experience in the showmanship world, and Ramirez said their commitment to helping those with special needs remains as strong as it has been since day one.
"It has been very gratifying to see the growth and to experience the way this community and even people beyond our county are willing to step up and participate to make sure these BeYou participants have a great experience," Ramirez said. "And it has humbling to hear people talk about how important this opportunity is for those with special needs."
BeYou will be wheelchair-accessible, and participants can bring in an aide should they need one. The event also will include a petting zoo in which the owner of the animal will be on hand to talk to the participants and let them pet their animals and get an up-close view.
"We want special-needs people to see there are no limits on what they can do, and that includes exhibiting livestock at shows," Ramirez said.
Anyone wishing to donate or with questions about signing up for the event may call Ramirez at 330-275-5832. With the participants now in place, Ramirez's hope is the BeYou event will receive plenty of support and attendance from the community. Anyone wishing to donate also may send a check to the Holmes County Ag Society with BeYou in the tag line.