Yoder offers in-depth look at New Bedford in new book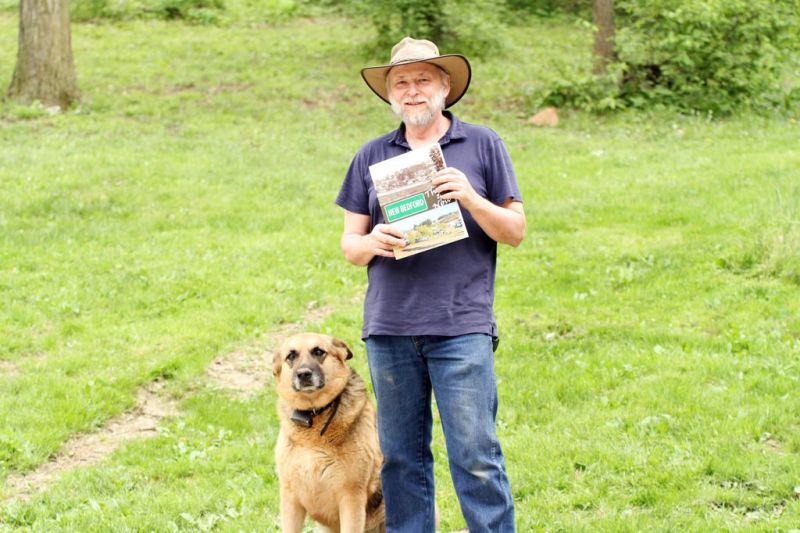 People worldwide have been able to appreciate the color and life depicted in the photography of Doyle Yoder. One of the nation's most prolific portrayers of the Amish community, Yoder's artwork has donned Amish calendars, puzzles, books and magazines for decades. He has provided insight into the Amish faith and lifestyle.
Now his most recent endeavor includes photography and written words as he unveils his new book, "New Bedford: Then & Now."
The 210-page book features photographs, stories, historical perspective and anecdotes that have made New Bedford what it is today.
For Yoder, who grew up in New Bedford and now makes his home just outside of the town, the book was his chance to not only share his memories of a town so near and dear to his heart, but also to learn more about the people, businesses and community that helped shape his life.
"Life here has changed quite a bit," Yoder said of his boyhood town.
On May 15, 2010, Yoder was out taking a photo in New Bedford, and Melvin Stutzman came along and asked him if he would be interested in creating a book on the little town nestled in the heart of Amish Country. He talked it over with his sister, and together they culminated a game plan.
He began taking photographs, and on one occasion in 2011, he took pictures of an area barn that burned to the ground two weeks later. Thus the before-and-after pictures of that barn and the subsequent barn-raising that took place represent a very historical look.
Yoder and his sister Eileen Yoder spent countless hours researching, digging up old photographs, poring over old newspapers and talking with area family members who had plenty of recollections of life in the small town of New Bedford.
"If someone really went after it hard, they could probably make this book in a couple of years, but it took us more time because I was busy with a lot of other projects," Yoder said. "The photos were what was really tough to track down. There should have been a lot more pictures of New Bedford, which is one of the things that really held us up."
Yoder took many of the after photos of the before-and-after picture selections and even took some older ones that he had taken as a youth growing up in the town.
"If I knew then what I know now, I would have taken a whole lot more pictures," Yoder said with a laugh. "There were a lot of old buildings back then that aren't here anymore that would have been nice to have photos of."
Yoder said contributions from Melvin Stutzman at the New Bedford Wheel Shop and Abe Yoder of Clark Bending were instrumental in gathering information. Their interest in the area and in New Bedford in specific gave insight for the book.
"It was fun discovering things, but it was work putting it all together," Yoder said. "This place has a lot of meaning to me because I grew up here, so it was a lot of fun to collect stories and pictures and put this enormous puzzle together of the history of New Bedford. I learned a lot of things that I never knew about."
For instance one of the stories is of a woman from New Bedford who committed suicide because she was being prosecuted for opening her son's mail. That was obviously many decades ago.
Then there were the two young men who traveled to Coshocton to try to find someone to take their place in serving during the Civil War. They couldn't find any takers, returned home and proceeded to hide in their barn in hopes of escaping the men who came searching for them.
A younger brother asked his mother in German if he should warn the brothers that the posse was there looking for them, figuring they didn't speak German. One of them did and a gun battle ensued that left both of the men dead. They are now buried in the New Bedford Cemetery.
It is stories like these and countless others in the book that Yoder believes makes it such informative and interesting reading.
"Having all of these stories together in one book is really valuable to those who are interested in history because it is a lot of work compiled into one easy read," Yoder said. "Melvin Stutzman was a big reason we pursued this book. Eileen is the one who deserves a lot of the credit for making contacts and digging up so much of the information in the book."
Yoder recently introduced the book during a book-signing session at the New Bedford Store, a place he is more than familiar with because his family owned it many years ago when he was a child sneaking tastes of ice cream and candy.
The book cover features New Bedford in its early days and an accompanying photo from the same perspective in 2011. Inside are photographs and stories that paint a picture of life in New Bedford years ago and today.
Because Yoder printed and bound the books himself, he is capable of reproducing the books in quick turnaround time should he run out. The cost of the book is $24.95. To order copies, call Yoder at 330-674-2118, visit www.AmishCalendars.com or email DYPinc@centurylink.net.