Holmes County Kidney Fund bids adieu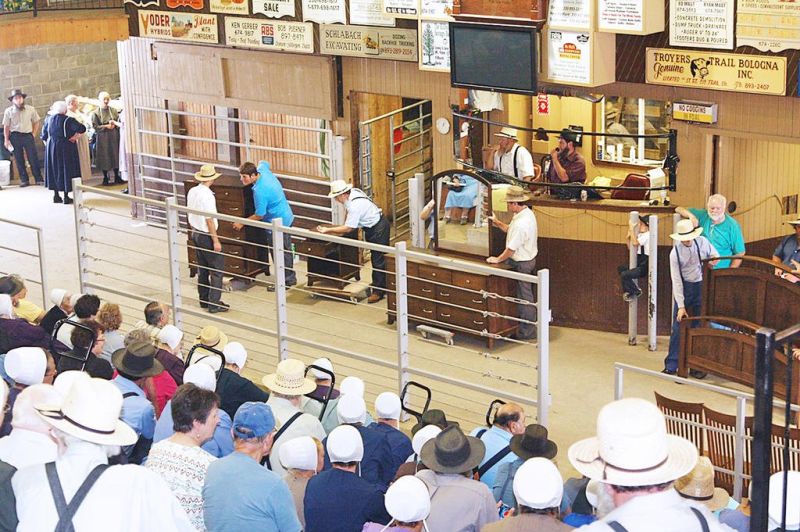 Over the past four-plus decades of the annual Holmes County Kidney Fund Auction, there have been plenty of auction items sold, a ton of food like Dennis Raber's sausage and barbecued chicken, and many laughs shared.
However, most importantly, the auction has paved the way to successfully impact the lives of individuals suffering from kidney issues and in turn the lives of their loved ones who have been there by their sides to support them.
Over those past decades, the auction has become a part of Lizzie Ann Yoder's family.
Thus, it was with great gratitude, love and sorrow that Holmes County Kidney Fund Auction chairman Marv Yoder recently announced the auction has reached its final destination and will be no more.
"We can never thank this community enough for what everyone did to support our organization and this cause," Yoder said. "This would have never worked without the support of our community. This was 100% driven by volunteers who showed their incredible compassion for others through the giving of their time, energy and money. It has been unforeseen circumstances that has led us to discontinue our auction."
In 1976 Yoder's mother, Lizzie Ann Yoder, who passed away in 1979, created the auction when her son Vernon was diagnosed as one individual in need of a kidney transplant. While the Yoders knew there were organizations that help provide kidney transplants, the one area that seemed to fly under the radar for families enduring expenses was the aftermath.
Thus, Lizzie Ann Yoder dreamed up the Holmes County Kidney Fund, whose objective was to assist families with the post-procedure expenses she realized could build up into a mountain of financial burden. After her passing, Vernon took over as the chairperson until later when his brother Marvin took over the reins.
According to Marv Yoder, his brother was one of the first kidney transplant people in Holmes County. He said he can remember his father stating after the transplant that he never expected to get out of debt, so heavy were the expenses.
However, the community began collecting funds to help the family, and that sparked Lizzie Ann's ideas to bless other families through a similar but larger and concerted effort.
One of the main purposes of the HCKF was to help families obtain medications, something Marv Yoder said was a necessity and had to be in place before hospitals would even consider a transplant.
"There are always going to be ongoing expenses for kidney patients, and that maintenance can become expensive," Yoder said. "I don't think there is anything sadder than seeing someone who has a kidney transplant lined up unable get one because they don't have the financial resources for the expenses prior to and following the transplant. That is where we provided help. It's been a great partnership from day one, and our success shows how much people care about others facing kidney issues."
In that first year, a young auctioneer with little experience by the name of Dave Kaufman rattled off items at the auction.
People quickly began to realize this was a way they could give back to others, and the auction took flight.
Over the years Yoder said witnessing the compassion from the many people who volunteered and those who gave was an inspiration.
He said when the pandemic hit hard in 2020 and 2021, it forced the auction to go on hiatus. He said prior to that, the Amish community had created a kidney fund organization that was focused solely on the Amish community for people in need of kidney transplants and dialysis, so there remains in place an organization that Amish families can turn to for those needs.
Yoder said the board's decision to bring the HCKF auction to a close was heartbreaking considering the impact the organization has had in the county over the past nearly 50 years.
But he said that while it is sad to see it end, it is heartwarming to look back at the undying support and compassion many have shown in supporting something his mother started so many years ago.
"When something like this that becomes somewhat of a family legacy goes way, it is tough to see it go, but over the years we have been humbled to have touched the lives of many families in the midst of a burden," Yoder said. "And seeing the selflessness with which people gave and helped over the years is something our family will never forget."
From the board members over the years to those who made food or rounded up donations, and even the youth groups who helped serve and tear down following a long weekend, Yoder said all were an integral part of the process.
But he said one of the most emotional moments that took place was watching former patients they had helped come back and return the favor by volunteering.
"Hearing their gratitude, their stories and the blessing they received was always so touching," Yoder said. "People in general are good people, and they want to be a blessing to others, but hearing the stories of those who received a kidney transplant and seeing the families who the HCKF helped provide for following the transplant give back to the auction was always a blessing to me and to others.
"We were fortunate enough to walk alongside of many families over the decades and help them carry some of the burden that comes with a kidney transplant. That alone has made everything my mom started worthwhile, and we will forever be indebted to those many people who helped serve and volunteer to make this something special."