Become a Friend of Storybook Lane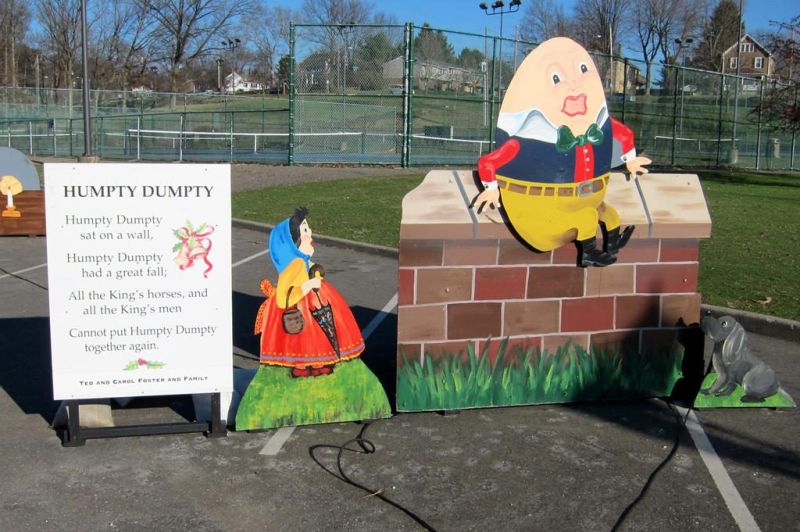 Everybody who enjoys making the Christmas season drive down Storybook Lane in New Philadelphia's Tuscora Park is invited to help support the ongoing restoration and display of the nursery rhyme characters.
For a donation of $100, the Rotary Club of New Philadelphia will place your family or business name on one of the Friends boards for three years. Some spaces on character verse boards are available to sponsors for a $300 donation.
This one donation is recognized for three years and may be renewed. Sponsors and Friends already listed on the Storybook Lane display will receive advance notice with the first chance to renew their place in the display.
To become a sponsor or Friend of Storybook Lane, go to the Rotary Club's website at www.newphiladelphiarotary.com. Questions may be emailed to information@newphiladelphiarotary.com.
Storybook Lane has been a Christmas season tradition in New Philadelphia for more than 60 years. The brightly painted Mother Goose characters depict classic nursery rhymes such as "Hickory Dickery Dock," "Humpty Dumpty" and others. The lighted display will be open nightly in Tuscora Park during the month of December and the first days of January.
"Storybook Lane was adopted by the club in 2002 when its members completely renovated the 24 Mother Goose characters that were nearly 50 years old at the time and in poor condition," said Julie Levengood Stephon, president of the Rotary Club of New Philadelphia. "The character boards were repaired and repainted, missing parts replaced, and the moving mechanisms and motors were repaired or replaced. All new lighting was provided for the display, along with verse boards to help children learn the rhymes."
Club member Tom Police is chairman of the Storybook Lane project and said it gets great community support.
"Thanks to the generous support of our sponsors and Friends, the Rotary Club of New Philadelphia has invested more than $50,000 in the colorful Mother Goose characters, verse boards and lighting equipment," Police said.