Firefighters invite all to drive-thru pasta dinner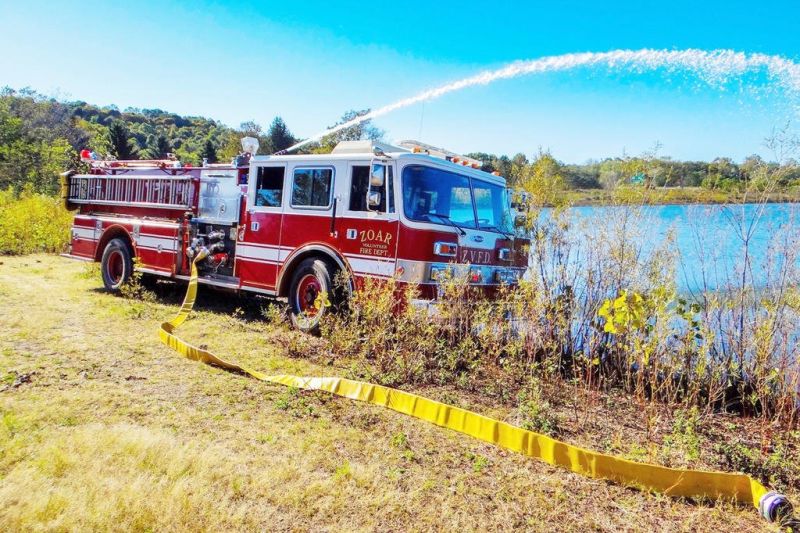 On Nov. 14 the Zoar Volunteer Fire Department will hold its monthly spaghetti dinner as a drive-thru event from 4-7 p.m. Dinner will include spaghetti and two meatballs; dinner rolls; salad; a dessert of pie, cake or cookies; and a beverage. People need to drive up to the building at 190 Fifth St. in Zoar to get their carryout dinner.
The cost is $9 per dinner, and all proceeds benefit to the ZVFD, a 501(c)(3) nonprofit organization.
As with fire departments across the nation, ZVFD is experiencing decreased manpower and funding, particularly this year due to the COVID pandemic.
According to Dave Schlosser, the department's public information officer, COVID probably reduced what the department usually raises in funds by 50%. The all-volunteer department raises about 80% of its own funds through grants and events like spaghetti dinners, pancake breakfasts and an annual car show, which had to be canceled this year.
One thing that hasn't been lost, though, is community support.
"We have a very loyal following," Schlosser said. "I've been doing this for 25 years, and there are people I met on day one who still come out to this day. It's like a huge family."
A huge family is what's needed to put on one of their spaghetti dinners. According to Schlosser, volunteers roll up 110 pounds of meatballs for every dinner and dish up more than 1,200 plates of spaghetti during the dine-in events.
It takes a lot of money to run a fire department, from equipment purchases and certification fees to turn-out gears and monthly utility bills.
"We are starting to look at replacing our air packs, which run $10,000 each," Schlosser said. "The newer air pack tanks have gotten smaller and lighter but with a larger air capacity. The ones we have are fine and they're current, but we could benefit from having the newer models."
The ZVFD currently has 14 certified firefighters on its roster, along with three future firefighters or "probies." The department is made up of everyone from retired people to equipment operators, tow truck drivers, college professors, engineers and professional firefighters.
One of the department's assistant chiefs, Jason Marzilli, is a captain in the City of Green Fire Department, where he also is the training officer. Another member of the department, Jason Brown, was named Firefighter of the Year in Canton in 2019.
"It's just a large group of people with diverse backgrounds coming together to help people," Schlosser said.
Schlosser has a master's degree in project and engineering management. In addition to working for Kidron Truck Body, he also teaches engineering at Kent State Tuscarawas.
"I think a lot of people forget we do this in addition to working other jobs and having family commitments," Schlosser said. "We have to maintain the same training requirements as a full-time professional fire department. That's on top of working our jobs, raising children, attending soccer games, school open houses and science fairs and even taking college courses."
Schlosser said the department has a number of capabilities many people aren't aware they have.
"All of our firefighters have gone to fire school and are certified," Schlosser said.
A number of members are actually level-two certified, which is more advanced and requires a wider range of operational skills.
Volunteer firefighters are required to undergo 36 hours of training.
"Several of our members have their 120s, meaning they've undergone 120 hours of training," Schlosser said. "This means they're halfway to being professional firefighters."
The number of hours required to qualify as a professional is 240.
The ZVFD has earned an ISO Class 3 rating from the Insurance Services Office based on its training records, response times, communications system, water supply and other criteria. The lower the class rating, the better it is for the communities they protect.
In 2008 the department also received a civilian medal of commendation from the U.S. Army Corps of Engineers for the protection it gave the village during one of the worst floods ever to hit the village.
"A lot of people don't know we continuously take supplemental training," Schlosser said. "Next month I'm scheduled to go to a gas and utilities training session on how to deal with a natural gas leak or explosion. A large portion of our department is trained in water rescue as well. There isn't anybody in this department I wouldn't trust with my life."
Those interested in joining the ZVFD should call 330-874-2069 or send a message through the department's Facebook page.