Indian Valley annual craft show set for Nov. 12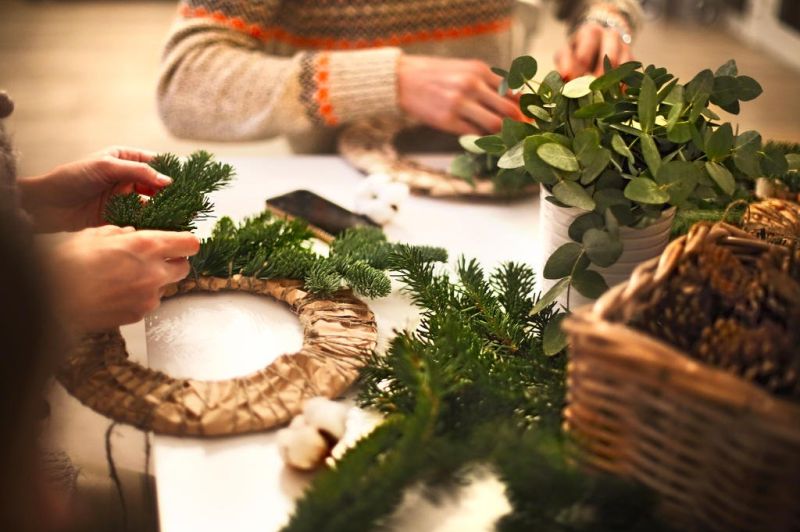 With at least 64 vendors signed up for this year's annual Indian Valley Cross Country Craft Show, organizers are scrambling for extra tables.
"It's really exciting. A lot of vendors this year are getting multiple tables," said Libby Pasquinelli, one of the organizers of the show.
The ninth annual Indian Valley Craft Show will be held Saturday, Nov. 12 from 9 a.m. to 3 p.m. at Indian Valley Middle School in Tuscarawas.
One of the most popular new trends is baked goods, so there will be something for everyone at this year's show, which benefits the Indian Valley cross country teams.
In addition to some new vendors, a lot of returning favorites will be at the show too. There will be lots of holiday and primitive décor items, homemade greeting cards, Tupperware, Pampered Chef, other direct sales vendors and T-shirts, which are a favorite of Pasquinelli.
"I wear a lot of T-shirts to school," Pasquinelli said, adding she is head cook at Port Washington Elementary. "So I'm excited to see what some of those people have. Almost every year I find Christmas gifts for family members, whether it's primitive stuff for certain people in my family or it's something specific that just jumps out at you. I think my husband has gotten Ohio State signs before. There'll be all kinds of those things."
The event raises money for the team in a number of ways. They are able to use the school free of charge, so the amount vendors pay for their spots all goes to the team. The cross country members will sell 50/50 and raffle tickets for a variety of prizes donated by the vendors. Plan to have lunch and visit with friends and neighbors as members of the team also will help with a concession stand at the event.
Pasquinelli said the cross country team members, parents and coaches help with the event.
"They are all there at one time or another, whether they're helping with the setup the day before, helping people set up, helping in the kitchen or helping people tear down at the end," Pasquinelli said. "If it weren't for them, it wouldn't be as successful as it is."
The team members also will take lunch orders from the vendors and deliver meals to their booths.
The craft show is an opportunity to get holiday shopping done early.
The Indian Valley cross country team is growing overall, according to coach Bill Palma.
"The current senior class has 11 runners in it, which is a huge class to graduate. It will be hard to replace their leadership," Palma said. "But we will have seven eighth-graders joining the high school program next year. We also had about 35 kids from grades k-6 complete the season with our Biddy program."
The team starts practicing the end of June each year with open runs.
"We ran Monday through Thursday together and then asked the kids to run one day independently over the weekend. Once official practices start on Aug. 1, we practice five days a week and then have meets on Saturdays," Palma said.
Palma said Indian Valley has the largest cross country program in Tuscarawas County.
"We have 15 high school boys, 13 high school girls, eight middle school boys and seven middle school girls," Palma said.
Palma is happy with his team on and off the course.
"My proudest moment this season actually came from off the course. At our district championship meet, the Minerva boys team lost one of their runners in a tragic accident. Running is like a family, and our kids have responded so well to this," Palma said. "Throughout the following week, our team collected donations for the Grubb family and raised $700 from just cash donations that we presented to their team the following week at regionals. Our runners are great athletes, but they are even better young men and women."
If anyone would like to donate to the Owen Grubb GoFundMe page, the link is www.gofundme.com/f/owen-grubb-family-fund.
Indian Valley earned their way to the regional championship meet, where the varsity boys finished 12th. Xander Heil, a senior, qualified for the state championship by finishing 13th overall with a time of 16:23. Other scorers for the Braves were Joe Carlisle in 29th place at 17:01, Max Kinsey in 59th at 17:41, Seth Krocker in 106th at 18:28 and Delaney Phillips in 119th at 18:47.
The varsity girls finished 15th overall. Rylee Raymond, a senior, qualified for the state championship by placing 20th with a time of 20:03. Also scoring for the Lady Braves were Brooklyn Myers in 95th at 22:15, Alisha Shaw in 111th at 22:50, Loretta Johnson in 124th at 23:19 and Gia Miller in 137th at 23:58.
The state cross country championship runs will be held Nov. 5. In the meantime, mark your calendars to support these athletes and complete some early holiday shopping.