Pancake breakfast to benefit Sole Purpose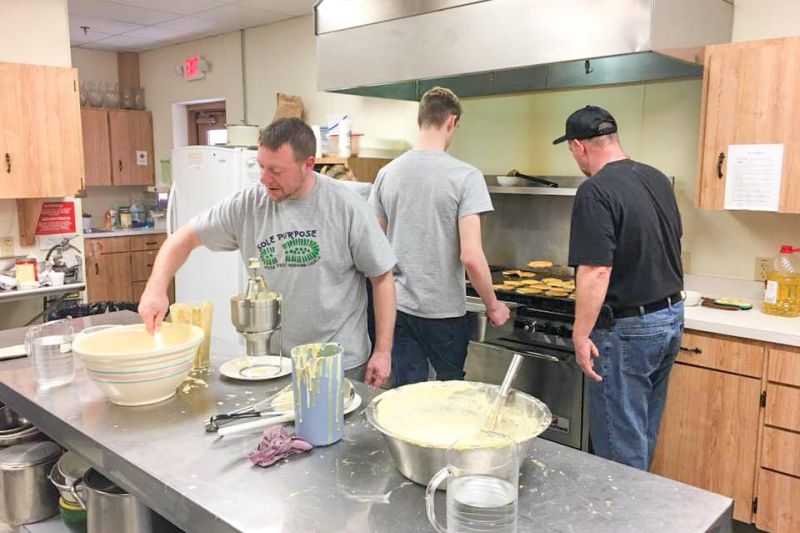 An organization aiming to give shoes to kids in need will hold a benefit pancake breakfast and silent auction on Saturday, March 7 from 8-11:30 a.m. at the Dover First Moravian Church, 319 N. Walnut St.
Dover First's Sole Purpose Pancake Breakfast presale tickets are on sale now, and there will be tickets available at the door. Tickets are $5 for adults, and kids age 5 and under are free. Presale tickets may be purchased at the church office, on Feb. 16 and 23 during church hours or through a youth member. In addition those who want to buy tickets or be a sponsor for the event can email Jessi Garvin, advisor, at jessigarvin@gmail.com.
Carryout meals also will be available upon request at the door. The menu will consist of pancakes and sausage with a drink choice of milk, chocolate milk or orange juice.
A silent auction also will be held during the event. Salon gift baskets, baked goods, Cleveland Indian tickets and gift cards to local restaurants are just a few of the items that will be up for auction, Garvin said. All silent auction items will start at $20, and one does not need to be present to win.
"Our pancakes are delicious, and the money raised goes right back to our community to help our young children in k-5 who need a nice pair of shoes," Garvin said.
The group was founded in 2012 by the youth of Dover First Moravian Church, Garvin said. "It is fully a youth-led organization. They realized that many people did not have a good pair of shoes. That was the spark that drove them to found Sole Purpose, a service in Tuscarawas County devoted to putting shoes on the feet of Tuscarawas County kids," she said.
Garvin said there is a team of adults that are advisors who help guide the youth. "I have been an advisor since 2014 and enjoy working with our youth that are mission minded," she said.
Garvin said in 2014 the youth group partnered with Dress-A-Child and Payless Shoes to provide 97 students in grade k-5 at Dover Schools with a $20 shoe voucher. They expanded the following year to include New Philadelphia and Dover schools, bringing the number of students to 283. In 2016 they served 12 school districts, totaling $14,280, and the following year they expanded to the final Dress-A-Child location in Newcomerstown, providing 753 shoe vouchers.
Garvin said in 2018 they partnered with Shoe Department to give $30 vouchers and placed vouchers in Dover and New Philadelphia schools for teachers to give to students in need of new shoes or winter boots.
"Last year Sole Purpose provided 565 shoe vouchers, spending $17,000 for grade k-5 students registering at Dress-A-Child in Tuscarawas County, and continues to place vouchers in Dover Schools and New Philadelphia Schools during the school year," Garvin said. "Sole Purpose is impacting children and families in need with this service. This project's influence resonates throughout the county and is striving to continuously grow to help Tuscarawas County children and families as possible."
Garvin said she has seen the impact of the group's work firsthand. "I am also a first-grade teacher at Dover, and I get to see both sides of this mission, from our youth efforts in raising money, watching kids receive the vouchers in July, to my students in need whom are sporting his/her new pair of shoes during the school year. It's a great thing we have going on here in Tuscarawas County," she said.
Garvin said the pancake breakfast brings most of their funds during the year with sponsors and donations, along with the silent auction items. At Christmastime the group also holds a Sock Market. "Donations are taken, and the donor gets to take a toddler-size sock and hand on his/her Christmas tree to remind him/her of their donation during the holiday season," she said.
Anyone interested in making a contribution can call 330-364-8831, visit their Facebook page at Dover First's Sole Purpose or send to their mailing address at Dover First Moravian Church, Attn: Sole Purpose, 319 N. Walnut St., Dover, OH 44622.