Free cancer support found at Whit's End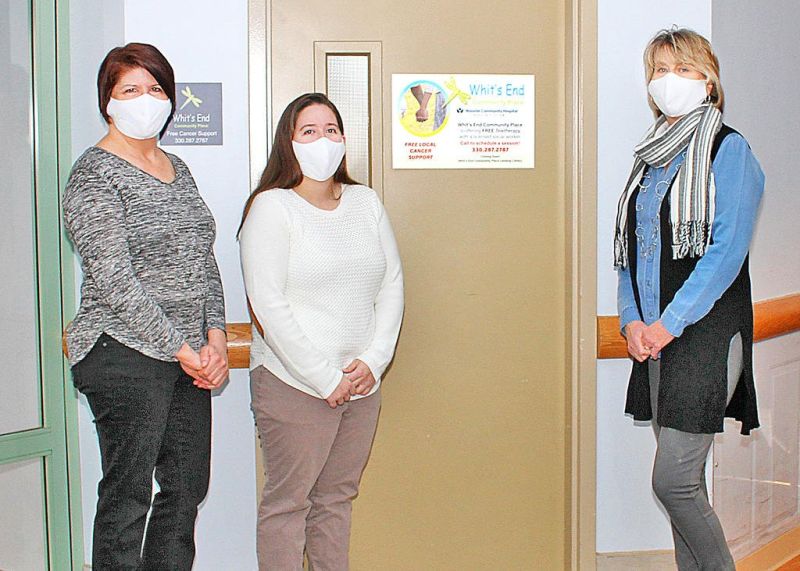 In the wake of tragedy, there sometimes can be great accomplishments made. That's because often people come together to process grief, and when that happens, their heads pop up with ideas that will help to keep their loved ones' legacy and spirit alive.
That's exactly what happened with Sandy Yoder Kline and Cathy Hershey Ballinger, co-founders of Whit's End Community Place, a local nonprofit 501(c)(3) organization based in Wooster with a goal of providing those in the area who have been affected by cancer with free services and support.
"After losing my daughter, Whitney (to breast cancer), I was searching for meaning," Kline said. "Cathy was caring for her husband, Jeff (who was battling cancer), and called me wanting to do something in the community to help cancer patients and caregivers."
Ballinger said the decision to begin the organization was "very personal" for her because when her husband became ill, the entire community including Kline rallied around her family.
"The love and support we received was incredible, and it made me realize I wanted to give back," Ballinger said. "I wanted to start a nonprofit, but I had no idea how to go about it. Jeff was still living at the time, and I remember telling him what I wanted to do. I will never forget how he looked at me and said, 'Well, if anyone can turn a negative into a positive, it's you.' That night I prayed on it, and I remember asking God for a sign. As I prayed, Sandy's name kept coming to my mind."
The next day Ballinger was texting with a friend, telling her about the idea she had but that she was unsure how to go about doing it. Her friend suggested she contact Kline, the sign she was looking for.
"At that point I remember tearing up so much I could not even see to text back," Ballinger said. "I remember looking up and saying out loud, 'OK God, I hear you loud and clear. I am going to take this as my sign that you want this to happen.' I then reached out to Sandy, and I told her I wanted to start a nonprofit."
Whit's End is modeled after both Stewart's Caring Place in Fairlawn and The Gathering Place in Beachwood, both facilities founded with a mission to help community members who are dealing with a cancer diagnosis, whether it be the patient, caregiver, family or loved ones. They offer informational programs, support services, workshops, wig fittings, holistic care and more. Whit's End offers a similar idea in Wooster.
"One place I went regularly was a group for caregivers at The Gathering Place," Kline explained. "These groups are private and a great place to vent without guilt. I could cry and complain and feel no guilt. It gave me comfort and strength, something you don't feel often during the battle of cancer."
Kline felt no reason there couldn't be a place like that in Wooster, so she talked about it with a few of her friends including Ballinger, and working together, this small group was able to make Whit's End a reality.
"I want this service to be here long after I am gone because I have seen firsthand just how important Whit's End has become," Kline said. "It's survival out there during cancer, and we do not want anyone to be alone."
Since its launch in January 2017, Whit's End has been growing, serving hundreds of people, and even in times of COVID-19, the organization is continuing to provide help and care to those in Wooster and its surrounding area. Prior to the pandemic, Whit's End held several monthly support group meetings in the auditorium of Wooster Community Hospital. They were led by licensed social workers, and participants also could involve themselves with canine therapy and get a massage from a licensed massage therapist.
In 2020 Wooster Community Hospital and the WCH Foundation officially partnered together with Whit's End to provide free support services for fighters/survivors of cancer and their caregivers. This collaboration will help to ensure cancer fighters/survivors are not only given expert treatment for their illness, but also that they and their caregivers receive compassionate care as people, Ballinger said.
Under the partnership a cancer support group usually meets on the first Thursday and third Tuesday of each month at 6:15 p.m. in the WCH auditorium. But during COVID, Whit's End decided to offer those interested a chance to participate in free teletherapy sessions with licensed social workers. Fighters/survivors of cancer and/or their caregivers may call program coordinator Kat Little at 330-287-2787 for more information and to register.
A worldwide pandemic is no match for the emotional support, practical education and hope provided by Whit's End, which got its name in an interesting way.
"For a couple of days, we struggled with what to name this nonprofit-to-be," Ballinger said. "As I laid in bed one night, wide awake at 1 a.m., which was common back then for someone dealing with a loved one facing a cancer diagnosis, it hit me. You are truly at your wit's end when you or a loved one is fighting cancer. The spelling of wit's was altered to honor Sandy's daughter, Whitney."
Although the coronavirus has forced the Whit's End Board of Directors to switch things up a bit, the goal has remained the same: to continue to be a free cancer support service to anyone touched by cancer. Whit's End also utilizes Facebook as an educational and marketing tool to help get the word out about cancer support.
"You can be a fighter, survivor, caregiver, neighbor, friend of someone with cancer, and we will be here for you," Kline said. "We offer counseling, massage, a soon-to-come lending library, and shortly, we will be back to educational events again. No one walks alone. This is a safe haven where privacy is our priority."
Whit's End continues to grow, even through the pandemic, in what it can give to those utilizing its services. Coming attractions include a lending library full of cancer and wellness-related books, as well as Notebooks and Amazon Fire tablets that can be borrowed for treatment and research purposes.
Whit's End can always use donations, used strictly to provide services to those involved with the organization's programs. To become involved with Whit's End programs, for more information or to donate, visit www.wecareohio.org or call 330-287-2787.