Ault now 2021 chair of Holmes commissioners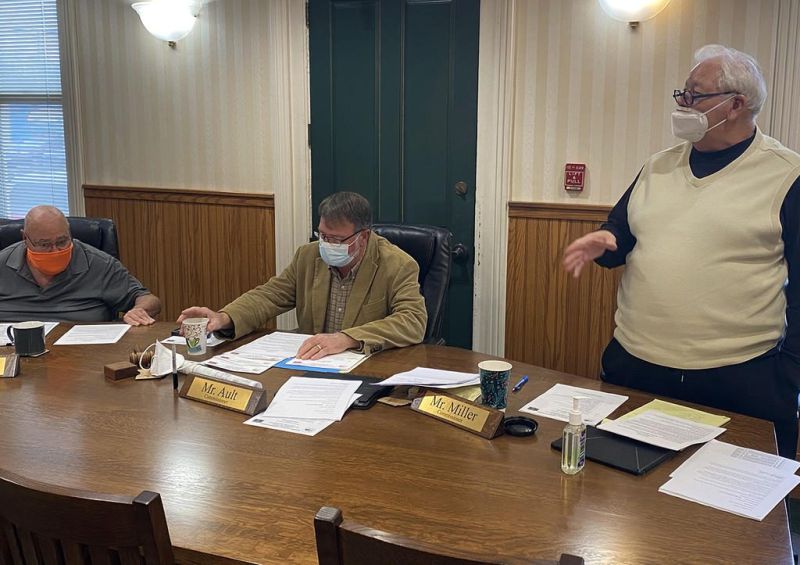 Following a tumultuous 2020, a year that saw Joe Miller chair the Holmes County commissioners, 2021 will have a new face at the helm as Rob Ault was accepted as the commissioner chair for 2021.
On Monday, Jan. 11 at the weekly commissioner meeting, Ault was tabbed as the new chairman while Ray Eyler was voted in as the vice chairman.
"I thank you guys for the last year," Miller said to his commissioner counterparts. "It was a pleasure working with you, and it was not very easy at times with what was going on with COVID. It's not over yet, but the end is in sight and Holmes County did all right."
Both Ault and Eyler expressed gratitude for Miller's service this past year that saw them making many decisions they never knew they would have to make during the pandemic.
"I appreciate the leadership you gave us," Eyler said of Miller. "We got a lot accomplished this year, and we are looking toward getting a new plan laid out."
"It was a tough year, but we all worked together to get through this, and hopefully, we can continue working together to set plans for next year and the next five years," Ault said. "We are all in this to make our county better and a great place to live and work."
With that done the commissioners conducted the annual reorganizational business meeting, dissolutioning the old organizational plan and instituting the 2021 organizational plan.
Aside from the chairs, the schedule remained the same with meeting times set for Mondays at 10 a.m. and additional meetings slated for every other Thursday if necessary. The commissioners also agreed to the county auditor to set up a pay schedule for 27 pay periods and agreed to continue the 50-cent per mileage rate for travel expenses.
In addition, each commissioner took on a number of additional roles within the office. Ault will serve as a member of Kno-Ho-Co, the Solid Waste Advisory Board, LEPC, GIS Mapping Consortium, Homeland Security Task Force, the 9-1-1- board and the Committee for Juvenile Detention.
Eyler will serve with Family & Children First, the Community Care Board, OMEGA, EODA, Issue I, the Stay Board, Holmes County Highway Safety Task Force and board of revision while Miller will serve as the OMEGA alternate, Community Corrections Board, Rails to Trails Board, EMS Advisory Board, OSU Extension Advisory Board and Health Advisory Board.
In other county news, veteran beekeeper Larry Meherg was appointed as the Holmes County apiary inspector for 2021. Meherg continues to serve in that capacity and inspect and monitor the bee population of the county, as well as aiding in all beekeeping activities when requested.
Meherg has been involved in the beekeeping industry for 60 years, having operated a smoker while helping his father and grandfather cut comb honey from the honeycomb. He studied the honeybee curriculum at Ohio State University ATI, and he has inspected bees for the state of Ohio since 1991.
"There are a lot of people out there who like him, and he works with people well," Ault said. "He does a good job, and he is always there to help people and especially new beekeepers."
"He is very happy to do it again," said Susan Schie, clerk to the board of Holmes County commissioners.
The commissioners also passed Resolution #01-11-21-2, authorizing the commissioners to prepare and submit an application to participate in the Ohio Department of Transportation's Transportation Alternatives Program.
A grant has been secured through U.S. Congress through ODOT to provide funds for the Mohican Trail Project. While much of the project is in Ashland County, there is a small corner in Holmes County that will be the focal point of county engineer Chris Young.
While each county is responsible for its own portion of the project, Young was eager to put the wheels in motion for Holmes County's part of the project. Holmes County has requested a grant valued at $677,350 from ODOT, with a matching fund from Holmes County of $98,650 that will come from Holmes County Department of Motor Vehicle fees.
"This is a good project that goes right along the river," Ault said. "They are going to make a trail there for bicycles, walkers, joggers, and it is a good thing because that road is kind of narrow. Hopefully one day they will take it on through Knox and bring it on up through Ashland (counties) and hook the (Holmes County Rails to Trails) to it."