Beam conducting cost study analysis for Holmes County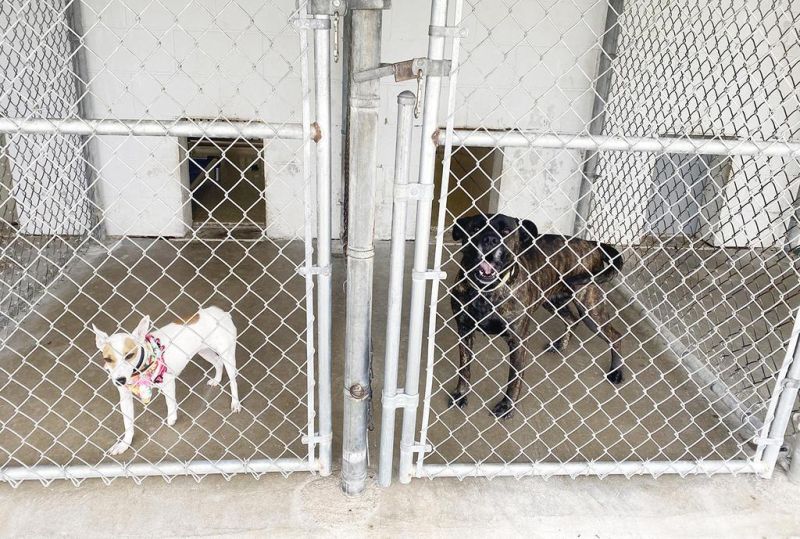 Holmes County dog warden Jonathan Beam is about to set sail on a data-gathering effort to determine if the Holmes County Dog Warden Adoption Center should raise its impound, boarding and adoption fees.
Beam met with the Holmes County commissioners on Monday, Aug. 1 to talk about the possibility of raising some of the department's fees and spoke about the possibility of bringing on a part-time employee that would allow his staff to invest more of its time into what they believe is the most important part of their jobs.
The commissioners agreed to allow Beam to set forth on an impound fee/boarding fee study to explore the feasibility of raising costs to the public in those areas.
Beam said he can't move ahead with the study without first getting a resolution from the commissioners, which they quickly passed.
"We've met before about the possibility of increasing kennel licensing and re-evaluating impound and boarding fees," Beam said to the commissioners. "I'd like to get moving and narrow down the scope of what the study will be."
Beam said the current impound fee is $25, which is how much it was when he first began as the county dog warden seven years ago. He said the study will focus on how long it takes the department to pick up impounded dogs, how many miles they travel and vaccination processes.
Commissioner Dave Hall said it was basically a management plan to understand all the costs involved in operations in impounding and boarding a dog.
Beam said every county is unique, and once he can establish the data, he would like to meet with the commissioners to discuss the results.
"Everything you've discussed seems reasonable," Hall said. "You're just looking at your operation expenses."
Beam said this past year has been extremely busy, with his department making plenty of runs in picking up dogs and housing them. He said in past years the kennel would house six or seven dogs per week, but currently the kennel is slammed.
"It's been kind of crazy recently," Beam said, "We've been picking up dogs constantly, and it's been a struggle. Right now we have 14 dogs in 15 kennels."
Beam said it is difficult to determine exactly why the department has seen such an uptick, but he theorized breeders aren't selling at the same rate they were during the pandemic.
"We get three or four calls every week that breeders are looking to get rid of their puppies because they aren't selling," Beam said. "We saw so many people jumping on board, and it kind of flooded the market. When you jump from 650 kennels to 1,300 kennels as quickly as we did, it is going to flood the market. Puppies were hot during COVID, but I think we will see a drop in kennel licensing in the county next year."
Hall said the economy could play a key role in people not purchasing new dogs at such a quick pace.
Beam then went on to talk about increasing the dog and kennel registration fee. He said the county has been at $15 since 2012, when the county went from $12-$15.
"I think the reason we have been able to maintain that despite the rising cost in everything is because of the hard work and dedication of my staff in getting kennel licenses and regular licenses in compliance," Beam said. "Ultimately, it will be up to (the commissioners). But I will give you my reasoning why the fees should be higher."
Beam said any time a county requires dog owners to increase its pay, it is a big deal, and he doesn't want to take it lightly. He said hopefully people will understand why the county should raise its rates.
"I would like people to understand that we are raising the money to help the dogs," Beam said. "It helps us carry out our functions effectively."
That raise coincided with Beam's final topic, that of bringing in a part-time hire to help at the front desk, which would allow his staff to perform its duties better by freeing them up from the everyday tasks around the office.
"We're at a point now where if we want to hire someone new, just to take care of the kennel side of things like cleaning the kennels, taking care of the dogs in the morning, and manning the front desk and phones, it will aid us immensely," Beam said. "Right now we have all these kennels in our county, and we can only do a portion of them because we are out doing other things. Plus we are cleaning the kennels, caring for the dogs and doing the shelter side of things. If we have another part-time employee, it opens our officers' morning to do more kennel inspections."
Beam said he and his staff believe every licensed kennel operator should be contacted and have their kennel inspected.
"The past several months have really opened my eyes," Beam said. "Previously, we've averaged seven or eight dogs at a time. But now we are always full. When someone takes off, we are crunched, and it's tough for everyone to get everything done that needs done. We've continued to work late, and if we had someone there to assist, we wouldn't have to. It would be crucial for us to do this just to take away the extra stress."
Beam praised his three-deputy team for their effort in going above and beyond without complaining, doing their jobs professionally and making sure the animals are well cared for.
Misty Burns, Holmes County director of human resources, said Beam and his team continue to do a remarkable job with the volunteer program, where they have local people come in and exercise, train and play with the dogs.
The commissioners quickly granted Beam a resolution to conduct the study and said it would consider the opportunity to bring in a part-time person.