DeWine listens while Holmes County does the talking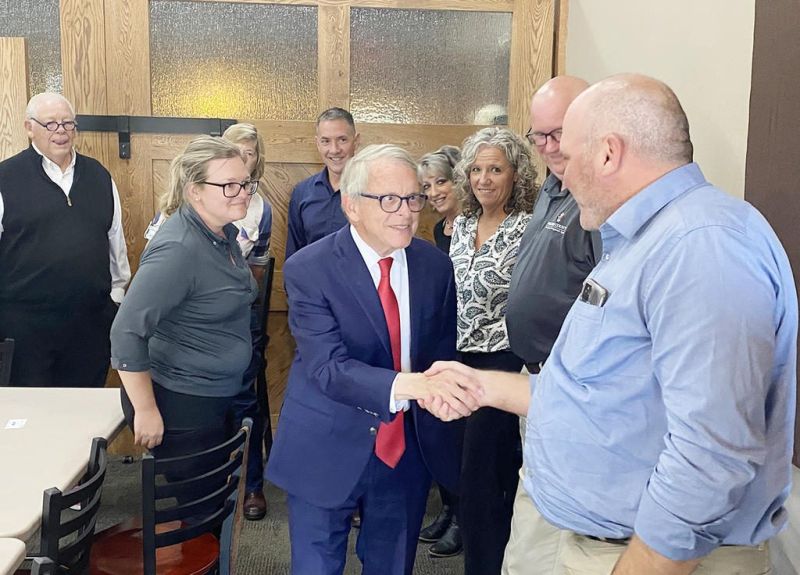 Politicians generally like to talk.
This time around, the politician listened.
Ohio Gov. Mike DeWine made a stop in Holmes County this past week, where rather than speak, the governor listened and gleaned valuable information that he could take back with him to Columbus.
DeWine spoke with several Holmes County officials and other important area figures at Jitter's Coffee House in Millersburg Monday, Sept. 19, first as a way to stay in touch with Ohio constituents, secondly to perhaps find some gold nuggets of wisdom from a county that continues to thrive in the face of state and national struggles.
According to Holmes County commissioner Dave Hall, DeWine's visit was about connecting with people to gain insight from people to get a feel for what the needs and issues are.
"He just listened," Hall said. "He didn't talk politics at all. This was about listening to our possibilities and challenges. Having the governor in here to hear our ideas and hopes is refreshing."
Among the key county officials attending the visit were Holmes County commissioners Hall, Joe Miller, who emceed the event, and Ray Eyler, health commissioner Mike Derr, Economic Development Council director Mark Leininger, engineer Chris Young, Common Pleas Judge Sean Warner, EMA director Jason Troyer, Human resource director Misty Burns, Tracy Schlabach, commission planning director Arnie Oliver, commissioner's clerk Susan Schie, Karen Gotter representing Holmes Soil & Water Conservation District, recorder Anita Hall, auditor Jackie McKey, business owner and Berlin trustee Dan Schlabach, Millersburg mayor Jeff Huebner, Chamber of Commerce & Tourism Bureau director Tiffany Gerber and Rob Hovis, Republican Party chair.
After thanking everyone for coming, DeWine said his main purpose for stopping was to get a sense of what was going on in the county and what concerns any of those in attendance wanted to discuss.
"I want to hear what you all have to share," DeWine said.
Miller began by talking about how the people of Holmes County drive the economic growth and success of the county, and not the county officials. He said the economy continues to thrive in the county and that is because of the entrepreneurial spirit of the people.
The focus then went to House Bill 377 that is seeing state investing $500 million in the state's Appalachia country communities.
Derr then talked about public health and said he has appreciated the support DeWine and his office has given to county health departments during the pandemic.
"This is a time when public health can innovate and do thing a little differently," Derr said. "We can explore that data and we appreciate everything you've done to support our efforts to keep people safe and healthy."
Eyler noted that Holmes County sets the trends for Ohio in many various ways.
"I think a lot of counties look to us to see what we are doing," Eyler said, using as an example that rather than immediately spending the casino tax funds, the commissioners set aside that money for special projects.
Gerber spoke about the growing tourism sector and how that has continued to bolster the economic growth of the county through sales tax from visitors.
Other topics included business growth, in particular finding people to fulfill the labor force needs, job creations, law enforcement concerns, education and creating and filling volunteer roles.
McKey said she is currently undergoing property appraisals in the county, telling the governor, "Our property values are skyrocketing right now. That's a big project for us right now as the state looks at all the data and says, 'what's going on in Holmes County? Why is your $5,000 ag land selling for $50,000 an acre?' It's been interesting and a challenge."
After listening to everyone's questions, statements and concerns, DeWine promoted his wife Fran's efforts to promote the Dolly Parton Imagination Library Project that puts a new book into the hands of every child each month from birth to the age of 5-years old, he talked about how listening to people about the ideas of how successful counties in Ohio are thriving today is imperative.
"I'm a big believer in local," DeWine said. "We are a local state. We are focused on bringing business to Ohio. Look at intel business. One of the anecdotal things we have heard from intel people is that people want to come to Ohio, and as we bring more business here, it is going to be more attractive to intel companies."
DeWine said there are no magic solutions, only hard work and a willingness to listen and work together. He said Ohio has a strong business climate and the cost of doing business in the state is lower than many other states. He noted that Ohio has recently seen more than 50 large companies relocate to Ohio from the west coast.
"We have a lot of good things going on, and this is really our time in history," DeWine said. "I am very optimistic about where we are going. We just need to make sure everyone has the opportunity to get the education they need and has the option to choose their dream."
From the creativity of start-up businesses to working together and growing both business and educational development through building up community, Hall said DeWine recognizes that Holmes County has done some unique things that have been successful.
"Governor DeWine has told me many times that he believes there are many things we do here in Holmes County that can be incorporated to the state level," Hall said. "I think he understands how strong Holmes County is and he wants to hear how it's being done firsthand."
If his commitment to listen first rather than to speak at this meeting is any indication, DeWine should have plenty of quality information to take back home and discuss with his team.