Hawks hoop seniors more than what meets the eye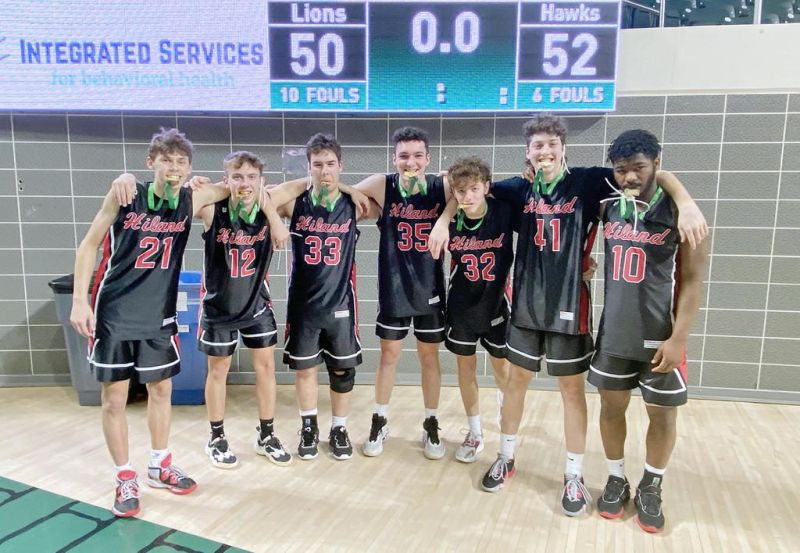 Hiland seniors Jack Hershberger, Luke Mast, Ryan Miller, Logan Troyer and Kendrick Wilson sat on the bench during Hiland's improbable comeback regional title win over Northwest Christian in the Convocation Center in Athens, cheering on their fellow seniors Phin Killy and Carson Habeger and the rest of the Hawks.
None of the Senior Five had entered the game, a scenario that played out more than once in a season filled with plenty of ups and downs before Hiland righted the ship and reeled off 11 straight wins to reach the state tournament.
As for the two seniors who start, head coach Mark Schlabach said they have had to work extremely hard to get to where they are today. Killy gets the assignment of guarding an opponent's toughest player, regardless of whether that is a guard or center. Habeger has become the heart of this team with his passion and has made himself into a solid contributor across the board.
Killy said he realized he had to work harder if he wanted to carve out a role. He did, and it's paid off.
"The things I do in practice reflect what I do in games," Killy said. "My goal has been to get better every day, and this has been so fun to accomplish this with a group of guys I've been playing with since my freshman year."
"It's been a wild ride," Habeger said of the season. "But it's been extremely satisfying knowing our hard work paid off."
He also expressed his admiration for the Senior Five, his teammates who have committed to making the program better.
"They make us better every day, and they made a huge contribution to where we are," Habeger said.
The five bench seniors may not have eaten up a ton of playing time this season, but in digging below the surface, their presence on this team becomes much more influential than might meet the eye.
The five have played an important role in this year's success story, and nobody knows that more than Schlabach.
"Those guys control the locker room," Schlabach said of his senior crew, "especially when we were 8-9. It's easy to have a good attitude when you're winning, but these guys showed incredible leadership and great attitude, even when we weren't winning. They are team guys all the way around."
Schlabach said when given opportunities to grab some floor time, the seniors have played well. However, he said what they bring to practice is the invaluable part because they understand their roles and have poured themselves into each practice, making sure their teammates had to work hard to improve.
This group has stuck with it from biddy ball through their senior season, and their commitment to the program is an anomaly in today's world where most young people who don't garner much playing time decide to do something else.
However, for these guys, especially the Senior Five, it's about more than just playing time; it's about being part of a team, part of a close-knit group they've grown up with. It's about making a commitment to their teammates and friends above their own personal gain.
Schlabach said without the Senior Five's effort, commitment and leadership, the Hawks probably wouldn't be stepping on the floor in Dayton for a state tournament game.
"To people on the outside looking in, they may think these guys don't have a big part of our success, but anyone on the inside recognizes how important they are," Schlabach said. "They're contributing in ways that might not show up on the floor on game night, but that's enough for them, and that says a lot about who they are."
"We've put a lot of hard work in, and even though I haven't played as much as I'd like, it's been great," Miller said. "I've played with these guys since middle school, and we have tons of great memories. I think we play this game for each other because we've been here so long."
Jack Hershberger agreed, and he said these guys put in the work so that when they are called upon, they are ready. Hershberger had to step into a key role when starting center Alex Yoder went down with an injury, and his contribution was monumental as he became the hard-hat guy who did the little things.
"You prepare and go out when you're called upon and go to work. You play as hard as you can and play your role the best you can," Hershberger said. "One of our goals is to work hard and make the other guys around us better."
Logan Troyer is a guy who every team needs, that guy who keeps things loose and fun and brings plenty of energy. He said his role is to be a morale booster, the locker room guy who encourages and gets the guys pumped up.
"There's different ways to lead," Troyer said. "I don't get much playing time, so I took it upon myself to find a role and contribute."
He said being in the program since he was little, it wouldn't have felt right not to finish his career as a member of the Hawks.
"I felt like that would be disrespectful to coach Schlabach, the staff and my teammates," Troyer said.
"When you're playing in middle school, you dream about one day playing at state," Mast said. "I think I've always had that dream, and there's a certain aura around this program that you want to be a part of. I think we're very close-knit, and that's been important. We've just stayed with it for the team."
Wilson, who misses several practices each week because he is taking college courses, has exemplified the work ethic that seems to run through the veins of this senior group.
"It's such a great group of guys, and we've built toward this year and knew it could be something special," Wilson said. "When the team is successful, we're all successful, and we push each other to be the best we can be. I think in the end we'll look back and realize that everything we poured into this team is what we're all going to remember. It feels almost like a 'blink and it's over' moment for us."
Seeing this group stick with it is something Schlabach said is admirable.
"Those two guys are our most improved players," Schlabach said. "They both have taken on great leadership roles, and they've done a lot of things on their own to get better, and we're seeing the fruits of their hard work."