Hawks land the final punch for thrilling 57-52 win over Knights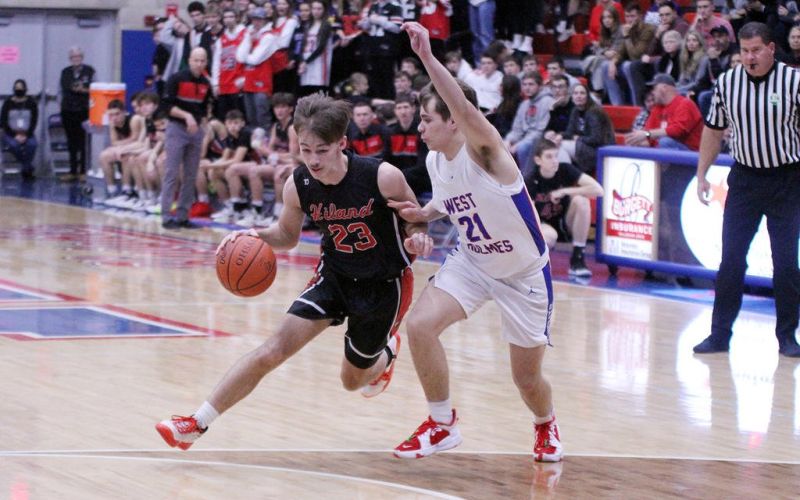 When it comes to shear entertainment value to high school basketball fans, the cross-county showdown between host West Holmes and visiting Hiland on Tuesday, Jan. 25 in The Dungeon at West Holmes High School was as good as it gets, a real "bang for the buck" in a game filled with plenty of action and suspense.
In a back-and-forth game that featured plenty of lead changes and neither team leading by more than six points, the Hawks found a way to come up big in the final minute to escape The Dungeon with a 57-52 win.
For both head coaches, it was exactly the kind of defensive challenge and tournament atmosphere they hoped it would be.
"I told Donny before the game that they pressure better than anyone we've seen all year," Hiland head coach Mark Schlabach said. "It was hard to make a pass."
West Holmes head coach Don Hall has coached alongside Schlabach and former coach Perry Reese, Jr., and he said the two programs are looking forward to working together to make Holmes County basketball as strong as possible.
"I told Mark before the game that I wanted to beat him and I was sure he wanted to beat us, but afterward, win or lose, we are rooting for each other," Hall said.
The amount of respect both coaches have for each other and for the other's program is monumental, and while this rivalry is an intense one, Hall said the two coaches are putting forth an effort to work together more to help both programs.
This one started tight and stayed close throughout.
Six minutes into the first quarter, the two defenses were dominating play, and the score was knotted at 4-all. Sammy Detweiler's jumper and Chris Shetler's free throw gave Hiland a 7-5 edge as the quarter drew to an end, but Blake Morrison beat the buzzer for a 3-pointer to spot the Knights to an 8-7 lead through one.
The back-and-forth play carried on, with each team answering the other's blows. Channer Wells completed an and-one, which was quickly answered by a Dylan Weaver trey that tied it at 15. Grant Miller hit a pair of free throws to give the Hawks a 17-15 lead. Then Brock Zimmerly sandwiched a pair of triples around a Shetler 3-pointer to put the Knights up 21-20.
The Knights then captured their biggest lead of the game at 25-20 on Morrison's drive and a steal from Zevin Proper that led to a Wells lay-up.
However, a Shetler score inside and a steal and lay-in from Weaver got the Hawks to within 25-24 at the half.
The third quarter was a defensive struggle with neither team pulling away, and the fourth period brought a barrage of 3-pointers, but it came from both teams and the game stayed tight. Tony Yoder hit from deep for Hiland, as did Caden Miller. Morrison drew the Knights to within one with a big triple before Caden Miller's and-one. Grant Miller's drive pushed Hiland's lead to its largest of the night at 45-39, but in the span of 20 seconds, West Holmes tied the score on treys from Wells and Morrison.
Shetler drove for two, West Holmes responded with a Wells lay-up and Shultz dropped a triple for a 50-47 lead. With 1:20 to play, Tony Yoder canned a huge 3-pointer to tie things at 50. After getting a stop, Grant Miller stepped into a three-ball from the corner to give the Hawks the lead. Wells scored off the drive to make it 53-52 with 24 seconds to play, and the Knights fouled Grant Miller with 19 seconds to play. He calmly drained both, and on the other end, Morrison's three attempt misfired.
Yoder was fouled with five seconds left, and when he missed the front end of a one-and-one, West Holmes had life. That hope was quickly snuffed out when Shetler grabbed the rebound, getting the ball to Grant Miller, who was fouled with 0.5 seconds left. His two free throws sealed the win for the Hawks.
Schlabach said while Shetler was the workhorse all game, a number of guys made key plays in the closing minute that helped key the win.
"We had Grant, Tony and Caden all hit huge shots, right after they had a kid make huge shots," Schlabach said.
"Everybody thinks the last few minutes are what dictate a game, but the missed free throws and second-chance points for them were big," Hall said, noting his team missed the ailing Mason Wolfe inside. "We're still gelling. We're not there yet, but we're getting there."
Hall said he had some very dejected players in the locker room after the game, but he told them two things: One, they got to play Hiland, and two, they got a chance to get better. Hall then said he can add this game into the growing list of competition that will prepare his team for the tournament.
"This is the toughest schedule West Holmes has ever faced, and there is a reason behind the madness," Hall said. "We'll get better every game. These guys will come back tomorrow and give me everything they've got."
Schlabach had similar words in expressing his pleasure to lock horns between two teams that play hard and challenge their opponents.
"Win or lose, that was a tournament atmosphere that will really help both teams out a lot come tournament time," Schlabach said.
Morrison led WHHS with 21 while Wells and Zimmerly added 14 and nine, respectively. Shetler led the Hawks with 17, with Grant Miller adding 12 and Yoder and Detweiler scoring nine and seven, respectively.