Hiland tennis team finding success as a chameleon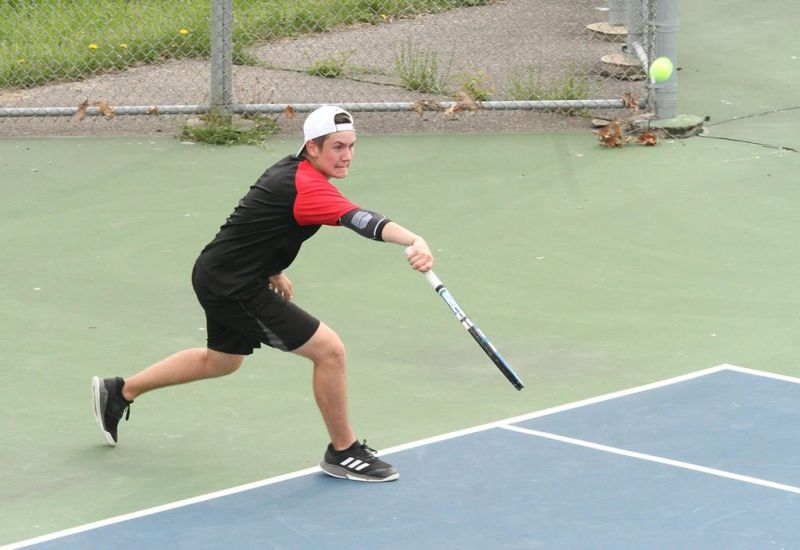 Stop me if you've heard this one before: What do you get when you combine two golfers, a basketball player and four soccer players?
Answer: a tennis team.
At least that is the case at Hiland High School, where boys tennis coach Bert Jones went perusing the hallways of the high school to wrangle up this year's team.
While none of his starting seven players have ever played tennis before, it hasn't deterred the team from reaching some fairly impressive standards this season. Through a dozen games this year, the Hawks have carved out a 9-3 record, an astounding feat since none of their players have any experience. However, what they do have is athleticism, something Jones sought out when he went searching for students willing to compete on the courts this spring.
The two golfers are state champion teammates Garrett Shoup and Brookston Hummel, who are Hiland's No. 1 and No. 3 singles players, while the No. 2 spot is occupied by basketball player Carson Habeger.
The first doubles team of Wyatt Freeman and Zach Mullet and second doubles team of Caelen Howell and Kurt Kaufman are all soccer players.
"I just tried to find athletes who were willing to play," Jones said. "Every one of my kids plays a different sport, so they are all athletic. None of them had ever picked a racquet up before this year, so we are still fairly raw, but we have improved in leaps and bounds since the beginning of the year. You can't teach athleticism, and that comes in handy in tennis too."
The athleticism has added up to plenty of depth for Hiland, with even many of the JV players also playing other sports, but it has come in particularly handy in doubles play, where the depth has the Hawks in good shape. According to Jones, the first doubles team has lost only one game this season while the second doubles tandem remains undefeated.
"I'm surprised at how well these guys have picked it up, even our JV kids," Jones said. "We've got so much depth, and there isn't a big drop-off from top to bottom. We don't have any superstars, but we have guys who can compete."
Jones said he understands tennis is not a top-priority sport at Hiland, so he said he wanted to make the game as much fun as possible for the kids. He has done that, which has helped him recruit kids, but he also has athletes who are competitive. As state champions, Hummel and Shoup didn't get to the top by not being ultra-competitive.
"I think we have a very laid-back attitude here, and that is attractive to kids who are devoting themselves to other sports," Jones said. "But now they have had the opportunity to be a part of something that has seen them win while they enjoy themselves, and I have seen improvement in all of them, which is really nice to see."
Recently, the Hawks fell to neighboring West Holmes, which is having a pretty sensational season as well. The Knights (14-3) pulled out a 3-2 win, capturing all three singles titles while Hiland's tradition of strong doubles play allowed them to nail down a pair of victories.
At first singles the East District's one seed Curtis Wagner topped Shoup 6-2, 6-4. In second singles Hunter Ellis disposed of Habeger 6-2, 6-2, and in third singles James Barr rebounded after a tough first set to claim a 1-6, 6-2, 6-1 win over Hummel.
In first doubles Freeman and Mullet earned a win over Jud Morris and Trevor Miller 6-1, 6-3, and in second doubles Howell and Kaufman got past Brody Schaad and Jacob Miller 6-3, 6-1.
In the East District tournament, Barr and Ellis are teaming up and earned the No. 1 seed alongside Wagner in singles play while Freeman and Mullet earned a three-seed.