Hiland's Kaufman picked for state golf coaches HOF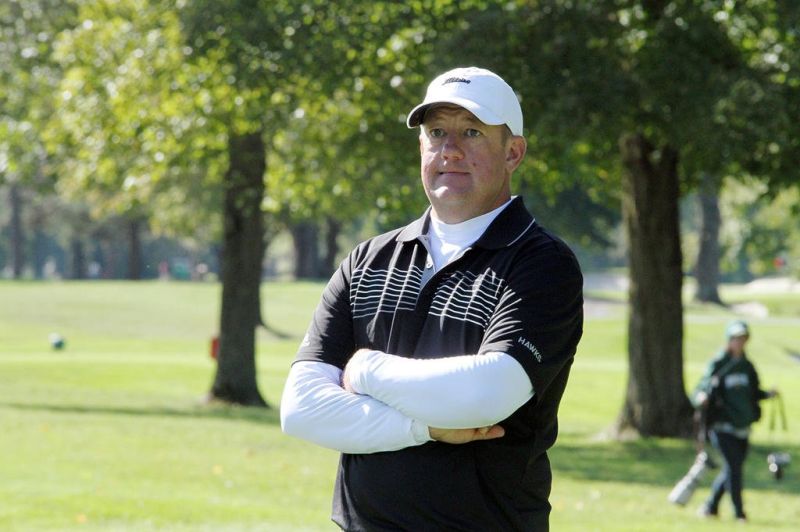 When Austin Kaufman started as the varsity golf coach at Hiland High School in 2003, he had only four players in his program.
In the years since, Kaufman has turned Hiland into one of Ohio's best small-school programs.
People around the state have taken notice of Kaufman's accomplishments over the years as he was recently named one of this year's inductees into the Ohio High School Golf Coaches Association Hall of Fame.
"When I first started, I just wanted to make the team better, and it seemed like every wave of players just got better and better and invested their time," Kaufman said. "To have something like this happen is a great feeling."
Kaufman wasn't thinking about being inducted into the Hall of Fame one day when he began his coaching career.
"There wasn't really that thought going through my head," he said. "I was just wanting to build the program and get more players out and get them interested in playing in youth tournaments and just building."
Kaufman has certainly done some building during his two decades coaching the Hawks, who won the Division III state team championship in 2019 and 2021. They finished second as a team in 2020, fourth in 2018 and seventh in 2015, the same year that Mark Schlabach finished as the individual champion.
Kaufman's son Dylan was a senior on the 2019 team. Getting to celebrate winning a state championship with his son is a memory Kaufman holds dearly.
"Having some success and getting the players to invest the time and enjoy their time practicing helped to gradually build (the program) over the years," Kaufman said. "It wasn't right away. I think once the players saw that the commitments they made were paying off and the things that we were doing put us in good positions and we started winning, we started drawing more people out, and they just believed in hard work.
"They play together in the summer as a team. I almost have to tell them to get off the course instead of, 'Hey, go play.'"
Since 2017, Kaufman has guided the Hawks to a 70-2 record in the Inter-Valley Conference, including 12-0 marks in each of the past five seasons. He was named IVC and Eastern District Coach of the Year in '18, '19, '20 and '21.
Kaufman is the first person to point out that his coaching success wouldn't have happened without quality players.
"I'm appreciative of the players being dedicated enough to make (me being inducted into the Hall of Fame) happen because if they weren't a part of it, it wouldn't have happened," he said. "They believed in the program and believed in getting great, and that's what made it happen. The community supported us, the parents, the players and the past coaches. It took everybody to make something like (me being inducted) happen."
Kaufman began playing golf as a freshman in high school. He continued his academic and golfing careers at Malone University.
After graduating from Malone, Kaufman worked in the business field. He decided to go back to school and pursue a teaching career, which eventually led to him becoming the golf coach at Hiland.
It's hard to say how things would have played out for the Hawks golf program over the past 20 years if Kaufman hadn't decided to go back to school to become a teacher and get involved with coaching.
But one thing is for certain — Hiland is much better off because of Kaufman's decision.