Holmes County discussing how to use possible HB 377 funding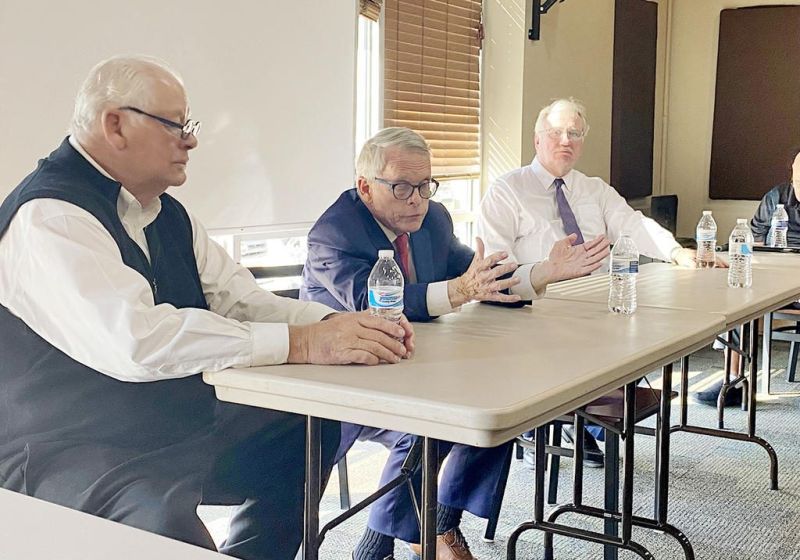 Even though the funds aren't in hand, entrepreneurs of Holmes County have already jumped on the idea of utilizing state funding from Ohio House Bill 377.
When Ohio Governor Mike DeWine signed HB 377 this past year, he opened the door to a whole host of possibilities for Ohio's Appalachian communities who will be capable of working together in each Appalachian county's communities to creative avenues of growth and prosperity.
House Bill 377 is seeing the state invest $500 million in the state's Appalachia country areas, of which Holmes County is one.
DeWine said that what is most exciting is providing funds that will encourage and inspire counties and communities to work together to determine how they see fit to spend those dollars in ways that best benefit each individual county.
"The whole idea was for each community to get together to see how they want to spend (the funds)," DeWine said of House Bill 377 money. It shouldn't be the state telling you how to spend it. That's for communities to figure out what is needed. We did this for 32 Appalachian counties and as I travel around the state talking to people, a lot of people are excited about it and excited about the opportunity to put it to good use."
DeWine said there aren't going to be any surprises in House Bill 377, noting that the funds are going to be made available and the hope is that it will create opportunity to bring people together to initiate communication in developing potential economic growth ideas.
Despite the funds not being distributed yet, Holmes County was able to get a jump start on the proposal when Holmes County commissioner Dave Hall created a countywide meeting that brought together people to discuss and flesh out what House Bill 377 could mean to the county.
Hall said several big advantages in Holmes County include communities and people willing to work together for a common goal and plenty of bright, creative people who will develop ideas that will benefit not just one part of Holmes County, but everyone across the board.
He went on to note that in reading the bill, he quickly gained insight into exactly what the governor was hoping to create with House Bill 377 and said Holmes County is built to come together to figure out how to best use the funds once they are available.
"There are a lot of people and organizations already talking about ways we can develop these funds, and that's pretty typical of our community," Hall said. "It's obviously in the very early stages of communication, but the goal of the meeting was to create a path to talking and coming up with solutions and ideas. There's a lot of synergy out there and this is an exciting opportunity for Holmes County."
Hall said he has already heard from other counties who are now following suit and taking a page form Holmes County in getting ahead of the House Bill 377 funds. He added that should projects not fit under the HB 377 guidelines, there are other options for rural development that will be available.
"One thing about Holmes County is that we are definitely entrepreneurially driven, so the ideas that will come out of our community, with the minds that are getting together to discuss how we can make those dollars work for the future, will be amazing for our community," said Misty Burns, Holmes County human resource director.
Hall added that the county is full of people who are driven to succeed and willing to brainstorm and work together, and that he was not the innovator but simply the conduit to share the information.
"The people of Holmes County will drive this, take the ball and run with it," Hall said. "That's Holmes County."