Holmes County's Curren a key voice for Ohio State wrestling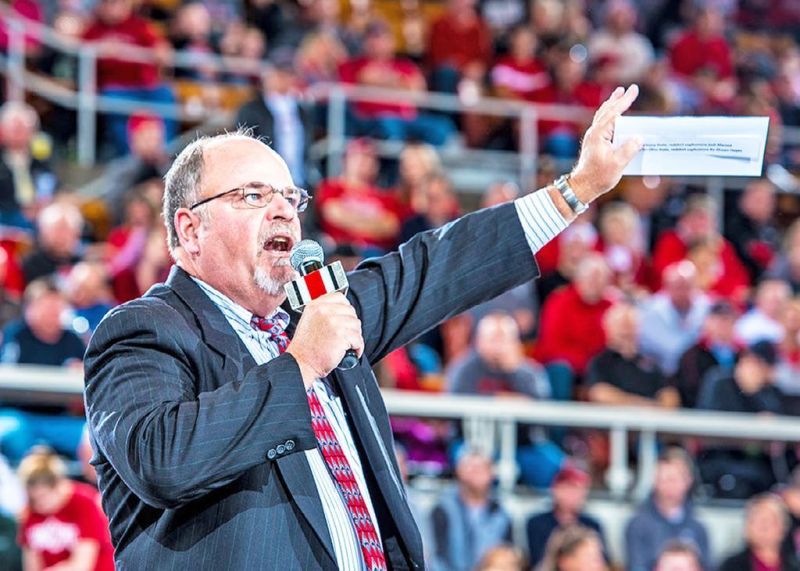 Bret Curren has helped with the West Holmes wrestling program since the late 1980s.
Curren, a lifelong Holmes County resident who graduated from West Holmes, has done the public address announcing for the Knights among other roles during his time with the program.
One of the Knights wrestlers who appreciated what Curren did behind the mic was Colt Sponseller, who was a three-time Div. II state champion during his time at West Holmes. After graduating from West Holmes in 2007, Sponseller attended the Ohio State University.
Curren and some others in the West Holmes community heard Sponseller was going to get his first collegiate start in early January 2008, so they ventured to Columbus for the meet. Once the match ended, Curren went down to congratulate Sponseller on his first collegiate win.
"(Sponseller's) first comment (to me) was, 'Do you have a business card?'" Curren said. "I said, 'Yeah, I've got a business card,' and he says, 'Well, if they want me to wrestle down here, you're doing the announcing.' And so he went over and talked to (Ohio State) coach (Tom) Ryan, came back to me and said, 'Coach Ryan would like to meet you. Can you come over to the Varsity Club?' I went over to the Varsity Club, met coach Ryan and got the (public address announcing) job."
Curren still does the PA announcing for Ohio State wrestling, even though Sponseller is long gone from the program. His favorite part of the gig is he loves the sport. A running joke of his is that he's got the best seat in the house and gets paid at the same time, a perfect combo.
There are two announcers at Ohio State. One is a hype announcer who gets the crowd fired up. The other is a general PA announcer. Curren does the latter.
"I do my little play-by-play during each individual match," Curren said, "just trying to keep the crowd informed of what's happening on the mat. The people that know the sport, the people that know what's going on, they sort of say, 'Why is he continuing to tell us this? We know what's going on.' (Announcers) always have to remember there are new faces watching and there are new people listening and there are new people sitting there watching that don't know, so you have to inform them as well, even though the majority of the crowd knows what's going on."
Two memories stick out the most to Curren during his time with Ohio State.
"After the Buckeyes won the national championship in 2015, like a day later, they did a big welcoming back to Columbus for the team and asked me to go down and help with it," he said. "I went down and did that, and that was kind of enjoyable because I guess the easiest way to put it is even though I'm not really affiliated with the team, per se, I still am. It was just kind of nice because I guess you could say to yourself, 'Oh, we had a little bit of a part of this national championship.' That was always a highlight for me.
"There was one time Ohio State was wrestling Iowa at the (Schottenstein Center), and it was a big deal. The place was sold out. At that time they didn't have a hype announcer. I had to leave my position at the table, go up on the mat, get the crowd all fired up, bring up the wrestlers, (go) back to the table and then do the match. That type of deal. Tom Brands is the head coach at Iowa. Tom and his twin brother Terry are legends in the sport of wrestling, let's put it that way. Both are very fiery. Both are very emotional. I'm coming off the mat one time from introducing the wrestlers, and I hear Tom Brands go, 'Hey.' And I turned around and go, 'Yeah, coach?' He goes, 'Just want to let you know I like your enthusiasm and your energy. Keep it up.' One of those types of deals. It was just like, 'Wow, that's pretty cool.'"
Curren begins preparing for each meet well before it takes place. He starts by looking at the bios of both teams, trying to find pertinent information about the wrestlers who will likely be competing in the match.
"I go to (the opposing) school's website, look at their previous schedule, see who's wrestled at what meets, look at the statistics, see who's probably wrestling more and who might be the starter for that particular weight class, and then I go ahead after doing that and type out the research on their bio, their credentials and everything like that," he said. "I put all that together, and then I'm ready to go."
Curren said he usually arrives at Ohio State roughly an hour before the match is scheduled to begin. He then looks over an announcing script and makes any changes he thinks will make things flow better. After that, he waits around until it's time to do his thing.
"There's always prematch announcements that I do, and then there's, as I like to call it, the big dog and pony show to get everybody fired up there and everything, and then the team comes out, national anthem, shake hands, who won the toss, who chose odd-even, then the hype announcer brings out the first two wrestlers and we're underway," he said.
When Curren was in high school, he did morning announcements and things of that nature. He worked at the radio station WNCO in Ashland from 1980-92. During that time he also did PA announcing at local race tracks.
"(I) started off (doing PA announcing) at Lakeville and then more or less moved up to the Wayne County Speedway up at Orrville," he said. "At that time the track was owned by the Gross family, and they also owned what was known at that time as the Stars Racing Series, so they had an opening come up in the Racing Series in 1992 and asked me if I wanted it. I always wanted to do motorsports, so I took that job and that ended up being my vocation from 1993-2017 when I finally got out of it and hung it up, I guess is the best way to put it.
"Throughout that whole period, I always still did announcing as well. I didn't really do too much announcing with the Racing Series. It was more of a management position, but I did other race track announcing as well."
Curren never had a chance to have much of an athletic career in high school because he suffered several major leg injuries that derailed any hopes of competing. Because he couldn't compete, he served as the manager of the wrestling team.
"I've always enjoyed the sport," he said. "I never got a chance to really participate in it the way that I would have liked to have, but I just always loved it and stayed with it.
"The announcing keeps me with it is the best way to put it."