Knights keep creating history one victory at a time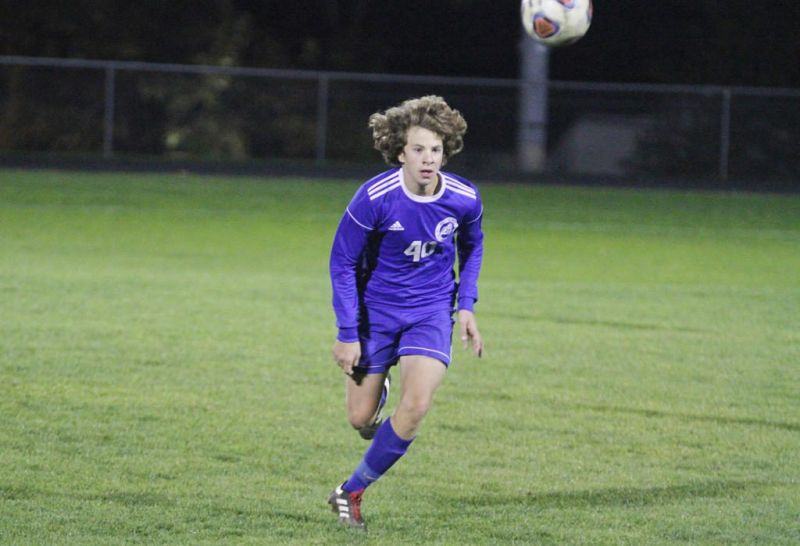 Sometimes when taking a trip, it's simply more fun to ditch the map and wing it.
As far as the West Holmes boys soccer team goes, they are going through uncharted territory without a map, but the Knights certainly are having a blast finding their way through the twists and turns of the Div. II East District tournament.
Having never even won a sectional title before, the Knights celebrated that accomplishment earlier this season, then captured their program's first district victory with a 5-2 win over River View.
On Saturday they walked into uncharted territory again, this time in a district final game versus Buckeye Local.
The Knights allowed a goal two minutes into the game but rallied and captured a 2-1 win that gave them the school's first boys district soccer championship.
"It feels good to win a scrappy game like this, and I feel really good for these kids who have fought very hard all year long," coach Jason Arnold said.
After allowing the early goal, West Holmes collected itself and began playing their game. Eventually in the 28th minute, Curtis Wagner rolled a ball to Grant Miller, who spanked it past the Buckeye Local keeper for the equalizer, and it was game on.
The defenses began laying down the law, and neither team located the goal through the remainder of the first half and well into the second half.
But in the 68th minute, a great pass from Carson Yoder found the foot of Jacob Goudy, who punched it past the Buckeye Local keeper for the eventual game-winning goal.
From there, all the Knights had to do was clamp down on defense, and did they ever in securing the district crown.
In a fairly even game throughout, West Holmes took 13 shots while keeper Brandon Yoder collected six saves in the victory.
"I am glad we continue to stay resilient and continue to fight, have patience and composure when things get chippy and there's a lot on the line," Arnold said.
That wasn't the only fun WHHS had. As time wound down in West Holmes' district semifinal contest against River View on Wednesday, Oct. 23 at Hiland High School, West Holmes keeper Brendon Yoder stared down a nearly perfect River View corner kick and slapped it away. The rebound went to the Black Bears, who fired off a shot to the lower-right corner, where Yoder dove and knocked the ball across the end line. Moments later the Black Bears got off another sizzling shot that Yoder knocked away.
As his teammates on the sideline shouted words of approval in what would be a Knights' 5-2 victory, Yoder turned and made a Yoder Schwarzenegger-like pose and let out a roar, drawing some laughs from his teammates.
That is the kind of fun the Knights are having right now as they advance to the district finals for the first time in the program's history.
"I kind of get caught up in the moment sometimes," said Yoder, a three-year starter in net for the Knights. "Right now we're just having a lot of fun, and it feels like all of the hard work we put in is paying off. This is the best feeling I've had all throughout high school."
Arnold said the relaxed and impressive style of play the Knights are showcasing right now comes from a season that saw them lingering around .500 all season, thanks to a rugged Ohio Cardinal Conference schedule.
"The program has been around for 30 years, and this has never happened," Arnold said about the Knights reaching districts. "We hear all the background noise, but we knew coming into the season we had the right players and the right skill sets. It was just a matter of putting it all together."
This was a rivalry game that had plenty of chippy and aggressive play, but the Knights showed real composure all night long and maintained a level head before pulling ahead late.
West Holmes took on a River View team it knows quite well. The Knights played the Black Bears twice earlier this season, but both of those wins paled in comparison to the magnitude of this one.
"We knew they would keep scrapping. We played them in preseason and in the regular season, and that is just how they play," Arnold said of River View. "I'm just glad our kids kept fighting."
Curtis Wagner scored in the 33rd minute of play to give the Knights a 1-0 lead. River View quickly responded with the equalizer in the 37th minute when Drew Ireland drilled a direct kick.
West Holmes then responded about as quickly as humanly possible when it took the Knights all of 20 seconds to score, Alex Schrock driving one past Black Bears keeper Chase Wilson.
Things would get tougher before they got easier for West Holmes. In the 52nd minute River View's Jordan Bryant scored the equalizer, and it appeared to be game on. However, the Knights simply seized control from there and played some inspiring soccer the rest of the way.
The Knights took the lead for good when Jackson Oliver got them rolling by hammering home a long shot to make it 3-2 in the 54th minute. In the 57th minute Jacob Goudy chipped home a rebound shot off the leg of Grant Miller for a 4-2 lead, a goal that seemingly took a huge toll on the young Black Bears.
"We were a little nervous when they came back to tie it up. Then we started firing it in the net, and it felt really good to build the lead, and a two-goal lead is huge compared to just one," Wagner said. "We are having so much fun on this run. We are just enjoying each game and playing together as a team."
The final goal came courtesy of a booming goalie punt from Brendon Yoder, who smoked a punt that took one high bounce before Miller raced by two River View defenders and chipped a lofty shot up and over Wilson in the game's 78th minute.
"That's the second time this year I have kicked one of those to Grant," Yoder said of the connection.
From there it was all the Knights' defense doing its job, especially in the closing minutes when Yoder made three sensational stops late.
"We don't throw up unbelievable stats. We just have been playing very well as a team, and that is all I'm asking of them," Arnold said. "Play well as a team and keep the effort. That is what wins games."