Knights tennis team continues its dominant ways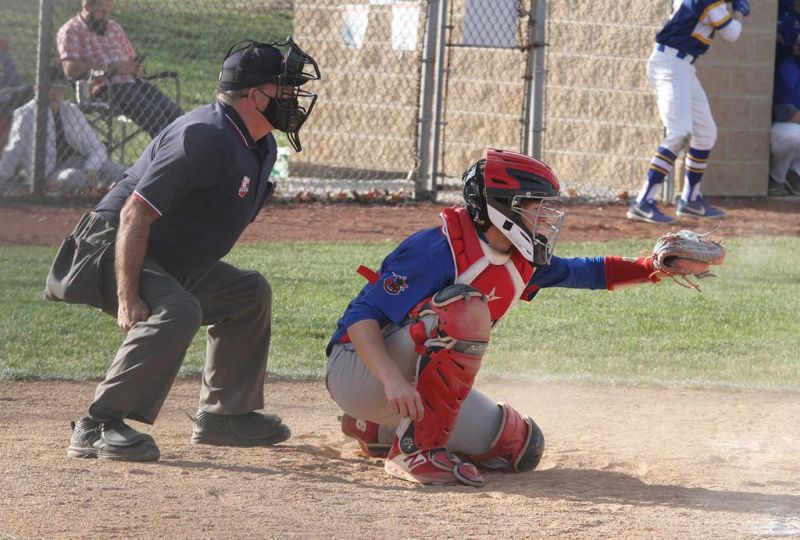 Garaway softball
After getting mercied in six innings on Monday evening, the Lady Pirates were in a 2-1 game going into the seventh inning against Indian Valley, who produced a couple of base runners before a three-run home run extended their lead to 5-1, which also ended as the final score.
Isabelle Tetreault got the start in the circle and pitched 6-1/3 innings for the Lady Pirates. Nicole Custer came in and finished off the last two outs. The top hitters for Garaway included Janell Mast, Jordyn Keim, Jenna Shoup, Faith Windle and Isabell Tetreault, who each had one hit. Faith Windle scored the Pirates only run on a passed ball.
The Lady P's then fell to Tri-Valley 13-3. Tri-Valley jumped on the Lady Pirates in the second inning, scoring eight of their 13 runs. The Pirates' defense committed two errors, and the Scotties offense took advantage of them with three home runs. The Lady Pirates had their best hitting performance of the season with 10 hits. Mast recorded three hits, and Keim had two hits including a double.
Garaway played much better in game two versus the Scotties, falling 4-1. Shoup had a pair of hits, with Yoder and Keim collecting the only other hits for Garaway.
West Holmes softball
The Lady Knights fell to Mansfield Madison 23-4, the Rams getting a nine-run fourth inning. Top West Holmes hitters were Kenzie Woods, who collected three hits and drove in three runs; Avery Yoder, who drove in a run on three hits; and Keegan Uhl, who had two knocks and scored twice.
The Lady Knights also fell to Philo 18-5. Sayler Miller and Kenzie Woods both doubled while Dakota Ringwalt hit a two-run single and Kali Woods drove in a run with a single.
West Holmes baseball
The Knights crushed Mansfield Madison 12-1 behind the pitching of Noah Clark and a big five-run third inning. The Knights rode the strong pitching of Clark and Payton Eads to victory and totaled 12 runs, scoring in every inning but the second and sixth.
Clark twirled four shutout innings, producing five strikes and no walks, while Payton Eads hurled the final three innings with three strikeouts and no walks. At the dish, Luke Vess, Micah Martin and Brady Smith all produced a pair of hits.
Nate Ginsburg led WHHS past Dalton 13-2. Ginsburg threw five innings, striking out six. Clark pounded out three hits, Dylan Robinson produced two and West Holmes scored nine runs in the third inning to break it open.
In JV play Reed Fenderick was able to withstand an early blitz by Mansfield Madison, where the first five reached base safely. Fenderick would limit the damage to only two runs and would throw 4-2/3 innings total while striking out six. Hunter Ryan (1-1/3 innings, three strikeouts) shut the door on the Rams last threat in the fifth by inducing a fly ball to end the inning with the tying run stranded at second base.
The offense would give the Knights some breathing room with four runs in the bottom of the inning and put another five runs on the board in the sixth to end the game. Blake McCombs tripled, scored three runs and had one RBI while Brayden Miller had two runs and scored twice.
In an 11-4 win over River View, Fenderick would twirl 5-2/3 innings, allowing four runs while striking out nine. Blake McCombs had two doubles, two runs and two RBI, and AJ Jones had two hits with three RBI.
West Holmes tennis
West Holmes ripped Mansfield Senior and Norwayne 5-0, the Knights dominating in every aspect.
Versus Senior, Curtis Wagner defeated Hyzhan Toddie 6-0, 6-0 in first singles play. Hunter Ellis downed Andrew Cawrse 6-0, 6-0 at second singles, and James Barr and Jud Morris topped Marquis Troche and Jayden Rueckert in doubles play 6-1, 6-0.
Versus Norwayne, Wagner clubbed Max Graham 6-0, 6-0. Ellis matched him, defeating Blake Ferguson 6-0, 6-0, while Barr blew past Austin Schar 6-0, 6-3. In doubles play Morris and Trevor Miller slipped past Gavin Grier and Ben Morrow 6-3, 3-6, 10-8, while Jacob Miller and Brody Schaad defeated Kaydence Bauman and Hannah Keiper 6-3, 6-0. West Holmes is now 10-1 and 2-0 in the OCC.