Knights' Vaughn proud of team's efforts at state meet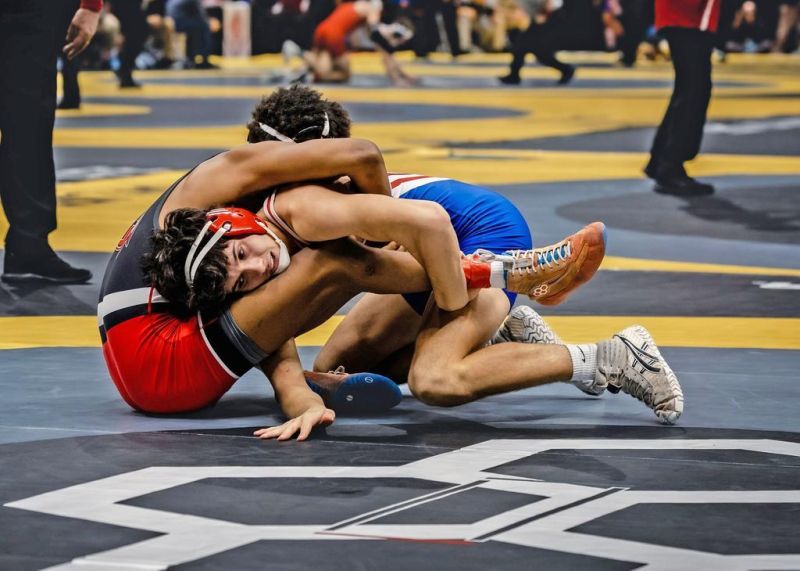 West Holmes wrestling coach Scott Vaughn took a day to rest and reflect on his six state tournament qualifiers' performances March 10-12 at the Div. II state tournament and summed up the weekend in two words: "extremely proud."
With seniors Mason Taylor (113 pounds) and Elisha Baldridge (heavyweight) earning runner-up and third-place finishes, respectively, and All-Ohio honors, Vaughn was very happy for them but at the same time felt for his other qualifiers — Grady Toye (junior, 120), Hunter McCluggage (sophomore, 132), Louden Dixon (freshman, 138) and Blake Norman (senior, 150), who didn't have the tournaments they envisioned.
"The OHSAA state wrestling tournament is always such a bittersweet event," Vaughn said. "Celebrating amazing accomplishments but also finishing the best sports season of the year, I am so proud of the accomplishments of not only the state qualifiers, but this entire team. They have developed and improved so much since the beginning of the season. Several first-time starters became key contributors by the end of (the) season. The experienced wrestlers did a great job being leaders. They took ownership of the team and of the season. The success of this team has a lot to do with them."
Vaughn said his coaching staff also was a key contribution to the team's success.
"This coaching staff has done an amazing job with this team," he said. "The staff of Andy Toye, Logan Stanley, Brad McCluggage, Corbin Miller and Colt Cox have put a ton of work into these kids, and a lot of credit needs to be given to them for the success."
For the second consecutive season, Taylor (43-4) was a state finalist and also became a two-time state runner-up to go along with his eighth-place finish in 2021. Taylor joined West Holmes wrestling greats Colt Sponseller, Max Rohskopf and Cael Woods as the only three-time state placers in school history.
"Mason completed one of the most successful high school wrestling careers in West Holmes history — 137 career wins, three-time state qualifier, three-time state placer, two-time state finalist, two-time team captain, three-time Academic All-Ohio," Vaughn said. "The strides this kid has made from his freshman to senior year have been unreal. He became obsessed with making himself the best wrestler he possibly can be. In that time he also became a great teammate and great leader.
"We knew all year that on any given day Mason could beat anyone in the state. He just has that ability. He dominated on his way to the finals, only giving up escapes that were given. We witnessed the best version of Mason the past few weeks. He was confident, flowing well with his movement, and dominant in every phase.
"In the finals his opponent (Colyn Limbert of Medina Buckeye) was a tough matchup style. We knew that going in. I still think Mason wrestled a decent match. It just didn't go his way, and sometimes that happens. Mason won't be remembered by that though. He will be remembered as a great teammate, a great worker and one of the best to come from the West Holmes wrestling program. I can't wait to watch Mason at the University of Mount Union. I have no doubt he will do great things."
Ending his senior campaign at 45-2, Baldridge's only losses on the season were in mid-December to Aaron Ries of Wadsworth, this season's Div. I heavyweight runner-up, and to Circleville's Trentt Fulgham, who upset Baldridge in the championship semifinals and went on to win the D-II heavyweight title.
"Going into the tournament, he was projected to win the tournament," Vaughn said of Baldridge. "My heart broke when he got reversed as time ran out. I can tell you it was like being at a funeral Saturday night. I am so proud of how he came back Sunday morning. For a teenager that just got his heart ripped out of his chest, to be able to come back and wrestle is impressive. I told him that he had two options. One, give up and feel sorry for yourself, or two, get motivated and upset (and) take it out on every kid that toes the line across from you.
"I think anyone that knows Elisha knows which option got picked. Baldridges don't give up. I was so impressed with him coming back in dominant fashion to take third. That is how Elisha will be remembered."
Vaughn said Baldridge was a special athlete.
"Elisha Baldridge is one of a kind," he said. "He is the type of person you don't get very often in a coaching career: extremely hard worker, great kid and one of the most competitive people I've ever been around. He was elected by teammates and coaches as a captain this season. His leadership has improved tremendously this season. He is a big reason for this team having success."
Norman (32-20) put in a very quiet but successful senior season, peaking at the right time to become a state qualifier. That wasn't lost on Vaughn.
"Blake had an amazing run the last few weeks of the season," Vaughn said. "He quietly had a very good senior season. If you want to look at rankings (Norman was ranked No. 38), he was not even projected to sniff the podium at districts. He finally started believing in his ability and went on a run to the state tournament.
"Blake is also Academic All-Ohio with a very impressive 4.0 (GPA) thus far in his high school career. Blake is a captain on the team and one of the important people behind the scenes to help lead this team to the success they've had. Blake will be missed next season."
Of his three underclassmen first-time state qualifiers — Toye (29-21), McCluggage (29-23) and Dixon (38-14) — Vaughn said all three progressed tremendously throughout the season and sees only better things ahead on the mat for the trio.
"Grady had the season that we try to tell the kids about all the time," Vaughn said. "Grady is a very sound wrestler. During the season he had ups and downs but caught fire at the right time. We tell the team not to focus on their record and to focus on the process. Focus on getting better each day in the room and everything will work out. That is exactly what Grady did this year. He kept grinding, and he ended his junior campaign at the Schottenstein Center. I am very proud of Grady. This will certainly help him mentally going forward. Grady also earned Academic All-Ohio as well.
"For the majority of the season, Hunter and Grady were workout partners. The reason I mention this is like Grady, Hunter also had some ups and downs during the season. He had some really tight matches with some really good kids but came up short. He and Grady came to work every day with a hard hat, and Hunter's season ended as well at the 'Schott.' Hunter had really close matches at state. I think with the experience of the state tournament, this will do wonders next year, and he is only a sophomore.
"And Louden has 'wowed' everyone this year, improving each week (and) dedicating himself every day to get better. I have been very impressed (with) how he handled his first season as (a) starter. Reflecting back on his season, I will remember him dropping a close match in the sectional finals, then turning that result a week later (into a district championship). That is very impressive considering it was against a three-time All-Ohioan. I know Louden was disappointed in his performance at state, but I think it will be motivating as he trains for his sophomore year."