Many Holmes summer events still up in the air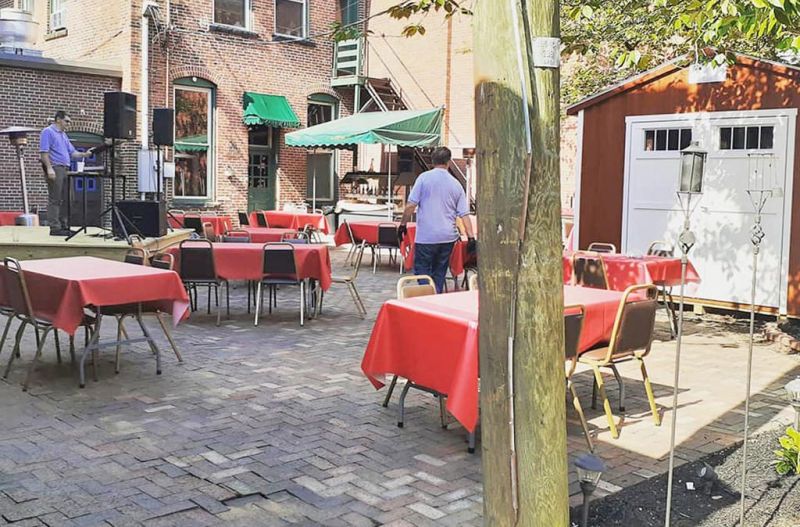 Holmes County Chamber of Commerce and Tourism Bureau executive director Tiffany Gerber said the phones have been ringing off the hook with people inquiring about the county's summer events and attractions.
"The honest answer," Gerber said, "is that we just kind of need to take it on a case-by-case basis because so many things are still up in the air."
For example, while the Berlin Harvest Festival is still set to take place in September, other events earlier in the summer might not happen this year.
Gerber said although events are one aspect of what attracts people to the area, people are still interested in coming to the region for the attractions that have always drawn literally millions of tourists.
"It seems like lots of people want to get out of the cities more than ever," Gerber said. "We're seen as a safe destination; people have a certain comfort level in coming here."
At this point Gerber said tourism is probably down by about half from last year, as determined by the number of room nights sold and bed tax revenues, but the first tour buses were seen in Berlin and Walnut Creek recently.
"We're still hopeful that we can rebound as long as the virus doesn't come back stronger," Gerber said.
Even the chamber's operations had to change due to the virus, according to Gerber. "One of our own employees tested positive, so we had to adapt by doing things like taking phone calls from our homes," she said.
The office's lobby remains closed, but curbside pickup is offered for brochures or whatever visitors need.
Gerber said the organization was engaged in rolling out a new website just when the virus hit but had to regroup and quickly put together a micro website, www.ohioamishcountryunited.com, to provide a resource for chamber members and visitors during the pandemic.
"We also kept our Facebook page updated with information, like a list of restaurants and what levels of services, curbside pickup, etcetera, were available," Gerber said.
Gerber said close cooperation with both Historic Downtown Millersburg and the Berlin Main Street Merchants has been a "huge advantage" in tackling the challenges presented by COVID.
"We've been more closely tied to the chamber than ever," Historic Downtown Millersburg executive director Judy Lamp said. "We needed an open door as far as communication because while they deal with the county on a much larger scale, we were able to provide support on things like who's open or not in town."
Lamp said Millersburg businesses showed impressive adaptability in dealing with the situation. "In Holmes County we're capable of being tested," she said.
Lamp said Millersburg businesses are open now and are balancing tradition with a new way of doing things. "It was the businesses that adapted most quickly that are still thriving," she said.
Lamp said downtown merchants have made creative use of their outdoor spaces and provided new approaches to customer service in requiring social distancing.
"We still have outdoor entertainment on weekends, and many of our local favorites, like the Millersburg Brewery, Hotel Millersburg, Sunny Slope Winery, McKelvey's Stone Fired Pizza and New Grounds Cafe, all have outside seating," Lamp said.
People also are using the courthouse lawn to enjoy picnics of take-out food from the downtown businesses, Lamp added.
Lamp said while the Fourth of July celebration, Thunder over Holmes County, was canceled a couple months ago, the Farmer's Market is still being held every Saturday morning, and destinations like Rails-to-Trails are popular and still available. The status of the Vintage in the Village event later in the summer is yet to be determined. The Millersburg Food Run 5k in August is canceled, but the Holmes County Fair will still be held in August.
To be sure, some of the biggest summer events throughout the area have been canceled. The Mount Hope and Rails-to-Trails auctions are among them.
According to Doug Burgess of Berlin Main Street Merchants, the Fall Harvest Festival will still be held the weekend after Labor Day, albeit with some changes. A fireworks display will be added to weekend music and food downtown.
Burgess said sponsors for the fireworks have already stepped forward. "That is just one example of how everyone has stepped up and been creative through this challenging time," he said. "Holmes County is amazing that way. People come from all over because life slows down here. At our core, it's about family, faith and flag."
For the most up-to-date information on Holmes County events, visit the website at www.holmescountychamber.com or call the Holmes County Chamber of Commerce and Tourism Bureau at 330-674-3975 or email info@holmescountychamber.com.