Milestone achieved for West Holmes' McMillen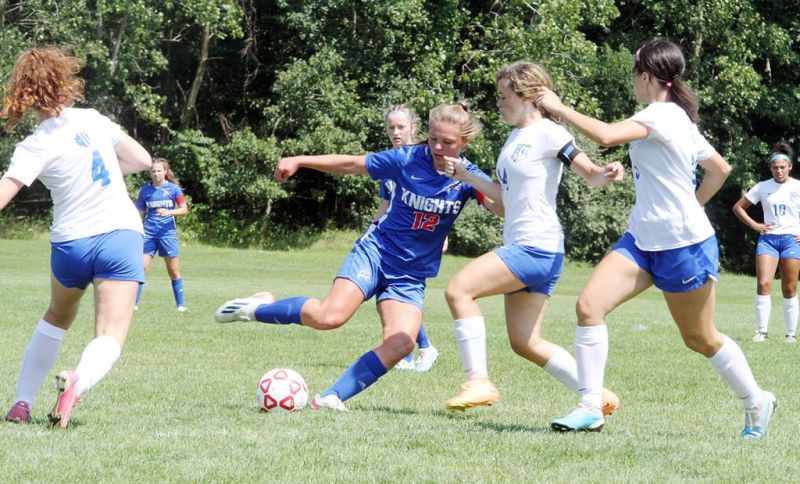 In counting the number of high school soccer players who have achieved the accomplishment of scoring 100 goals in a career in Ohio High School Athletic Association history, it doesn't take long to reel off the names.
West Holmes senior Allie McMillen reached that milestone on Saturday, Aug. 19 in the Lady Knights' 6-1 win over Zanesville. Then she tacked on goals 101 and 102 just for fun.
Fittingly enough, McMillen, who sports the No. 12, notched her 100th goal in the 12th minute.
Following the victory, the star senior, who will pursue her soccer career at a yet-to-be-named college next season, was humble in recognizing the honor and quick to praise the many teammates who have helped her climb to such great heights over the past three seasons.
"I'm honored to be a part of a special team and such a great program," McMillen said. "It takes a whole team to score, and I'm glad I have been blessed with the ability to do that. As a team, we train all summer and emphasize working together for the benefit of the team, and that has always been my focus."
Since day one when she arrived, McMillen has set herself apart in terms of her talent and drive to excel, and she continues to motivate and encourage her teammates to work toward the end result of winning games because she said that is what matters the most.
In doing that, she said her effort has been put toward learning how to do all of the little things in the game that add up to success, and reiterating that concept to her teammates continues to be a focus.
She said not only does she consider herself to be a practice workaholic, but also she tends to work on her game at home when nobody is watching. She also has played club soccer extensively.
In addition, she has played with this group of talented seniors for many years, and they have grown up together. That's why McMillen sings the praises of her teammates because she knows the work they've put in.
She said fellow senior Avery Arnold is someone who does all of the little things right and helps lead the team, noting her classmate never gets the accolades she deserves, simply because she does all of the things that don't necessarily show up in the scoring column.
"She's a great player, and I wouldn't have half my goals if it weren't for Avery," McMillen said.
While a prolific scorer, McMillen continues to get just as jazzed about finding a teammate for an assist or making a key defensive stop.
"I just care about winning games," she said. "This is my senior year, and I want to make it a memorable one, and that only happens if our team is successful."
While the team concept is at the forefront of her mind, McMillen said setting individual goals and pushing to achieve them is an important part of pushing oneself to improve.
"That number (100) has been in the back of my mind for a while, just as a goal to reach, because you need to set goals to push yourself," McMillen said.
What makes the achievement even more impressive is that West Holmes hasn't played a ton of cupcake games where McMillen can rack up monster numbers. The Ohio Cardinal Conference has been well-established as a terrific girls soccer league.
Lady Knights coach Schuyler Snyder said her senior standout is an incredible talent on the field, but the characteristics she exudes every day in practice, in the classroom and in her community are what really sets her apart.
"Allie has been a special kid since the first day I saw her play, which was late elementary and early middle school," Snyder said. "I was always looking forward to the day she would be on the pitch as one of my players."
McMillen hasn't disappointed her head coach in the slightest.
"She's such a hard worker. You'll never find a harder working kid than Allie," Snyder said. "She is a tremendous leader who is always encouraging others and thinking about the team first. She doesn't really care that much about herself and personal records. She's always looking out for her team and for us as a coaching staff.
"But what makes her even greater is that she is such a wonderful person in the classroom and out in the community. You really can't find a better kid, and I think any coach wants their kids to be just as hard-working and invested in the community, with friends and family, and in the classroom as they are on the pitch."