New look Lady Hawks are seeking to win the day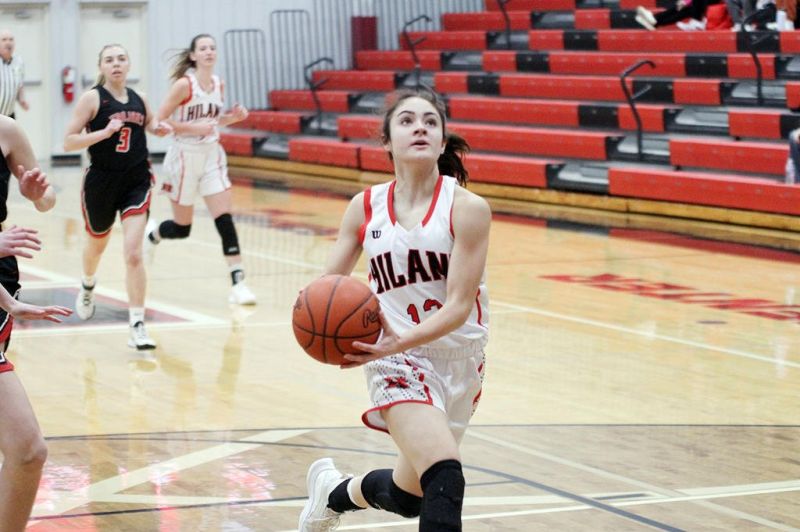 Win the day.
With a new head coach and some spots to fill, a young but hungry Lady Hawks basketball team is putting their season motto to work as they head toward opening tip.
New Hiland Lady Hawks head coach Brady Schlabach doesn't have the quantity and experience any head coach would love to have at his or her disposal, but what he does have is a coach on the floor and kids who appear willing to do whatever it takes to earn floor time and put their skills to good use.
As the 2022-23 girls basketball season approaches, Schlabach is eager to see what his crew can do as they try to develop an identity. If history and reputation count for anything, it wouldn't surprise anyone to see the Lady Hawks knocking on the door to claim another Inter-Valley Conference title.
Returning to lead the way for Hiland is junior point guard Ashley Mullet, the team's leading scorer from a year ago. Mullet is a sharpshooter who can score big from outside and penetrate, but most importantly, she is one of those kids who is a coach on the floor and a calming presence.
Another big key is the return of junior Mallory Stutzman, who missed the majority of last season with a torn ACL. Stutzman is a strong, physical presence who plays well both inside and outside. Her return will be a welcome relief to a team in need of scoring.
"Just her presence from a talent and leadership standpoint will be huge for us," Schlabach said. "She and Ashley were both a big part of our championship run two seasons ago. Their leadership along with our senior Abby Miller will be huge for us both on and off the court."
Senior Kate Kaufman, who finished her soccer career as the most prolific scorer in Hiland girls soccer history, brings her athleticism and winning ways to the hardcourt.
"She's a great addition, and we're excited to have her come out," Schlabach said. "She wants to learn, and I know she'll play hard."
One big missing link will be replacing their big scoring threat inside in Aila Miller. Miller graduated and is now at Akron University, and it will be up to sophomore Joplin Yoder and young Allie Habeger to fill in and man the paint in her absence.
"Those two have worked extremely hard all summer, and it's going to be exciting to watch them grow into their roles," Schlabach said. "All we can do is work hard to prepare."
Schlabach said the loss of the leadership and defensive prowess of seniors Jenna Troyer and Teagan Harris will be another area his team needs to find capable replacements.
He said it would be better to find the answers sooner than later because Hiland starts its schedule with some real bangers.
The schedule includes opening with a rugged opponent in state power Laurel; Northwest Canal Fulton; Wheeling Park, one of West Virginia's top programs; a talented and experienced Waynedale team; and Classic in the Country opponents such as Div. IV power Convoy Crestview and Div. I Midview.
Regardless of opponent, Schlabach said he knows his team will work hard to get better through each experience, whether at practice or on game day.
"Win the day, that's our motto, and that is what we are working toward every day at practice, and we will continue to work on that every single day this season," Schlabach said. "Hopefully by the time February comes around, we'll be playing our best basketball. We just have to make sure our highs don't get too high and our lows don't get too low as we move along."