Offseason program key to Knights football success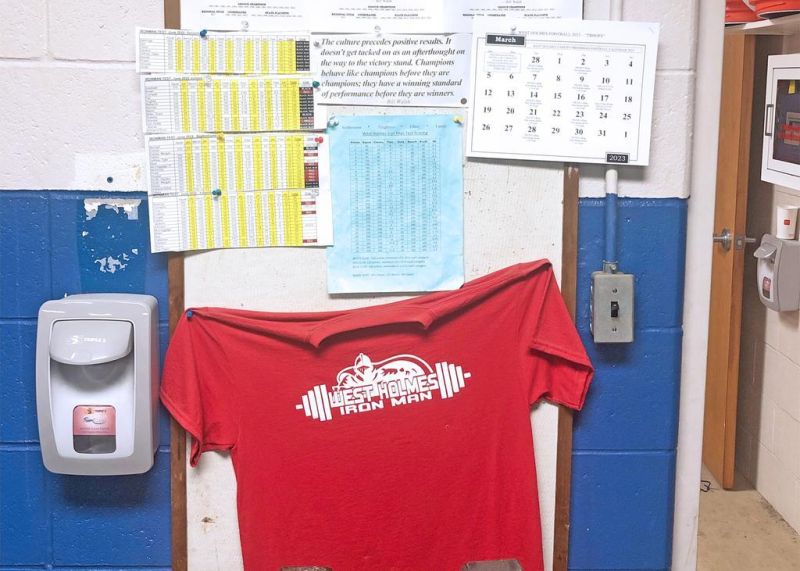 The West Holmes football team has had plenty of success over the past few years: three consecutive playoff appearances, back-to-back undefeated regular seasons and a trip to the Div. III state semifinals in 2021.
Those are just a few of the things the Knights have accomplished in recent years.
If you ask WH coach Zach Gardner how his program got to this point, he'll be quick to say their success each season begins in the offseason leading up to it.
"We are a firm believer in the offseason workout process," he said. "Everything that you need to have a successful team sports program can be built in the weight room, so it's obviously a major, major priority for us in our program."
Because the West Holmes Local School District is spread out more than most districts, getting all the athletes together at the same time for offseason lifting was a challenge. An in-school lifting program, which takes place during first and ninth periods, was created to combat that obstacle.
"We've got a very supportive administrative team and supportive parents and kids that understand what it means to have success and the things you have to do to have the type of success that is the parameter around here," Gardner said. "I believe we have 45 kids enrolled right now in our lifting classes and just working very hard to become bigger, faster and stronger."
The lifting sessions center around the Olympic movement free weight lifts that are staples of most football programs, such as the barbell bench press, power clean, parallel squat and hex bar deadlift. Those lifts help athletes build a solid foundation and increase their explosion on a football field.
"Those are kind of the core lifts that we build everything else out around," Gardner said.
The program also includes several auxiliary lifts, so each muscle group gets properly trained throughout the week.
In March, speed training will begin twice a week.
"We're real big on (speed) training because the fast-twitch muscle fibers (are important on the football field)," Gardner said. "(We will do) all kinds of different stuff that trains that explosion and works on their footwork.
"We'll time them on what we call a flying 20 or a flying 30, where we're just timing the last 20 to 30 yards of their run. We will time them every week."
Lifting weights, at its core, is an individual process. You can't build muscle without putting in the work on your own.
Gardner has found a way to make it more of a group experience through their Ironman testing.
"It's based on the weights that the kids put up, and a points total is associated with it," he said. "Kids compete to get on our top 10 all-time lists. They compete to establish as many points as they can on our core lifts. And we also time them in the 40(-yard dash). We test their flexibility during that time period. Those things come together, and they give them a point total, and it'll put them in a different club, and if they get a certain club, they get a T-shirt that corresponds with it."
Tracking each athlete's progression in the weight room and during speed training has other benefits too.
"We want them to see the times that they have and the weights that they're putting out because ultimately you have to focus on improvement," Gardner said. "What leads to (improvement is) when our kids start seeing themselves getting stronger and see themselves getting faster, they work harder, and then the results obviously speak for themselves as they transition over to the field on Friday (nights during games)."
Players within different position groups growing closer together is another benefit of the offseason program. The bonds they build while lifting weights together translate to the football field.
"We're real big on we'll partner them up with different players," Gardner said. "If it's a younger player, we'll put them with an older player to push them to be better, or if there's going to be an important connection that you need to have or kids need to have a rapport to be able to have success on the field, we'll put them in the same lifting group.
"The weight room is just a template for all the things — the toughness, the selflessness, the efforts and then building that family atmosphere, which are our core tenants of our program — selflessness, effort, family and toughness. All of those come from the weight room, and we can instill those skills and do the things necessary to continue to have the type of success that we've had around here."
In 2018 the West Holmes Booster Club and the local community put a huge investment into the weight room facility by helping to supply new flooring, racks and weights.
With several of last season's top players still in the fold, the Knights appear primed for another banner year in 2023. Any success they achieve will be traced back to the offseason when they were grinding away to become better versions of themselves.
"Most people just show up on Friday night and they don't realize the work that goes into having a consistently successful program and the amount of investment and time that these kids have put into (becoming) bigger, faster and stronger through our weightlifting program, let alone all the practices and whatnot that goes into it," Gardner said. "You go talk to most successful programs across the state, and they'll say the lifeblood of that program is their offseason lifting."