Pam Oswald is coaching in Florida but her roots remain tied to Ohio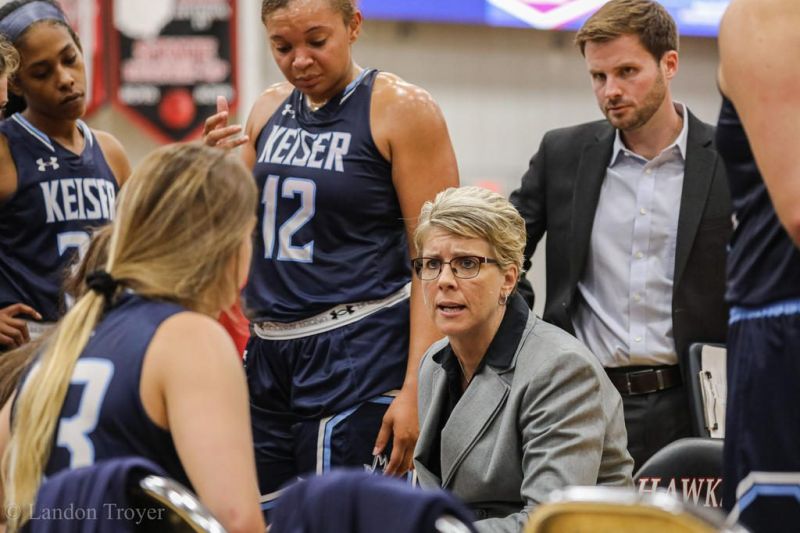 While she may be more than 1,000 miles from her hometown roots, former Lady Hawks All-Ohioan Pam Oswald has never really left Hiland High School.
Oswald, who now heads up the NAIA women's basketball team at Keiser University, continues to instill many of the things she learned while playing in the Hiland program and coaching as an assistant with current longtime Hiland head coach Dave Schlabach.
"I told my players to look at the banners on the ceiling," Oswald said following the game. "How many high schools do you know that have this many state tournament banners and this many state titles? That goes back to tradition, and hard work, and dedication and self-discipline. A lot of the things we run now are from things I have learned coaching here at Hiland under Dave. He and I still talk. I bounce ideas off of him, he sends me DVDs and ideas, I come home and we go out for breakfast at Boyd & Wurthmann's, and he continues to be a mentor. Even at my worst, he is always there to pick me up or kick me in the rear end to inspire and encourage me."
As for the chance to return home to coach at Hiland, Oswald was more than excited to have that opportunity. While she played in the Hawk's Nest and not the Reese Center, it is still home for her, and the warm feeling she received from the local fans was everything she had hoped it would be.
"I can be gone for a long time, and when I come home, it is always a wonderful feeling because it's always home," Oswald said of returning to her old stomping grounds. "People here show up for you."
Ohio Dominican defeated Keiser 87-57 in the exhibition game, but Oswald liked the idea that it was a great learning opportunity for her and her team. She also cherished the idea of coming back to the school where it all began for her as a player. Having the opportunity to share the honored past of Lady Hawks tradition and its winning program was something she felt was good for her team to witness.
"I felt this was a great chance for me to drive home the idea of a winning culture to my players," Oswald said. "The tradition here is amazing, and I have a lot of pride for this school and for how hard the kids here work."
After graduating from Hiland in 1991, Oswald came back and became an assistant coach under Schlabach from 1999-2001, where she was part of Hiland's first championship season in 2000.
Through Schlabach's connections with the women's program at Kent State University, he helped Oswald secure an assistant coaching position with the Zips.
She then became the co-head coach at Wheeling Jesuit University in Pennsylvania, a gig she said truly helped her become more prepared to coach. She then took the head coaching job at Tiffin University for eight years before landing the job at Keiser University four years ago.
She said since moving to take the head coaching position at Keiser, she has come to appreciate the diversity of people and the different cultures and experiences her players bring.
"I never thought about coaching after college, but now I can't imagine doing anything else because I love what I do," Oswald said. "It gives me gray hair, but I love the idea of being able to positively impact young women and give them the life skills they need to be successful in life beyond the game."