Pirates thrilled to move 13 on to Division III regionals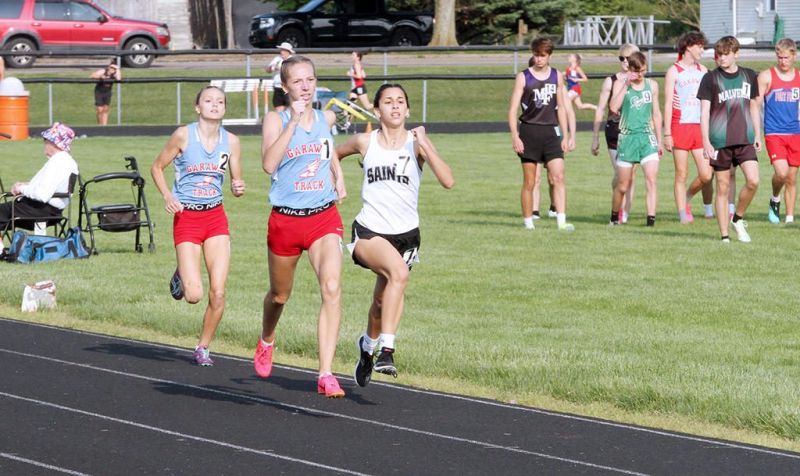 Meghan Schwartz and Jessie Johnson ran stride for stride with one another throughout most of the 800 meters girls race during the Division III track and field meet at Newcomerstown on Thursday, May 18.
In the end Schwartz pulled away to victory, one of three performances during the two-day meet that was deemed an elite performance by MileSplitOH, and with Johnson placing third, both competitors advanced to regionals to highlight a host of Pirates who will compete at regionals.
Garaway advanced 13 competitors to regionals, a strong effort that saw the Pirates place fourth in both the boys and girls team standings in a huge field of 24.
"I don't think I can remember a field this large," Garaway coach Zach Mottice said. "But I'm beyond pleased with the results."
For the pair of star runners in the 800, being able to compete together was satisfying, as was qualifying for regionals.
"I felt pretty comfortable the whole race," said Schwartz, who ran with the top three of her teammate and TCC's Elaina Price and was the top qualifier, winning in 2:19.7, a sizzling 13 seconds under her PR.
Johnson ran a 2:20.95, two seconds better than her best of the spring, and she said having Schwartz right there with her inspired her to go faster.
Schwartz has qualified for regionals many times in track and cross country, so the experience will not be overwhelming for her.
"I think that's a big advantage when it comes to competing with the top runners," she said.
Running in her final season, senior Kenadi Yoder made sure her career didn't end at Newcomerstown, placing third in the 300 hurdles in 48.32, one second under her qualifying time.
"I was nervous," Yoder said. "To come here and PR and run this well was exciting."
As a senior, she said she relishes the chance to set an example for the younger Pirates, noting grabbing hold of that role and cherishing it is part of becoming a good team player and leader.
As a three-sport star, Yoder said both track and basketball have been her favorites.
The 4x400 relay team roared to a runner-up finish in a season-best time of 4:10.59, good for second place, while the 4x800 team also grabbed runner-up honors in 10:01.66.
Mya Wengerd placed eighth in the 3,200 in 13:34.43 while Natalia Flores placed seventh in the pole vault, clearing 7 feet. Morgan Schlabach and Lainey Hershberger finished ninth and 15th, respectively, in the discus while Hershberger qualified for regionals with a fourth-place finish throw of 31-9 in the discus. Olivia Blosser took sixth at 31-6.
On the boys side, there were plenty of surprise efforts that allowed athletes to move on. In the 400, Mason Elliott ran a PR time of 52.50 to cash in on fourth place, the final qualifying spot for regionals.
Perhaps no runner was more shocking than Nathan Money, who carved a whopping eight seconds off his PR in the 800 to move from ninth in qualifying to the coveted fourth-place spot in the finals to advance.
"That was surprising," Money said. "My 4x800 split was definitely faster than my seed time, but it was definitely not a 2:05."
Money ran a 2:13.84 in qualifying, a time that would have placed him 10th.
"I'm just really excited right now," Money said.
Coming down the homestretch, Money was solidly in fourth, but he knew Fort Frye's Alex Henke was hot on his heels. He was able to fend off the hard-charging Henke.
"I was just trying to get into lane two to make it tougher for anyone to slip past," Money said. "It was thrilling."
Freshman Nic Palmer was also one of the surprises. The youngster carved off nearly 10 seconds and fired off a season-best 4:46.64 to place fourth.
Carter Travis and Tyler Hershberger placed 12th and 19th, respectively, in a big field in the 3,200 while the 4x400 relay team soared to a third-place finish that takes them to regionals.
In the field events, Caleb Miller cleared 11-6 to finish fourth in the pole vault to advance while Tate Amicone placed fourth in the discus with a throw of 124-0 to make it to regionals. His teammate Jayce Wallick placed seventh.
It was in the shot where the Pirates shined brightest, with Wallick grabbing third on his final throw of 42-9 to inch past his sophomore teammate Wallick, who ended up fourth with his last heave of 42-7.
"I was seeded second, so I knew I had a pretty good shot at moving on in the shot," Amicone said. "I always throw good when the sun's out."
On getting to go to regionals with Wallick, Amicone said it will only benefit both to have that type of support in the event.
"It's always nice to have someone there cheering you on," he said. "It adds a little confidence, a little boost."
Asked if he felt like a mentor to Wallick, Amicone said without question he felt like he was helping his younger counterpart learn the ropes, but he said the benefits are mutual.
"He's out there every day pushing me to get better," Amicone said.
Amicone will continue his throwing career at Mt. Union University next season.
For Wallick, the joy of advancing is made all the sweeter by having his teammate join him.
"I'm so excited to move on to regionals, and Tate is a huge part of that," Wallick said. "He pushes me every day and challenges me to get better. I can't give him enough credit for the improvements I've made."