Rain doesn't dampen links rivalry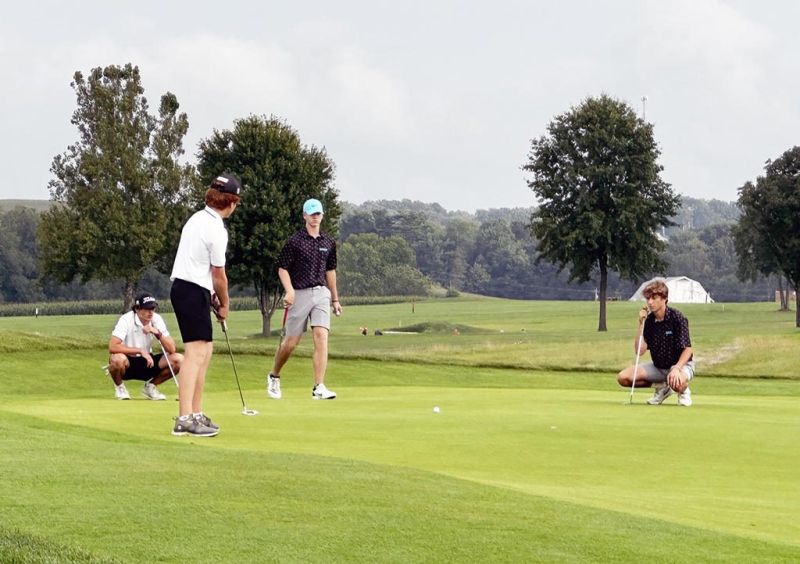 The final scores were atypical of a typical Hiland versus Garaway golf matchup when the two Inter-Valley Conference rivals knocked heads at Black Gold Golf Club Tuesday, Sept. 12, but some unruly weather played a role, as did the pressure of competing against rivals who will almost certainly duke it out for the right to advance to the state tournament when district play rolls around later this fall.
The Hawks came away with a 160-169 victory, and while neither coach was pleased with the totals, both were excited to give their players a chance to compete under some added pressure, something both felt would only help them in the long run.
The Hawks got consistent play across the board, led by a 39 from freshman Andrew Beun, who nearly made a hole-in-one at the par-3 13th. Monty Coblentz and Camden Bille both added 40s, and Jack Mast overcame an opening-hole triple-bogey to post a 41.
Garaway's Trace Gibson posted his usual strong score, his 37 earning him medalist honors on a rainy night. A.J. Miller, Carter Miller and Keshawn Miller each posted scores of 44, while Austin Tedrick added a 45 for the Pirates.
For Hiland coach Austin Kaufman, the score was higher than his team is used to posting, but considering the conditions, he liked the way his top players were able to focus and play consistently.
"It's satisfying to come away with a win against good competition," Kaufman said. "This and our win against a quality Indian Valley team recently put a lot of pressure on us recently, and I thought our kids responded well."
Kaufman said gauging his team versus the Pirates is one of the joys of having two close-knit rivals banging heads so many times each season, and he said putting all wins, losses and scores aside, it is more important to see how his players respond under the big pressure of a key rivalry match because in the end, that is the type of pressure both schools are facing if they want to get where they feel they deserve to be at the end of the year.
"I love the fact that in both this match and the Indian Valley match we started out poorly but came back strong to finish well," Kaufman said. "I'm getting excited for sectionals and districts because I like where we are right now."
Kaufman's top four players have flip-flopped in the pecking order all season, with each at times taking team medalist honors. He said seeing the kids push each other because they all want that top spot only helps their ability to play well in clutch situations.
Garaway coach Mikayla Johnson said this was one of those nights that her team simply didn't play well enough to beat a good team. Coming off a team score of 1-under-par at Hickory Flats, she said seeing her team shoot these higher numbers is a rarity this season.
"If I could take an eraser to two nights, I'd be one happy coach," Johnson said with a laugh. "This night and our match with Buckeye Trail where we weren't mentally focused and got beat with a 168."
Oddly, the Buckeye Trail defeat came at Hickory Flats one week prior to the team posting its 1-under score of 143 there.
"That 143 shows exactly what this team is capable of shooting on any given night," Johnson said. "We've been right around 155 or below all season. And we can't be unhappy about that. Unfortunately, we picked a bad night to struggle because we can't post this number and expect to beat Hiland."
Both coaches said ultimately this evening had no bearing on what a tension-filled district should be with a state berth on the line, but both also said any time they can beat the other in this friendly rival it builds confidence.
"We all know what's on the line in the future, but right now we are just trying to improve and become the best team we can be," Johnson said.
Regardless of the outcome, Johnson said both teams should be proud to boast the strong programs that have been a staple at state every year over the past several decades.
"It makes us proud to be from this area because not many schools can say two schools 20 minutes apart are vying to go to state every year," Johnson said. "It's great tradition, and if Hiland goes down, we are rooting for them, and if we go, we know they will be rooting for us because of that strong tradition."