Smith leads talented group of West Holmes runners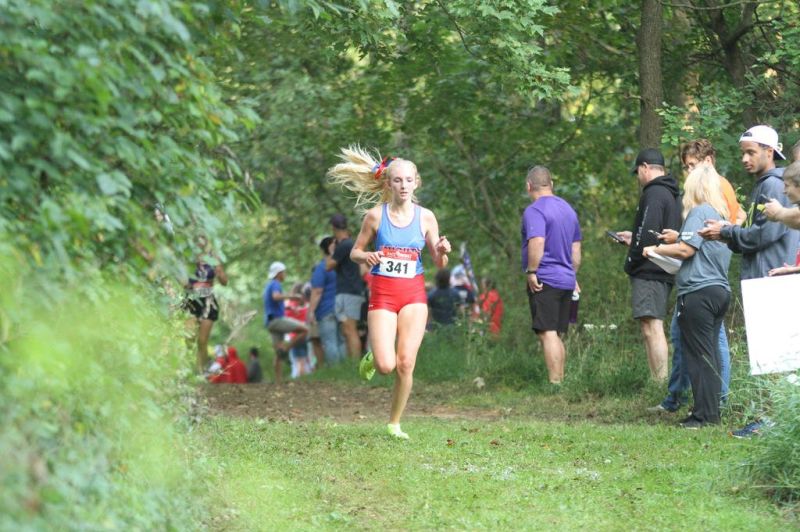 Last season, West Holmes cross country runner Noelle Smith wasn't only struggling with steep climbs and ugly weather when running during the high school cross country season, she was also up against another foe that was equally intimidating.
Much of her 2021 campaign was doused with remnants of COVID-19, which took a toll and made running her best even more difficult in a sport that is already incredibly demanding. Still, she managed to come on down the stretch and she and her Lady Knights teammates became the first girls' cross country team to qualify for the state tournament, where they placed a solid 16th overall.
Having usually run anywhere from third to fifth for the Lady Knights last season, Smith has surged to the front of the pack this year and continually leads a West Holmes team that is loaded with talent and seems bent on not only returning to state but making a much bigger impact this season.
Even as she experiences a great deal of individual success, Smith quickly points out that it isn't about her but rather the team and how the Lady Knights perform that is the focal point.
"We got a taste last year at state and we have set our sights very high this year," Smith said of the WHHS girls' team. "We have all been working so hard in practice and we push each other so hard, and we all kind of run around the same speed, so it's been a good process of running as a pack and working together to make out team better. In the end, that is what matters, because we all want to support each other and see all of us be successful."
Smith said that coming into the year healthy left her feeling like she was going to hit big this season and improve in a lot of ways. She did add that even she has been a bit surprised with her individual success, but said she has not been surprised with the success of the team, which has reeled off week after week of top-tier performances.
"She's just getting better and better," said West Holmes head coach Kevin Beachy of Smith. "She's been a leader and has worked hard to get back to where she wants to be."
At the recent Nanny Goat Invitational, Smith took the lead right from the start and never looked back, rolling to an easy win on a difficult course. Those types of finishes have not been uncommon for Smith.
"(COVID-19) took a lot out of me last year and it took about half my season away and I never really got everything out of myself that I was hoping," Smith said. "I like seeing how fast I can go and raising the bar and working hard toward winning, and that isn't just me but that is the mentality of all of us. We just have such high expectations, and we want to achieve them, so we will do whatever it takes."