SWCD honors Tom Graham 5th Grade Farm Tour winners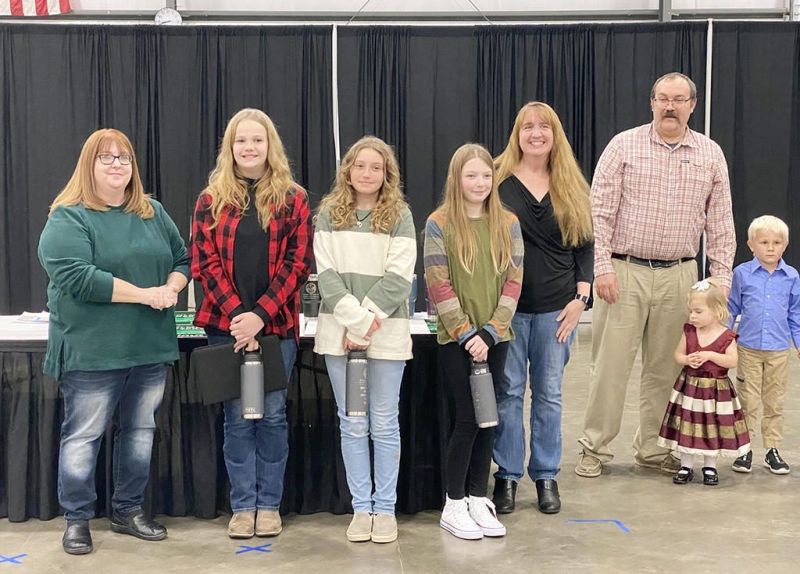 Keeping farming and agriculture in the forefront of the Holmes County community is an important task for the Holmes Soil & Water Conservation District, and one way they do that is by presenting the annual Tom Graham 5th Grade Farm Tour, an endeavor that introduces many youngsters to the importance of agriculture while at the same time promoting best conservation practices.
The Holmes County Tom Graham 5th Grade Farm Tour winners were celebrated during the 75th annual Holmes Soil & Water Conservation District meeting on Tuesday, Nov. 15 at Harvest Ridge, where a trio of farm tour essay contest winners from both East and West Holmes school districts were honored, as well as both school district FFA chapters' poster contest winners.
Hosting the tour's event on the west side of the county was Springhill Farm while the east side students were hosted at Walnut Lane Acres.
Several members from the Graham family were on hand to help present the honors to the award-winning students.
Presenter Kyle Hanna praised both farms for their quality presentation and the outstanding farms that showcase everything good about agriculture in the county.
SWCD member Darby Sherman said both farms were exemplary in providing a glimpse into the agricultural world to students, many of whom had never set foot on a farm before.
"These tours are a community event with many friends and family helping," Sherman said. "There's no way our small staff could do this without the many people who help make it possible."
The fifth-grade students from both school districts and students from Holmesville Elementary and some parochial schools attend the event, learning about conservation practices, soil traits, dairy farming and many more parts of farm life.
They are then asked to write an essay on their experience, with teachers submitting the top two entries from their class and a committee choosing the top entries from those submissions.
Several years ago both FFA chapters wanted to get further involved, creating the poster contest. In addition, both FFA chapters are heavily involved in the farm tour process, providing leadership, running safety sessions and doing whatever necessary to aid the efforts of the SWCD and the farm owners.
"Without the support of the teachers and students from both school districts, this wouldn't be possible," Sherman said.
Presenter Jason Biltz expressed the SWCD board's gratitude for the Graham family for their commitment to developing awareness of the importance of agriculture in Holmes County.
"Tom Graham was a soil scientist with a heart for teaching," Biltz said. "We appreciate their involvement and that the next generation of the family is involved as well."
West Holmes winners of the essay contest included Killbuck fifth-grader Trinity Compton in first, Caleigh Felton of Killbuck in second (both of whom are in Mrs. Smith's class) and Courtney Doering of Lakeville in third, a student in Mrs. Hopkins' class.
FFA chapter members from both districts presented the poster awards.
Emily Shuey, Hiland FFA chapter president, thanked the Hershberger family, owners of Walnut Lane Acres, for their commitment and hospitality, especially the rodeo entertainment they provided to the students at lunch.
"The fifth-graders learned about soil conservation, wildlife, farming practices, forestry and water quality," Shuey said. "The task was given for the students to create a poster about what they learned."
West Holmes FFA President Becca Schuch said, "The FFA assisted with the stations and served as tour guides. That included our FFA chapter, put on by our officers, and included ATV, animal and tractor safety."
Allyssa Pringle, chapter vice president, said they received 25 poster entries.
The East Holmes essay winners included Cooper Sprang in first place from Mrs. Sommers' fifth-grade class at Walnut Creek, Evelyn Kaufman in second place from Chestnut Ridge in the classroom of Mrs. Mick and Boaz Yoder in third place from Winesburg in the class of Mrs. Miller.
The West Holmes FFA poster winners included Ethan Schlagenhauser in first place from Killbuck in Mrs. Baird's class, Annabelle Snyder in second place from Killbuck in Mrs. Baird's class and Addison Tracy in third place from Lakeville in Mrs. Mosher's class.
The East Holmes FFA poster winners were Ravi Beachy in first place from Chestnut Ridge in Mrs. Leach's class, Anne Schlabach in second place from Wise in Miss Amos' class, and Drew Raber in third from Chestnut Ridge in Mrs. Olinger's class.