The week in sports: girls basketball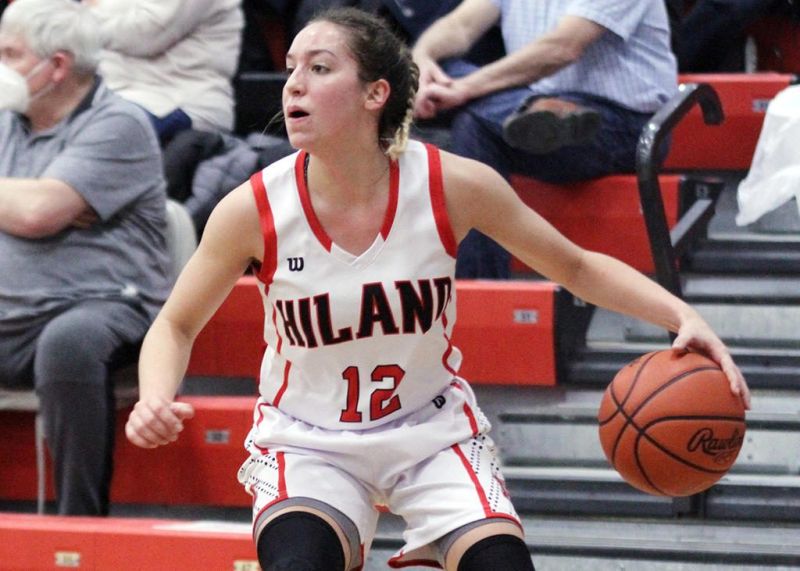 An all-out blitz by the Lady Hawks to begin the second rivalry meeting of the Hiland versus Garaway girls basketball programs left absolutely no doubt as to where their contest was headed on a Wednesday, Feb. 3 meeting at the Reese Center at Hiland High School.
A pair of 3-pointers from Kyli Horn and one apiece from Mallory Stutzman and Brynn Mullet ignited an 18-2 run to begin the game, and Hiland cruised to a convincing 70-37 victory.
Lizzie Mullet scored four of Garaway's five first-quarter points, but when Zoe Miller scored inside to end the quarter, the Lady Hawks were in command 22-5.
After a Rylee Putt drive cut into Garaway's deficit, Hiland surged again with an 11-3 run that was once again propelled by the long ball, Miller hitting one, Mullet connecting on her second and Horn draining her third for a 33-10 Hiland lead.
After Brooklyn Frey scored for the Lady Pirates, Hiland whipped off eight more, getting five from freshman Brynn Mullet to give Hiland a 41-12 advantage. Chloe Hershberger hit a trey to make it 41-15, but Hiland finished the half on a 6-0 run, getting a score from Stutzman, another lay-in off a steal from Ashley Mullet and Stutzman's lay-in off a great assist from Kelsey Swihart.
Garaway showed what it is capable of in the third quarter, which it won 8-7. Hershberger hit a trey, scored inside and split a pair of free throws, and Putt scored on a nice pull-up jumper, but Stutzman, Hiland's other freshman, would come to life late in the quarter with four points to make it 54-23 at the end of three.
The start of the fourth period belonged to Morgan Yoder. Hiland's All-Ohio point guard popped in three-straight triples, and Miller and Horn sandwiched a score inside and a trey around a Hershberger jumper to make it 68-25.
Horn hit five treys and led all scorers with 17, Miller tacked on 16, Stutzman scored 11, Yoder added nine, Brynn Mullet scored eight and Swihart tacked on five for Hiland. Garaway got 11 from Hershberger, eight from Putt, six from Mullet, and four apiece from Frey and Kenadi Yoder.
Feb. 4 saw Hiland hand Tusky Valley a 78-40 defeat in the IVC Showcase series. In a balanced attack, Miller and Horn each scored 14 while sisters Ashley and Brynn Mullet each collected a dozen points apiece. Stutzman and Yoder each scored eight with Yoder adding six rebounds, six assists and four steals in a fantastic all-around game. Jenna Troyer pulled down a team-high seven rebounds in just 12 minutes of play to lead Hiland to a 41-27 rebounding edge.
On Feb. 6 Hiland pounded Tuscarawas Central Catholic 78-27. The Lady Hawks bolted to a 24-5 first-quarter lead and never looked back. Miller went for 24 points and 10 rebounds to lead the way while Swihart added 11 points and six boards. Brynn Mullet scored 15 points, adding three triples, four assists and four steals; Horn scored 12 points and added six assists and seven steals; and Stutzman scored six points.
Hiland has now won 106 Inter-Valley Conference games in a row, sporting a 136-1 record since the 2012-13 season.
In an IVC Showcase game, Garaway systematically took down Buckeye Trail 45-32 in a win that was predicated on some tough defense.
The Lady Pirates took a 12-10 lead through one period but opened it up in the second quarter to take a 28-17 lead. From there Garaway simply maintained its lead, winning each of the final two quarters by one point to claim a win and move to 6-9.
Putt was nearly flawless from the floor, hitting 5-of-6 action shots, her only 3-point attempt and a perfect 6-of-6 from the charity stripe for a game-high 16 points. Hershberger added 15 points, four rebounds and five steals while Frey scored eight points and hauled down a game-high six rebounds for the Lady P's.