Wengerd returns to rebuild WHHS boys soccer program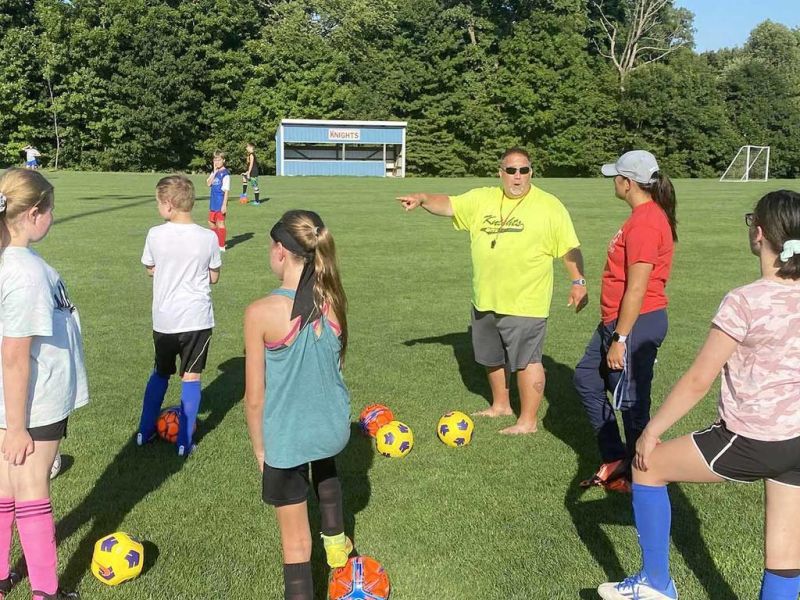 The West Holmes Knights boys soccer team is welcoming a familiar face in tabbing its new head coach after former head coach Jason Arnold stepped down following last season.
That familiar face is Josh Wengerd, who guided the Lady Knights soccer program to new heights several years ago.
Wengerd coached the West Holmes girls varsity soccer program from 2008-15, building it into a traditional winner by the time he stepped down. His season win totals in his first three years were five, six and seven, but over the final five seasons, his teams posted win totals of 12, 15, 12, 14 and 11, and they even set school records and found their way to regional finals for the first time in school history. He ended his time with the program with an 82-59-13 record.
Prior to that stint, Wengerd served five years as Paul Money's assistant coach with the boys program at WHHS. He also played for West Holmes under head coach Carey Conn.
"It's fun. It's scary. It's all the emotions," Wengerd said of stepping into the varsity role again.
Wengerd ended his tenure when his sons Jimmy and Reece started playing sports and he wanted to be able to coach and watch them play. Thus he ended up coaching the youth soccer teams in the West Holmes School District but always felt one day he might step back into coaching the high school ranks when his boys were older.
When that opportunity came up when Arnold stepped down, Wengerd said he felt the timing was right to give the boys program his attention.
"Even though I stopped coaching at the varsity level, I never stopped being around the program on the youth level," Wengerd said. "My passion for coaching and teaching the sport never stopped, but I didn't want to miss my sons' soccer games, so I dedicated my time to the park district league."
After connecting with the Holmes County Park District, Wengerd and others started the West Holmes Soccer Club, where Wengerd has served as director the past several years.
Wengerd said in addition to the coaching duties at the varsity level, he has big plans to continue to develop the youth soccer program from kindergarten through junior high, noting a great feeder system that teaches kids the fundamentals of soccer is the key to creating better, more passionate players who are willing to invest in the game and grow the program. One of his hopes is to bring soccer to the school at the junior high level rather than as a club.
"Our boys numbers at the high school level are horrible right now," Wengerd said. "We graduated eight. We had 18 players on the varsity, and we have three kids in eighth grade. I think a junior high program would help us bolster those numbers."
Wengerd said his plan was to create a junior high team and coach there for two years, but when Arnold stepped down, he made other plans.
"I felt that if I didn't take the job now, it may not be there in two or three years when my boys were there, so I decided it was now or never," Wengerd said.
The longtime girls coach said the fit feels natural as he transitions back into the varsity level of coaching at WHHS. Having been through the building process when he first arrived as the girls head coach, he said he isn't afraid to step in and begin that process again with the boys program.
"Rebuilding a program takes a lot of hard work. I know that," Wengerd said. "Don't get me wrong. I want to win immediately, and I'd love it if we did, but I also know that probably isn't realistic. It doesn't happen instantly. I know it is going to be a process, and we might take our lumps early on, and I am committed to West Holmes and to this soccer program to make it great."
Wengerd was a freshman at West Holmes when the first boys soccer team began the program. Since that time he has been a big part of the soccer scene at WHHS and has been blessed to remain involved at some level.
Now he steps into the large role of building the varsity program, something he is looking forward to doing step by step.
"We've got some really good things coming down the road," Wengerd said. "I'm excited we finally got started, and although this current group isn't very big number-wise, it's a great group of guys, and I have enjoyed getting to know them this summer. I'm excited to watch us get better and better."
Wengerd said he has explained to the older players that while they might not experience the fruits of their labor in reigniting the program, they can take pride in being part of the group who initiated the growth.