West Holmes wideout quartet pushes each other to be great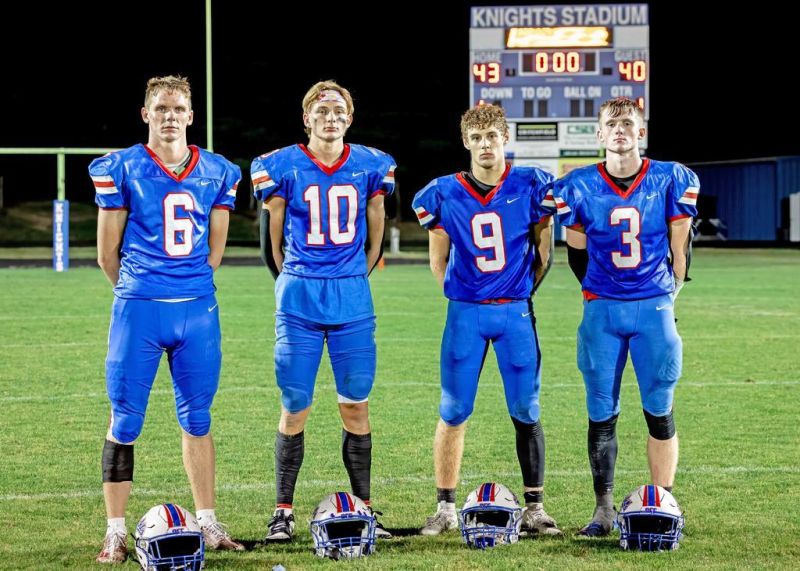 It's common for a football team to have one talented wide receiver.
Having two is considered a luxury.
Three? That's uncommon.
Four? Almost unheard of.
But that's exactly what West Holmes has, as seniors Kyle Maltarich and Nate Fair, junior Logan Zollars and sophomore Lynn Cline have combined to form the area's deepest and most dangerous wide receiver room this season.
With four talented wideouts on the field at any given time, the Knights offense has burned opposing defenses to the tune of 39.7 points and 484.5 yards per game.
It all starts with the leadership of Maltarich and Fair.
"They tell everyone when we're messing around that we need to focus up, and they always know what's happening," Zollars said. "If you need to know the play, they know it. They're just always on top of their stuff and can help everyone else out."
Maltarich, who set school single-season records in receiving yards and touchdowns last season, went down with an injury early in the first game of this season. He didn't suit up against Orrville and played sparingly against Licking Valley.
Zollars stepped up big time in Maltarich's absence after earning plenty of varsity reps last year as a sophomore. He leads the Knights with 43 catches for 710 yards and three touchdowns through six games. After torching Orrville for 197 yards and two TDs on seven catches in week two, Zollars followed that up with a school-record 269 yards on 11 catches the following week against Licking Valley.
"I would not be where I'm at (this season) if it wasn't for last season as a sophomore getting run through the iron," Zollars said. "It was so much faster than coming up through JV and freshman."
Several colleges recruited Maltarich over the past few years. While on campus visits and attending camps, he learned different techniques to improve his game. Maltarich has shared those tips with his fellow wideouts.
"We spent a lot of the offseason training," said Maltarich, who committed to play football at Yale University in late June. "When I went on visits and stuff, I got a lot of knowledge from college coaches. To be able to share it with them is huge. I can tell how much the game means to them by how much they've implemented the work into this season.
"When they start using the jukes and moves to get open and start cradling the ball, it's really special."
Zollars is one of Maltarich's best friends. Maltarich took him under his wing this past offseason.
"We worked out after school every day," Maltarich said. "We went up to Ashland and speed trained three times a week. Everything I was doing, he was doing. For him to come out and make plays like he has is super dynamic. Not only do you have to take away me, but you have to take away him, as well."
Just because they're best friends doesn't mean there hasn't been some trash talk between them. Since returning from his injury, Maltarich has been chirping in Zollars' ear about how he's going to pass Zollars in season receiving yards. Maltarich currently has 485 yards and a team-high six TDs on 28 catches.
"We make everything a competition," Maltarich said. "That's how you get better when you have two athletic people going at it. After every game, he lets me know that he still has more yards than me. I'm like, 'Well, you've played more games than me.' Each time we get the ball we're hungry for yards and want to beat each other out, and when you have that on the same side of the ball, it just advances it more and more down the field."
The competitive nature goes beyond just games. The quartet is always pushing each other to be better in practice.
"At practice, if you drop a ball, all of the wide receivers are going to flame you and mess with you, so you have to make sure you catch the next one," Cline said. "… It makes us more competitive. We know we're just having fun and trying to be the best we can for the team."
It's all in good nature. More importanly, it makes the offense better in the long run.
"We're pushing each other to make each other better," Fair said.
Although Fair only has 15 catches for 288 yards this season, he's made the most of them. Fair is averaging a team-high 21.9 yards on those catches and has scored five touchdowns. He's a big body and has pulled down several passes that didn't look like they had much of a chance of being a completion.
"(Having all of that experience at wide receiver) helps me because even if I have an off-target pass, they can still go up and get it," said junior quarterback Morgan Smith, who has thrown for 2,064 yards and 20 touchdowns this season. "It's just great having them be able to do that."
Smith is in his first season as the varsity starter. The offense hasn't had a drop-off from last year, though, and a lot of that can be credited to the time he and his receivers put in together during the offseason.
"Before we even started having practices, we were out here throwing passes all offseason and just gaining that chemistry," Fair said.
Cline earned varsity reps last season as a freshman, which has helped him blossom into a reliable wideout this year.
"Playing a little bit of varsity last year, I was able to see the different speeds of the game and got used to playing varsity ball," said Cline, who has caught 26 balls for 482 yards and four TDs.
Although all four are talented, explosive might be the best word to describe them. They're all averaging at least 16.5 yards per catch and have combined for 33 catches that have gone at least 20 yards.
That's a tall task to defend since any of them can burn a defense for a long score at any time.
"We have so many talented receivers," Zollars said. "We can go five wide. We can keep a running back in. I think teams are definitely scared of our receiver corps. By having all of us, it opens up someone."