WH bowling teams fall to Ashland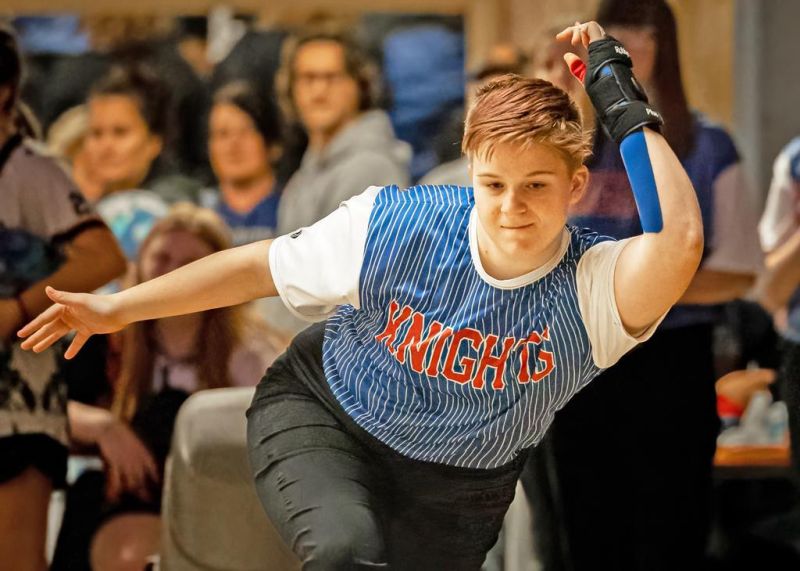 The West Holmes boys and girls bowling teams suffered losses to Ashland in Ohio Cardinal Conference play at Luray Lanes on Jan. 30.
The Arrows boys cruised to a 3,004-2,203 win while the Lady Arrows picked up a 2,817-1,823 victory.
"Bowling is a game of good days and bad days," WH coach Chris Young said. "Obviously, (Jan. 30) wasn't a good day, but you can come back in and rock the house the next time and have a good time. It's all about your mentality as you look at the game. I think a lot of the kids knew that when they came in here. They know that Ashland is a good team, and they're hard to beat."
On the boys side, Ashland's Garren Ward rolled games of 299 and 216 to finish with a match-best 515 series. He was backed by Luke Rhine (460 series), Max Oeken (445) and Landon Dreibelbis (441), whom all finished with 400-plus series.
Kayden Worley led the Knights with games of 221 and 170 for a 391 series. Adam Mast finished with games of 194 and 182 for a 376 series while Quinn Cornwell rolled games of 163 and 202 for a 365 series. Tristin Middaugh (170-181-351) and Jesse Hickman (158-177-335) also bowled for West Holmes.
The Arrows also dominated the Baker games, winning them 276-142, 214-106 and 256-137.
On the girls side, Ashland's Jada Baker twirled games of 244 and 237 for a match-high 481 series. Makayla Dreibelbis (406), Amelia Brown (396) and Aubrie Cooke (391) all added solid efforts for the Lady Arrows.
Hailee North paced the Lady Knights with games of 174 and 164 for a 338 series. Aubree Young added games of 132 and 135 for a 267 series while Zaylie Shultz chipped in games of 142 and 121 for a 263 series. Chloe Miller (136-126-262) and Brynlee Reed (95-131-226) also competed for WH.
Ashland cruised to wins in the four Baker games, outscoring West Holmes 195-105, 172-132, 256-111 and 206-119.
"(Ashland's) boys and girls are big powerhouse teams," coach Young said. "It's hard to put up numbers against these teams and keep your cool about it because after a certain point the game does start to get into your head. I noticed it does affect the girls' play a little bit. They were beating themselves up too much and getting in their own heads.
"When you move a board here or move a board there, sometimes it works and sometimes it doesn't. We just couldn't figure it out."
The Lady Knights had been on a bit of a roll heading into their match with Ashland, winning six of their previous seven matches. The boys team also had been playing well in recent weeks, posting wins in three of its last six matches before facing the Arrows.
Because this is the first year for both teams, it's taken some time for them to figure things out and come into their own. Coach Young has seen both teams' bowlers steadily improve as the season has progressed.
"I was doing the averages (last) weekend and looking back at the first three games or so, especially the boys, the scores were like in the 120s, and a lot of them are now averaging around 150 or 160," he said. "I have quite a few kids who have thrown over 200 games. The girls are the same way. They started off at one point around 100 or 120 and have drastically improved to around 150 or 160. A couple of them have thrown 200 games.
"I'm extremely happy with how things have turned out so far."
West Holmes will be back at Luray Lanes on Feb. 4 for the OCC Championships.
"This was the first time that both teams had bowled at (Luray Lanes)," coach Young said. "Hopefully, they'll be more calmed down for (the OCC Championships)."